A Conversation with Seasoned Ex-IROs Matt Tractenberg and Karen Greene
Chances are, if you are an IRO, you love roller coasters and can adapt quickly to change. The IRO's world is highly dynamic, and that is especially true in today's environment. The impact of new regulations, new technologies, and new shareholder demands were the buzz of this year's NIRI's conference. To gain some perspective on this new world as we know it today, I recently sat down with seasoned ex-IROs, Q4's very own Investor Relations Partners, Matt Tractenberg and Karen Greene.
For Matt, one of the best things about NIRI is learning from fellow IROs how they are adapting to these changes. Holding "therapy sessions" with your colleagues allows you to gain valuable context, ideas, and solutions, as well as validates that everyone has challenges to solve. Exchanging "war stories" is also helpful because it expedites the adoption of new best practices, and provides affirmation on how quickly change is coming to your industry or sector. It allows you to spot trends and avoid pitfalls, by hearing how others have managed through the same unfamiliar territory. Matt adds: "Hearing that an IR colleague in your peer group had trouble filling his day with quality meetings, when planning an NDR through sell-side analysts, might encourage you to take on more of the responsibility for your next roadshow."
For Karen, her peer conversations this year largely revolved around the importance of strategic IR and the value-add a good IRO can bring. In fact, her biggest takeaway from this year's conference is that the evolving landscape presents a lot of challenges for companies who are overly reliant on how they've always done things, and are not open to evolving their processes. "The IRO needs to take the lead on forecasting and preparing for the changes that are on the horizon," she asserts.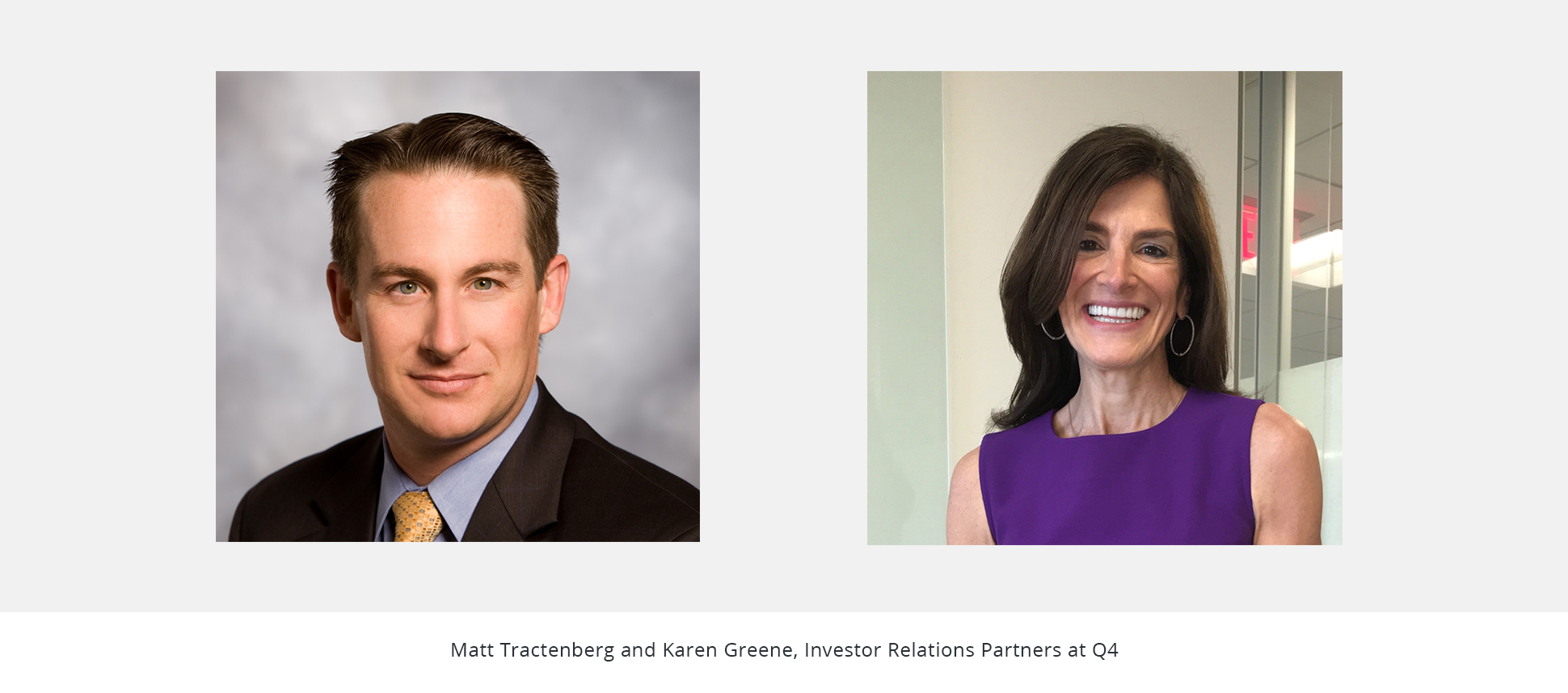 ESG: Being Proactive About Your Company's Ethical Impact
For years, we've learned about the impact of rising activism and how to navigate unfriendly waters when an activist, in the name of the greater good, takes on your company. And while that is not going away, the focus of this year's NIRI conference was the rising influence of ESG on shareholder behavior and what IROs need to know, to lead their companies effectively through this new area of focus. According to Karen: "Companies need to proactively embrace ESG policies and effectively communicate these policies to all their stakeholders – shareholders, customers, and employees."
The key takeaway for her: "There's a lot an IRO can do to drive this focus and help their companies recognize the importance of ESG. At Q4, we're happy to help IROs identify and implement ESG best practices for their organizations."
The Rise of Buy-side Corporate Access Teams
Matt says that one of the most "eye-opening" new trends that surfaced at NIRI is the rise of internal corporate access teams. He in fact met with several of this new breed at this year's conference. Offering a little contextual background, Matt explains: "Traditionally on the Street, meetings are set up by the corporate access team at the sell-side bank. They reach out to a corporate issuer who then assesses the viability of the meeting."
But with the onset of MiFID II and the sell-side's inability to get paid for organizing these meetings, the way in which public companies and investors come together is rapidly changing." In this vein, Matt says: "The corporate access function is increasingly leaving the sell-side bank, and appearing at the buy-side. "Fidelity, for example, has established its own corporate access team to help facilitate meetings between corporate issuers and their portfolio managers," he explains.
Over the last 18 months, Matt estimates that between 5 and 10 of these buy-side corporate access teams have already been formed. And he predicts that "at next year's NIRI conference there will be more than a dozen. And in three years, 30 of these teams." The reasoning is that "by bringing corporate access teams in-house, they have a more effective and efficient process for managing these relationships." What this means is that "IROs now need to establish close relationships with corporate access teams at the buy-side firms, rather than the access or sales teams at the covering bank." And with this new business model, Matt adds, "it will not only be the PM to IRO relationship, but also the corporate access team to IRO relationship."
Karen underscores the fact that with these new buy-side corporate access teams, "the sell-side is no longer the gatekeeper." This is especially meaningful "for firms who don't have the breadth of analyst coverage tor the established relationships with the sell-side. They're no longer hand-cuffed." She sums things up: "The IRO is now more empowered to secure these meetings."
Matt agrees that "it's becoming increasingly important to become more proactive." He believes that "we're in the first inning" of transitioning from "a largely passive world or relying on our coving banks, to a much more active IR world where we drive the engagement decisions." He explains: "In the past, we relied on or analysts to put us in front of the right investors and set up trips." IROs have begun to "take responsibility for shaping and controlling the narrative with shareholders, as well as identifying and getting those first few engagements."
As a result, he says that many IROs are leveraging outside partners, including Q4, to help with targeting and accessing investors, and constructing conversations that will resonate. With the decline of sell-side coverage, "Many IROs struggle to find and engage the right investors, craft the right conversation and know when to conduct it."
AI and Automated Processes
Looking back to NIRI's keynote session on artificial intelligence, Matt says that IROs are aggressively "thinking through how to utilize all of our data." Karen herself used AI Targeting at her last company, describing it as "a transformative tool for meeting new potential investors." Matt points to the reality that "IR teams are being asked to do more, with little increase to budgets." With the average IR team size being 1-3 people, "everybody is very lean," he explains. For him, it's about "figuring out how to automate processes, whether that be targeting, the identification of activism, or reporting."
Karen adds: "Technology is rapidly improving the way we all our do our jobs, and we need to be open to adapting to the changes that are coming." That might be easier for some than others. She concludes: "Q4 can help drive that adoption curve for IROs, and ultimately help them succeed more efficiently and effectively than ever."
With another NIRI under our collective belts, it's clear that as the IRO role rapidly evolves and we explore new ways to add value in a changing landscape, themes like ESG, corporate access, and automated processes will play an increasingly critical part in the conversation.
Matt Tractenberg and Karen Greene are Investor Relations Partners at Q4.
Marla Hurov is the Content Marketing Manager at Q4.
(Visited 13 times, 1 visits today)