In today's capital markets, all IROs need to decipher a volatile, opaque, and unpredictable market. With ETFs and passive investing on the rise, and declining sell-side coverage for many small and mid-cap programs, ever more demands are piling up on the IRO's already overflowing plate. This brave new world means that driving strategic value and optimizing processes has never been more vital for an impactful program.
The reality is that across market caps, industries and geographies, every company brings unique priorities to the table. The secret is being able to continuously adapt to the changing environment and apply IR best practices. To gain some insight, I recently spoke with Q4's new dedicated team of IR professionals, Investor Relations Managers: Peter Bonetta, Christopher Deans, and Sara Pearson. Here are three critical ingredients for an IRO's success in this increasingly complex landscape.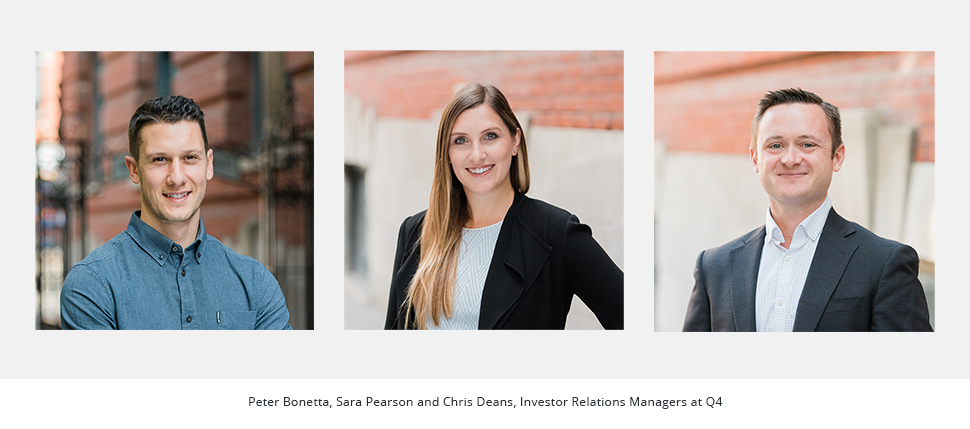 1. Peer analysis and competitive intelligence
According to Sara Pearson: "For an IRO, navigating the rapidly changing investment community is no different than the competitive landscape of any market." Sara says that "understanding how your peers are positioning themselves on key issues will allow you to differentiate yourself in a crowded space."
With this in mind, it's becoming increasingly important to analyze your peer earnings Q&A. According to Peter Bonetta, "a key best practice is aggregating live updates on all the questions asked on peer earnings calls and sorting them by theme and relevancy." This helps "quickly identify the hot topics on the Street to ensure senior management is prepared to speak to these issues on your upcoming earnings call."
He adds that "in an age of seemingly infinite sources of data, staying current on your industry's relevant topics can be a daunting yet necessary task." Peter recommends scanning for keywords in peer transcripts, quarterly and annual reports, analyst research, press releases and investor presentations, to determine their stance on relevant topics.
2. Investor targeting and shareholder identification
Sara observes that "one of the biggest impacts on the IRO's role has been the increasing complexity of the investment community." She explains: "As the market evolves, IROs have a growing responsibility to understand the unique needs of the various participants."
Peter advises IROs to "begin investor targeting with a clearly defined goal." He explains: "This could be as simple as honing in on a specific metro area, a global theme or trend, targeting firms with a specific investment style, or compiling a list of tier two and tier three targets (based on purchasing power) across geographic areas."
He says that "it's also critical to build a repository of qualitative commentary on investor meetings from NDRs and conferences." Logging engagement notes into a CRM platform is also integral to helping you nurture a lead from a prospect to a shareholder — especially when it takes multiple meetings to close the deal. Plus, there's the added benefit of being able to report on the efficacy of your meetings, as well as ensure that you're tailoring your conversations and spending everybody's time most wisely.
3. Board communication
According to Chris Deans, alongside the increasing complexity of the capital markets, "senior management heavily relies on the IR team to provide insights and tracking on engaging both shareholders and prospects." This means that "understanding and communicating the changes in the investor landscape, both investor base and style, will be a progressively critical aspect of the IRO's role," he continues.
Chris points to the importance of quarterly board development and supplemental IR reporting. "Recently, I assisted a client with a revamp of slides that they were preparing quarterly for their management and board," he describes. In his experience, the most successful Board materials tell a concise story of what took place during the quarter, current perceptions, relative performance, valuation, and measurement to annual IR goals. Chris recommends including:
Key strategic events within the competitive landscape
Composition of top shareholders and how that has changed (shares owned, buyers/sellers, style and geographical composition)
Sell-side estimates, price targets and ratings
Performance versus peers and related indices
Quarterly engagement and future engagements planned
"Keep in mind that the executive and board teams are also stretched with limited time and multiple responsibilities. When it comes to telling your story each quarter, make it simple and concise, and get to the point," advises Chris.
While adapting to change is a common theme in the IR world, one thing remains essential: developing an effective two-way communication channel between management and a company's stakeholders. Chris concludes, "I've learned from both the struggles and successes of my clients." It's all about "driving strategic value and optimizing processes to run an impactful IR program."
If you're interested in learning more about IR best practices, download The Ultimate Guide to Targeting.

(Visited 41 times, 1 visits today)