Complying with rules and regulations is a daily reality for IR professionals. Whether it's financial reporting or disclosure, adherence to listing rules, or the treatment of inside information, oversights can be costly. In fact, in 2018 alone, the US-based Securities and Exchange Commission (SEC) collected nearly $4 billion in fines from securities law violations. There's no doubt that it pays to be compliant. With this in mind, here are four simple tips, so you can rest assured that your IR site is SEC compliant.

1.SEC filings and financial disclosures

Section 16 filings: Under the Sarbanes-Oxley Act of 2002, your company's Section 16 filings (forms 3, 4 and 5) must be posted on your company's IR website by the end of the business day, after each form is filed with the SEC. Although it may be tempting to link to the SEC's website for this subset, that may actually interrupt the user's experience. These filings must remain posted for at least one year.

A good practice is to keep an archive of previous filings, as a library for investors to easily reference on your site. Beyond compliance, this helps provide a fuller background for investors to get a sense of the changes that have shaped your corporation. Just be sure to date archived records and clarify that you're not making further updates.

Annual and quarterly filings: These must be posted on your IR site at the same time as each form is filed with the SEC.

Non-GAAP financials: Regulation specifies that you should reconcile the non-GAAP (Generally Accepted Accounting Principles) financial measure to the most directly comparable GAAP measure in SEC files, press releases, and audio recordings on your IR website. The disclosure must also include the reasons why the non-GAAP information is useful to investors.

In addition to these reporting requirements, you must also adhere to XBLR filing requirements. The SEC requires that you post your financial statements (including those filed with your 10-K, 10-Qs and 8-K), using the eXtensible Business Reporting Language (XBRL). The aim here is to make financial information easier for investors to analyze, as well as to demonstrate that your company recognizes the importance of transparent communication with your investors.

This kind of information can get complicated and difficult to sort through, so it's important to add filtering and sorting tools to improve user experience. Cisco does an impressive job with an easy-to-filter list that allows users to drill down further by date and filing type.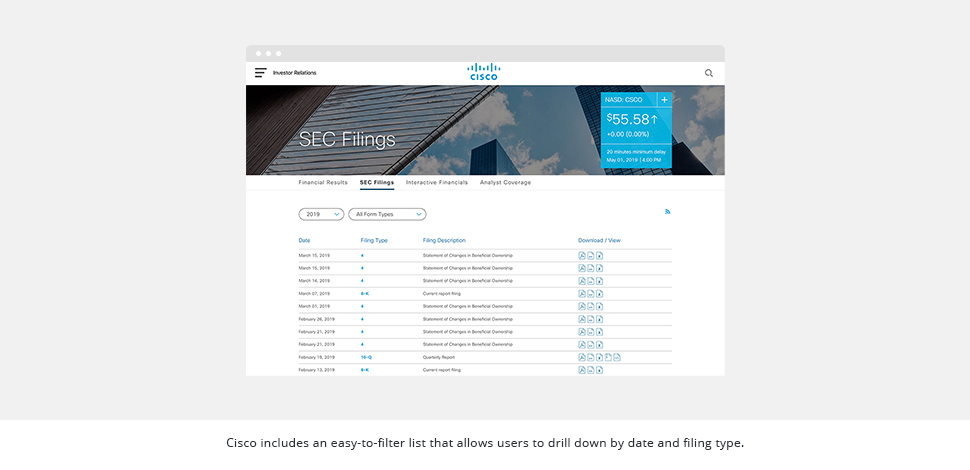 2. Corporate governance

The Sarbanes-Oxley Act also requires specific corporate governance documents to be accessible on your IR website. It's considered best practice to establish a well-defined corporate governance sub-section for the following information:

Board of Directors:

You should list your Board of Directors, indicating whether each director is an independent or non-independent director. Also, be sure to provide brief biographies of your board members, along with headshots or a group photo. While this is not mandatory, this helps give investors a better understanding of the people behind your company's vision. Feature your team and who they are to personalize your story, add credibility to your brand, and let investors know more about the people strategizing and executing your company's goals.

Governance Library / Committee charters, which includes your:

Code of Ethics
Audit Committee (especially your committee's financial expert)
Nominating and Governance Compensation
Committee Membership, which includes your:

Compensation Committee
Any other charters that you've adopted
Whistleblower Policy:

You are also required to show your company's whistleblower policy. A transparent whistleblowing policy helps build investor confidence, by publicly setting the framework for quickly and proactively identifying and resolving any issue, and nipping in the bud any potentially irreparable damage.

3. Proxy materials and cookies

The SEC's Notice of the Annual Meeting and Availability of the Annual Report and Proxy Materials (Notice & Access) requires that you post proxy materials on your IR website. This includes letters to shareholders, annual reports and annual shareholder meeting invitations. These materials must be in an easily readable, searchable, and printable format (PDF is acceptable). It must also be posted in a way that protects the anonymity of the website visitor. This means that your site can't use tracking Cookies, because they would reveal visitor identity and behavior.

4. Disclaimers

It's important to know that you can be held accountable for all content that is posted, or even linked to, on your IR website. As a best practice, include a disclaimer for any third-party content to make clear that your company does not own or endorse the information. You should also include a more general disclaimer that can be accessed from every page on your site.

A few final thoughts

Joe Di Bacco, Director of Web Implementations at Q4, says: "our Studio CMS platform has many native features which ensure that our client websites are fully compliant with their local regulations." He adds that, "beyond the obvious legal implications, making sure our client sites are accessible to all visitors (including those with disabilities) is also top of mind in our implementation process."

Above all, here at Q4, we recommend thinking of your IR site as both a critical information source and a primary storytelling vehicle for your investors. Your website needs to fulfill regulatory requirements, all the while providing investors with an informative and compelling context, which will ultimately help influence their decision to invest.

To learn more about building a compliant IR website, please contact sales@q4inc.com.

Allyce Maclaren is Q4's Marketing Specialist and enjoys writing about trends in IR, communications and marketing.
(Visited 73 times, 2 visits today)