3 Analysts weigh-in on how to make a real impact with data
Capital markets intelligence has long been evolving to meet the combined challenges of our increasingly data and relationship driven world. If we envision the IRO of tomorrow, he or she might be a kind of "Robo-IRO," supercharged with the machine power to crunch capital markets data, along with the heightened human abilities to empathize, reason, and build relationships.
With the rise of MiFID II and the decline of the sell-side (all within our raging roller-coaster market), IROs are navigating an ever complex landscape. This landscape demands more sophisticated ways to not only understand investor behavior, but also prove the value of meetings. Over the past year alone, the reliance on brokers for investor targeting has decreased by 12%, with more than 50% of companies globally using tech platforms to enhance investor targeting.
Whether it's improving shareholder visibility, preparing for earnings, detecting activist trading, or building credibility with the C-suite and board, now more than ever, "actionable" intelligence is leveling the playing field when it comes to visibility.
Taking a look at IR's present and future through the lens of seasoned analysts, I recently spoke with key members of Q4's intelligence team, Billy Eckert (Head of Surveillance and Intelligence), Mike Coffey, (VP, Head of Solutions Engineering), and Jeff Myers, (VP of Advisory).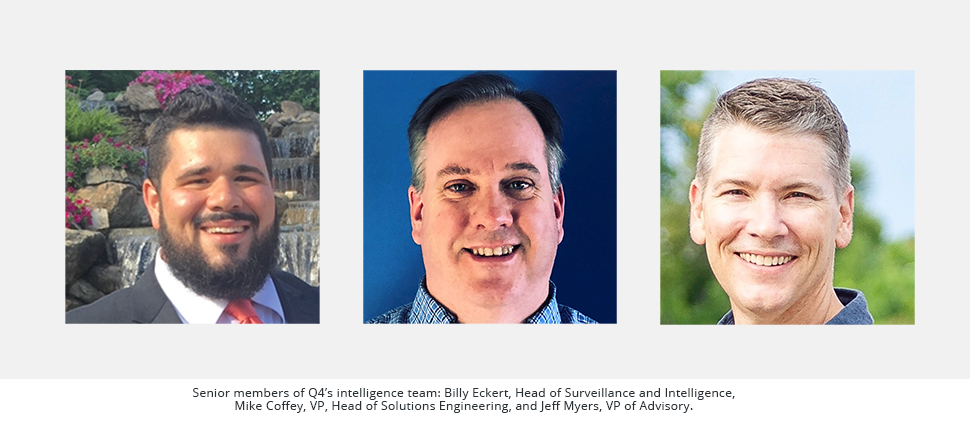 Visibility in a complicated landscape
A lack of transparency has always been one of IR's greatest challenges. IROs are constantly trying to fill the gaps between quarterly filings, to determine what could be driving their stock. Mike explains, "it still happens that an investor buys their stock on the 4th of July, but they won't know about it until Thanksgiving." On top of that, Billy says that "there's less influenceable capital due to the rise of passive investing."
Jeff says that "understanding the drivers for passive investors is often overlooked by most IROs." But while IROs can't actually have a conversation with a passive investor, he offers some key advice: "It's important to know why they bought the stock. It could be because the stock is part of an index, certain market cap size, or even ESG driven."
Billy adds: "There's a lower pool of actively managed capital with the rise of passive investing, along with a ton of volatility in the market with trade war fears and potential recessionary signals." The takeaway is that, "now more than ever, management teams need to be in tune with the market and their stock. They need to be prepared for what's going to happen over the next few months, from a shareholder and equity valuation perspective."
Making intelligence actionable
In today's world, Mike says that it's increasingly key "to tie intelligence back to your ROI." He describes the scenario of flying your management team from California to New York to meet with AllianceBernstein. Imagine if you could clearly show the return on that investment: "If in a couple of weeks, you can see that they're visiting your website, participating on your conference calls, and now buying individual funds."
For Mike, "actionable intelligence is being able to show your management team the value you added with that original meeting." He explains: "It's being able to tell the mosaic of what's happening and how it all interacts." And especially with MiFID II and the diminishing sell-side, it's becoming ever more critical to leverage intelligence, to put senior management in front of the right names and prioritize meetings to make the most of everyone's time.
The future is increasingly about looking at the big picture and connecting the dots. Billy points to the example: "When you talk about targeting, you want to be proactive about people who are already on the lot to buy. If they're looking at your website, and they are a good long term investor, that is a great potential candidate to engage with for a meeting."
Billy also looks to the growing importance of transparency in intra-day trading. "Anytime there's significant movement in the broader indices, you probably expect your stock to trade in-line with that move, but what if it doesn't?" He explains: "Your stock may be down 4-5%, but if we visualize it in relative performance, it could be entirely driven by market activity, as opposed to anything stock-specific. Reality doesn't indicate that there were larger long term institutional sellers driving down the stock, but simply noise from trading in the market that day. And that's a story in itself, relaying back to upper management that there isn't anything to worry about."
Mike sums up actionable intelligence as "being the smartest person in the room." He explains, "it's knowing what's going on with your stock and market trends. It's having datasets you can report back on, so you can show how you're moving the needle within IR." He continues, "it's having good meetings, in relation to good shareholders coming into your stock. Being able to analyze your peer group and understand why you're seeing a premium or discount applied to your stock. It's seeing if there's a disconnect between the story you're telling Wallstreet and who is actually buying and selling your stock."
Jeff adds that success today is all about being informed — "whether that's changes in ownership, stock price performance (absolute or relative to your peers or markets), macro-driven news, geopolitical or sector events. It's understanding whatever can affect the market and your stock price."
Leveraging algorithms and harnessing big data
"Combining technology and data-driven IR with expert analysts is the future," says Billy. Now more than ever with the diminishing sell-side, "IROs need to ensure they're not wasting their time on meetings that just don't make sense or are self-serving for the banks." He continues: "The future of IR, and particularly targeting, will be driven by leveraging algorithmic indicators and technology, in conjunction with industry experts." This will be key to targeting quality investors "who fit well quantitatively into the story, for taking on a material position and being in the stock for the long-term."
While AI might be over-hyped, there's no denying that technology is getting smarter. The key is being smart about automating processes — leveraging a half-million lines of proprietary data to help analysts become more proactive and better informed, by focusing on the most compelling and need-to-know information. The ultimate purpose is to make IROs better able to handle more information and intelligence, quicker and more impactfully.
One of the most dynamic trends in surveillance is harnessing big data analytics, to drive more timely, accurate, and actionable insights on shareholder engagement and the capital markets. According to Jeff: "big data is not going away. In fact, more money is directed by computer algorithms than ever before."
He explains: "IROs need to think about what information they're providing — whether that's hard copy or a media transcript, and how that can be interpreted by big data models. They need to make sure that what they're saying is not interpreted by the algorithm incorrectly or taken out of context." In fact, today's "robo-stories" can move a stock price, impact liquidity or even expose a company to risk.
For Jeff, it's about being more conscious about data provided by your company and how computer algorithms will consume it, as well as any possible false algorithms that could arise. He explains: "When it comes to big data — whether it's stock trading data or the broad markets, it's critical to be able to draw actionable insights about what that means for your shareholder base." The future will likely see IROs using machines to analyze communication content, including the tone and messaging of earnings calls, releases, transcripts, and executive quotes. "This pre-screening will help prevent money managing machines from drawing false conclusions about your company," Jeff says.
As the capital markets evolve, understanding your shareholder base and which investors to meet, along with anticipating market expectations, will all demand an equal dose of quantitative market insights and the qualitative foresights to make them actionable. Indeed, the earnings call of the future might have just as many robots on the line as investors and analysts.
Learn more about how to navigate the evolving role of IR. Read 3 Trends driving the future of IR and how to manage disruption.
Marla Hurov is Content Marketing Manager at Q4 Inc and blogs regularly about trends in investor relations, technology and digital communications.
(Visited 36 times, 1 visits today)