When it comes to investor relations, your website is one of the most crucial platforms to educate and engage the street about your company's offerings and differentiate yourself from your peers. From your value proposition to performance metrics, investors need quick and easy access to digestible content, orchestrated by a fully seamless experience across devices. In an overcrowded and competitive marketplace, it's more critical than ever to leverage web design to bring your brand to life. But capturing a user's attention span (on average a mere five seconds) means that your IR websites need to not only communicate efficiently and intuitively but also creatively.
In the past, websites were text heavy, feverishly trying to cram everything above the fold with few visuals and sparse white space. Today, we're creating sites that not only follow web design best practices, but also convey a brand's personality and differentiation. By thinking outside of the box, designers are giving content that space to breathe and stimulating user interactivity. The aim is to deliver an uncluttered, focused, and authentic experience that's also unique and engaging.
While IR sites can be somewhat limited when it comes to the flash and flare of their corporate counterparts, bold minimalism and clean design are the key focuses for 2019 and beyond. Here are four design trends to keep in mind for your upcoming site build or much-anticipated redesign.
Vibrant colours, big typography, and eye-catching photography
Bigger and brighter is better. Think bright, vivid and crisp colours (as opposed to traditional muted palettes). The idea is to portray a strong and confident brand personality and catch (and keep) visitor attention. These color schemes are often paired with large and often oversized typefaces and headers. The impact is dramatic but still minimalist and clean.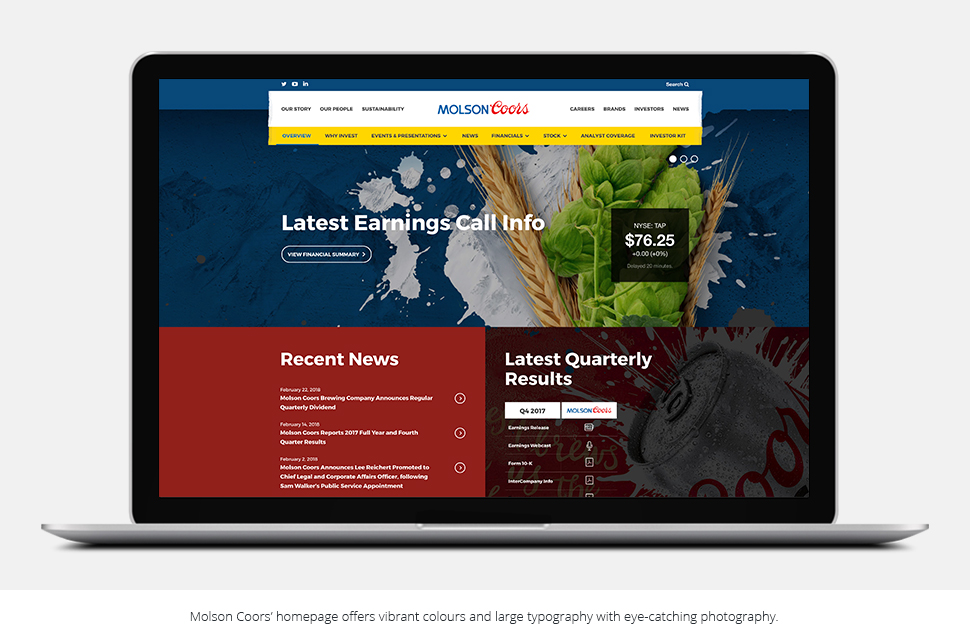 Leverage big and bold photography with a focus on being real and engaging. Ditch boring and generic corporate stock photos for striking real-life images, which truly reflect your company's personality and tone.
Icons, infographics and animated graphics
Corporates are turning to design for high impact visual storytelling. Custom icons and infographics can effectively convey and simplify complex information at a glance. Flat design is an especially popular and minimalistic approach, featuring two-dimensional illustrations with vivid colours, crisp lines, and clean open space. Designers are also leveraging microinteractions to make content and metrics more dynamic, by engaging the user through animated icons and graphics.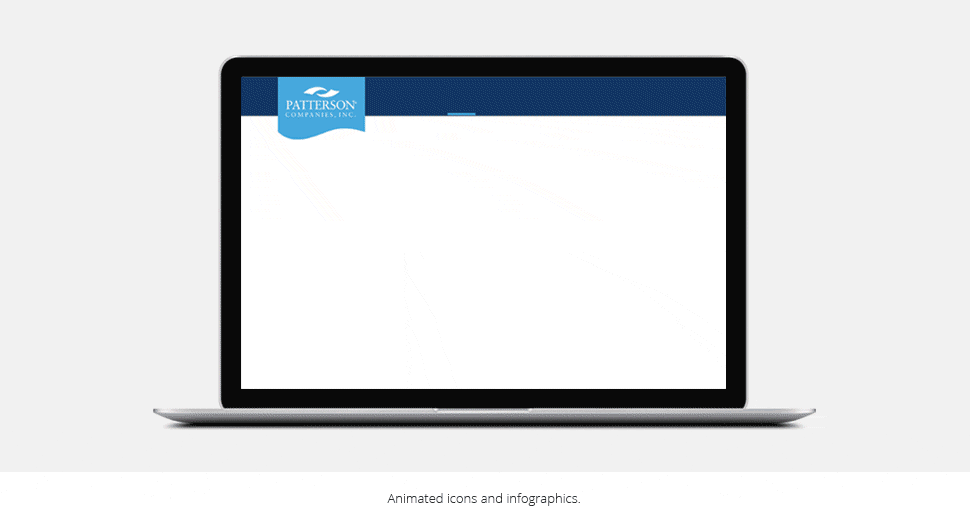 Embedded Video
Videos add a human touch and breathe life into static content. A Hubspot study claims that 59 percent of executives prefer to watch videos instead of reading text, and 92 percent of these mobile users share video content with their network. Using smart design to cleverly and organically integrate video content throughout your website is essential. An innovative and interactive example is a scrolling "slider" which consolidates multiple videos from a variety of voices across the organization.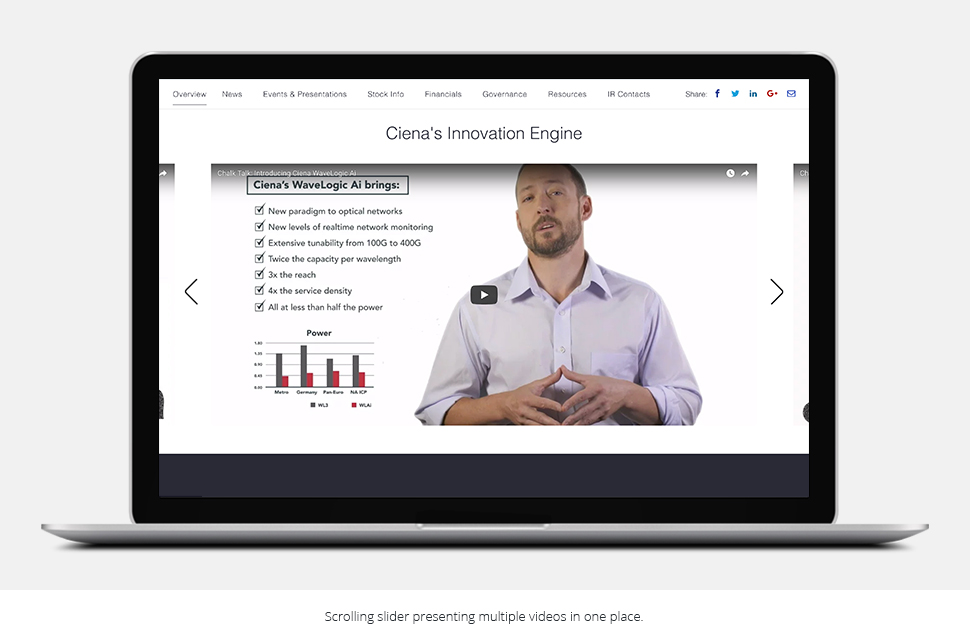 Mobile Optimized
Mobile usage has officially surpassed desktop browsing. According to an IR Magazine survey of 300 institutional investors, 83 percent of investors rely on mobile to do their work and 68 percent look at investor-related content throughout the day. Staying economical about space and user attention span, consider leveraging intuitive ways to organize information for mobile (including the long scroll), graphics that are instantly consumable (like icons and infographics), as well as microinteraction opportunities.
Regardless of access point, design today is all about conveying a strong brand and engaging your end user. The focus is on creating simple but powerful experiences, through accessible, digestible, and stand-out content. If these design trends are any indication, the future is clearly bright and bold.
Interested in learning more about design best practices for your IR site? Download our Quick Guide to Designing your IR Website.
Marla Hurov is the Content Marketing Manager at Q4 Inc and blogs regularly about trends in brand strategy and digital communications.
(Visited 18 times, 1 visits today)