What's new (and coming soon) in Q4 Desktop
Good IR builds a strategic narrative by blending art and science. The "art" is what makes a story memorable or "stick" in the minds of investors, while the "science" is rooted in the research and data. This kind of corporate storytelling brings the value of products and services to life. Done well, it can enhance an investor's understanding of a brand, by simplifying a company's essence and differentiating the business from its peers. Effective IR boils down to delivering insights into intangibles, like long-term growth strategy and key value-creation catalysts. Along with reporting all of the core data, the key is being able to connect the dots.
In this vein, Q4 Desktop is designed to support your corporate narrative as these connections evolve, leveraging the science behind the art. If you're not already familiar with the platform, Q4 Desktop is built to simplify and streamline an IR team's workflow, bringing together the critical tools required for building a successful program. This includes highly innovative AI targeting and pipeline management solutions, a customizable dashboard, roadshow tools such as itinerary building and planning, as well as actionable intelligence (and more).
Over the last couple of years, we've been working with IR professionals to better understand their work cycle patterns and use that feedback to support our users in working more efficiently and effectively. With this user-first focus, we adapt quickly to release features that simplify and organize the IRO's workflow and filter out all of the noise.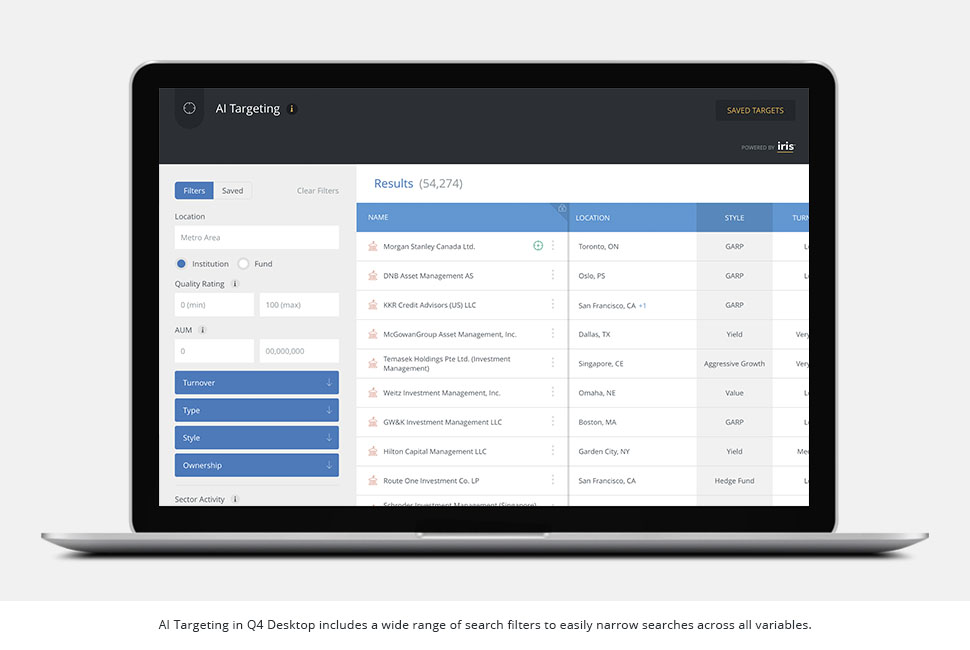 Earlier this summer, we elevated Q4 Desktop's performance as an all-in-one platform and introduced a few new industry-first innovations including:
Pipeline

to manage outreach efforts in sync with investment objectives and potential investor opportunities.

AI Targeting

to optimize and simplify the process of identifying prospects, through advanced AI algorithms which deliver "match scores" and contextual insights into top investment drivers. (Coming soon for Europe)

Configurable dashboards

to map out what's most important to user programs and save time accessing the information they need, when they need it.
Evolving with the Industry
With MiFID II's transformative impact on the industry, IR professionals globally are focussed on targeting and roadshows. To that end, we're developing Q4 Desktop as the industry's most robust roadshow planning companion — with all the necessary tools to meet the right investors at the right time, and make the most of face-to-face meetings.
When it comes to roadshow preparation, Q4 Desktop's CRM makes planning and scheduling as easy as possible. It integrates new features and functionality, such as a Calendar and Itinerary Builder to develop and track every meeting detail in a simplified workflow. IR professionals can also easily and seamlessly generate briefing books, tear sheets, and printable itineraries with historical notes, directly from their Activity records. Utilized in collaboration with the platform's ownership, pipeline and targeting tools, IROs have access to all the resources they need to identify and manage their strongest opportunities, raise capital and maximize the ROI on outreach efforts.
We support the evolving industry through these simple tools, which is why we've enhanced Briefing Books with a sophisticated search function to help find contacts and funds for any particular firm. With the latest release, users can also now add overarching profile comments for any briefing book or tear sheet. And with the ability to export large files in multiple formats, they can make a CSV copy to run some quick comparisons. It's even possible to log "activity" while you're on the road (whether you have internet access or not), with the mobile companion app.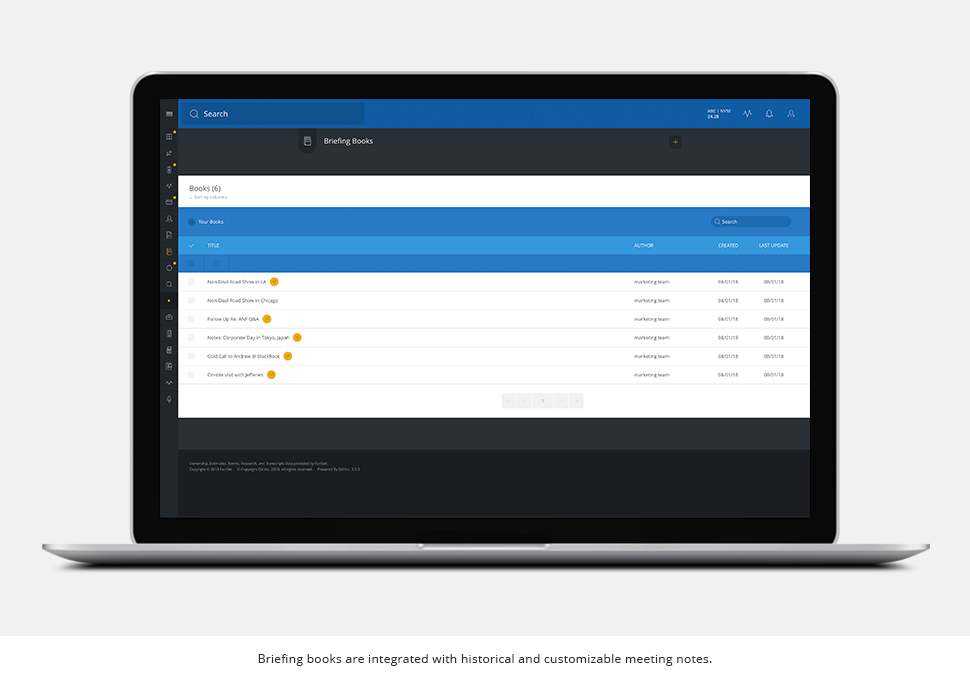 We've also redesigned the "Estimates" module to provide easy access to key information for valuing a firm. With the ability to view multiple data inputs from the same page, IR professionals have the most holistic perspective on a firm's estimate value, especially in comparison to the estimate value of their peers. As well, there's new datasets like EPS, Sales, EBITDA, FFO and SG&A, to help users assess high-level estimates data and assign primary estimates metric to any company, by adding a dashboard widget for "Broker Detail" Estimates.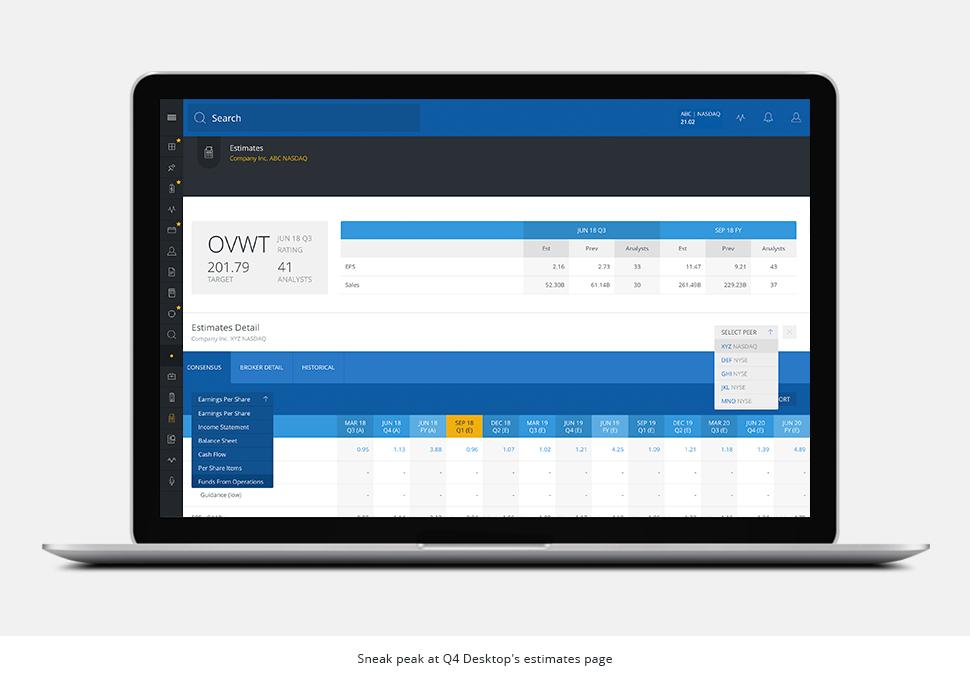 What's Next for Q4 Desktop
Over the next several months, we're continuing to develop new tools to better integrate both sides of IR's art and science spectrum. Through custom analytics and seamless reporting, we'll be making it even easier to access the information you need to effectively tell your story. We're also building advanced integration between sophisticated targeting and actionable analytics for both websites and webcasting. And our intelligence solutions will be better connected with CRM functionality across the entire platform.
At Q4, our core aim is to empower IR professionals as industry leaders. We're rolling-out more personalized features to streamline workflow, better engage with the Street and improve overall ROI.
Scott Brownhill is a Product Owner at Q4 and leads the management and implementation of Q4 Desktop features. He's passionate about innovation in tech and user-first approaches to product development.