A study from Greenwich Associates found that 79% of institutional investors use social media for work, and approximately 30% of these investors say that information they consumed through social media directly impacted their investment decisions. With millions of investment dollars up for grabs, you can't underestimate the importance of integrating social media in a successful IR program.
According to Alex Tselentis, Investment Manager and Partner at Finex, social media monitoring is a key part of predicting "share price movements and volatility." He explains, "a company issue played out on social media normally has a 72-hour time frame." He adds that "companies are often way behind the curve."
And while you could argue that a Twitter storm simply creates a temporary movement in share price (like the one created when a doctor was forcibly removed from a United Airlines flight in April 2017), Tselentis warns that "unfortunately, it adds to volatility and people's perception of your company." In fact, one year later, consumer perception of United is still far below what it was prior to the incident. In April 2018, United stood at -6.9 compared to 17 in the days before the incident (on a scale of -100 to 100), according to consumer perception firm YouGov BrandIndex.
With all of this in mind, IR professionals should take heed about investing consistent time and energy into their social media planning and content. As Q4's specialist in social media, here are a few of my top recommendations for making (and keeping) the best impressions with social audiences.
Define your policy, process and goals
Before reporting anything on social networks, North American regulation requires that IR information is provided fairly to all shareholders via news releases. It's equally crucial to establish a social media policy exclusively for IR to ensure that you're compliant. Be sure to develop disclosure rules (including what can be posted and when), outline which social channels will be utilized for what purposes, and who will be responsible for posting. You should appoint a main spokesperson with a clear understanding of your IR communications to create and edit your social messages. Also be sure to establish a clear-cut approval process for approving content, before anything gets published.
One of the most integral components to effective social media is being proactive about worst case scenarios and crafting practical crisis management plans. Consider the various possibilities for what could go wrong and carefully prepare for how to respond across your social channels. You'll likely want to designate an individual or team of authorized responders for overseeing social media during any crisis. A prompt, practical and poignant reaction can make all the difference in saving your company's reputation, and help rebuild investor trust and confidence in your brand. A proactive commitment to transparency can also play an essential role in humanizing your brand on a deeper level.
Another key part of building an effective social strategy is defining your goals and key performance indicators (KPIs) for measuring success with social media channels. Some common goals include increasing visibility, transparency and brand awareness. Define the KPIs you'll use to track your performance, including follower count, post impressions, as well as Likes and Shares.
Choose your channels and tailor your content
Once you've established your social media policy and process, and identified your goals, you're ready to craft your content strategy. It's critical to consider what platforms you'll use. Every social channel serves a different purpose, and the style of your content should reflect that.
LinkedIn, as the world's largest professional network, is one of the best suited social platforms for IR. With a large, highly educated user-base, this platform is best leveraged for sharing corporate content such as slide presentations, blog posts, thought leadership and market updates. Although it's not ideal for up-to-the-minute updates, this platform is best for communicating key facts and figures to shareholders and potential investors. In fact, a notable 80% of investors (in the previously mentioned Greenwich Associates survey) say they use LinkedIn "at least monthly" for personal use, and 52% assert that they recently used the platform to research a financial topic.
Twitter is another highly valuable channel since it facilitates real-time updates. Live-tweeting is especially powerful during earning announcements and for sharing your most up-to-date news. Companies can also leverage their 'cashtag' (a corporation's ticker symbol preceded by a dollar sign) to effectively monitor conversations, detect patterns in sentiment, and react appropriately in real-time.
On the other hand, Facebook is better left for consumer and culture-focused content (as opposed to financial or investment information). Showcasing company culture on this platform can help support investor confidence, by boosting brand awareness and fostering positive sentiment.
Whichever channels you decide to use, consider developing distinct social media identities for IR, separate from your corporate profiles that focus more on product and customer service. Salesforce, for example, has a Twitter page set-up exclusively for IR news, which is actually independent of their corporate Twitter account (for more general company updates). Keeping these pages separate helps ensure that content is relevant for followers of each page, and makes it easy for specific audiences to find what they want.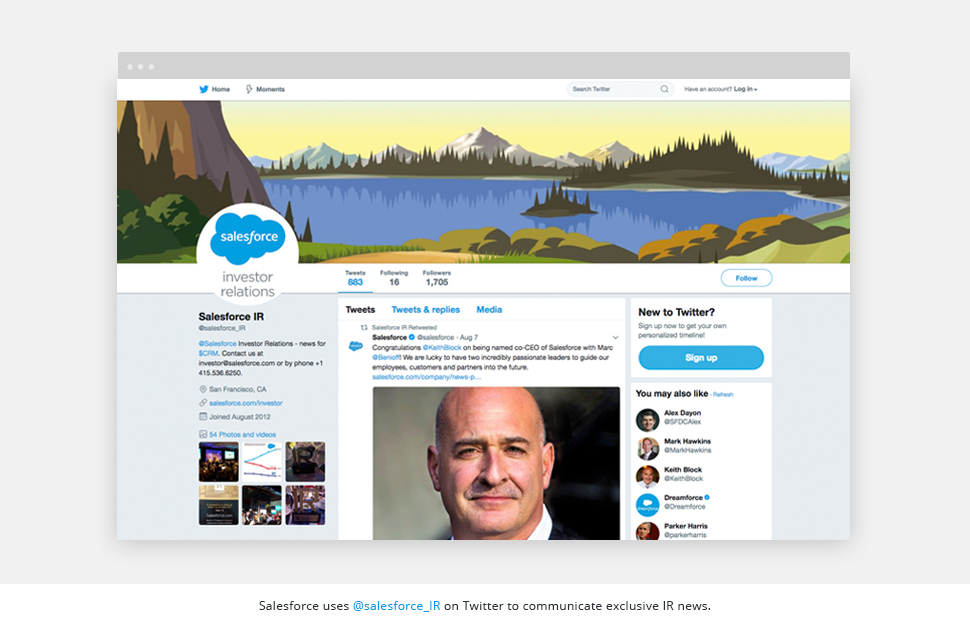 Another best practice is to integrate your IR social feed directly into your IR website so that it's clear and obvious to find. Cornerstone OnDemand, for example, includes live feeds of all social channels on their IR website (and reciprocally adds links back to their IR site from their social posts).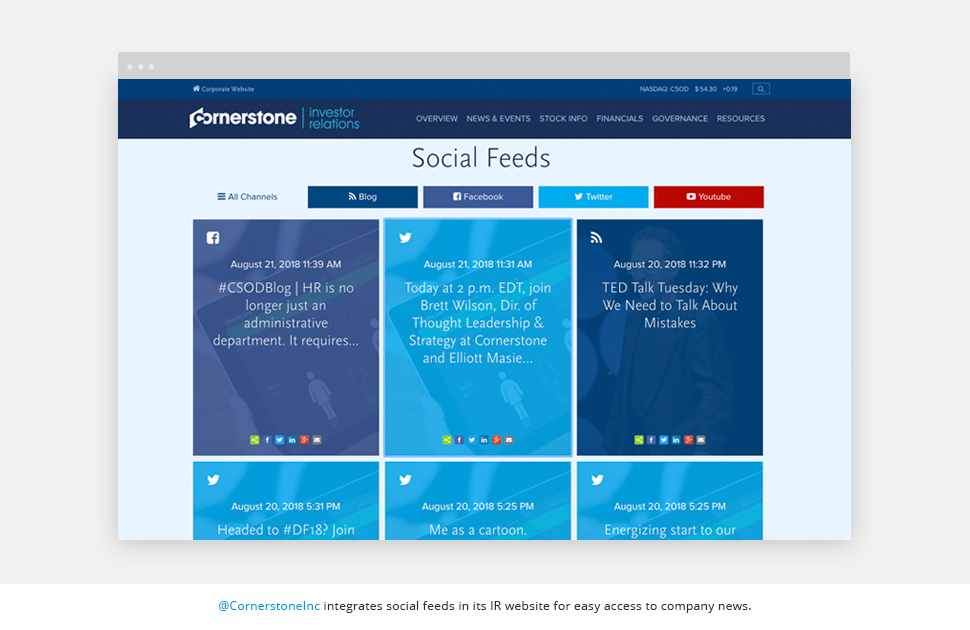 Once you've decided on the social channels that best suit your brand, it's time to create compelling content. Start by coordinating your posts with scheduled press releases, earnings calls and investor conferences. Make references to the key metrics and information of most interest to investors, and try to include quotes from press releases, earnings call scripts and other previously disclosed information. Keep social messages succinct, and get into the habit of linking to your site pages with in-depth disclosures.
Get creative and try experimenting with text, photos, videos, and other media to see which kind of content resonates best with your audiences and helps you stand out from your peers. Above all, be sure that your social content is in sync with your company's brand guidelines and aligns with all of your target audiences, messaging, and overall tone.
Monitor follower activity and engage in a two-way conversation
It's crucial to monitor activity on your social channels, for real-time feedback on what followers are saying about your company and to gauge sentiment that could affect your stock. On this note, make it a priority to respond to questions in a timely and diplomatic way to ease any concerns and maintain investor confidence. Tools such as Hootsuite, HubSpot and Tweetdeck can help monitor activity across platforms. Most channels have built-in page analytics offering insights about your audiences and posts. Take advantage of these insights to see which content is performing well, and use this data to inform your ongoing strategy.
Over the last few years, social media has become a vital part of increasing the reach and impact of investor communications, as well as nurturing a strong rapport with shareholders. Social media can also be an invaluable tool for increasing traffic to your corporate and IR websites, and may even play a critical role in crisis management. Above all, good IR not only understands social media but embraces it in a regular (often daily) routine of connecting with investors and elevating your ever-evolving brand story.
Allyce Maclaren is Q4's Marketing Specialist and enjoys writing about trends in social media and marketing.