In the wake of a shifting regulatory landscape, the capital markets ecosystem is drastically transforming. According to Amit Sanghvi, Q4's Managing Director of Europe, "MiFID II is the foremost leading factor in what has changed the landscape, particularly in Europe, as well as the continuing trend for ESG and passive funds that require their own strategy for engaging with investors." When it comes to the way IR professionals run NDRs and roadshow investor meetings, there's an overarching belief that the EU legislation will mean more physical legwork and logistical know-how to make roadshows successful.

IR Magazine's recent Global Research Report shows that the roadshow is still king for IR events. Across all regions and market caps, 44% of IR professionals said that roadshows were their most rewarding type of investor outreach event. But while roadshows remain a key way to meet investors and stand out from the crowd, the increasing lack of sell-side assistance could prove to become a massive barrier. This is especially true for small caps. The same survey showed that small caps have been getting on the road more regularly, from 77% in 2015 rising up to 88% in 2018.

The question is: how can IR professionals combine their current ways of working with new strategies and tools, to fill the sell-side gap and ensure that roadshows continue to be effective?

In our recent webinar, we heard from a panel of experts featuring Amit Sanghvi, along with Sara Dees, Head of IR at Sound Energy, (UK-based mid cap gas firm) and Andrew Posen, VP of IR at Telaria (US-based small cap video management platform).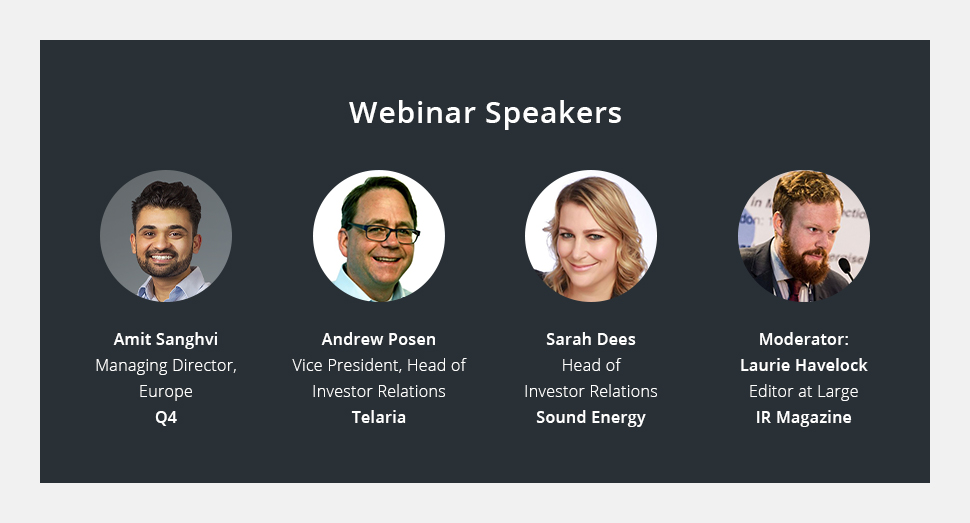 Confronting the Realities of MiFID II
MiFID II has profoundly impacted how IR professionals interact with the sell-side and brokers. But what has that meant for organizing roadshows? According to Sara Dees, whose company has evolved from a small to mid cap over the last three years, "I've noticed a lack of enthusiasm for NDRs. We used to get two to three roadshows quickly filled-up. Now we don't see as much interaction from the brokers to help us fill the slots." This has made her team substantially more proactive about taking on the workload themselves.

From the North American perspective, Andrew says that his team hasn't felt these same sort of restrictions. But he's found that he's seen a real increase in appetite for NDRs. His team still depends on their corporate access teams "for covering analysts and taking them around." Interestingly, he adds that there's a growing need for his internal team to drive the process, "working closely with the brokers and analysts to get the right meetings."

Amit reports that by the end of 2018, the overwhelming feedback from Q4's European clients (especially large caps) was a desire to continue working with brokers, as their primary source for organizing their roadshows. However, there was also a new sense that brokers were largely approaching investors who were their own "platinum clients." Several IR teams "wished they had found out sooner, so that they could have booked those clients themselves." When it comes to roadshows for 2019, Amit says it's all about "how you help yourself."

Strategies for Success in the Evolving Landscape
While relationships with brokers are still of paramount importance, IROs are now faced with re-thinking their strategies for making IR events work in the highly regulatory environment.
Andrew views the process as a continuum, "from conferences to NDRs, and following the activity of brokers trading in the stock." For him, it's key to look at how the pieces connect, as well as getting engaged with the brokers and investors at the same time. In this light, he sees conferences as a testing ground. "Brokers that pull together great conference meetings give me the confidence that they'll have great dialogue with the right investors, and that helps me plan where to go." He then watches if the broker is trading the stock and working hard to follow-up with the investors they saw.

Over the last year or so, Sara has experimented with "independent paid-for conferences." Conducting several meetings in one spot made it easy to meet with both asset managers and clients alike. Sara likens it to "speed dating." She adds that for her next NDRs, she now has a new set of investors that she probably wouldn't have met otherwise. And while it might be challenging to convince the C-suite to pay for events like these, Sara underlines, "if we keep using the same strategies, we won't enlarge our target audiences."

Amit agrees with the concept of treating roadshows and investor engagement as a fluid program. He's seeing corporates start to experiment with 'IR-only roadshows.' Amit explains, "IROs are becoming braver about taking on an entire roadshow, planning and attending it entirely by themselves."

In fact, in our post MiFID II world, the buy-side turn-out to conferences has dropped by over 30%. Amit cites his client in Germany, RWE, who had taken part in a broker-organized conference for the last four years, but have now decided to produce an independent conference (with Q4's help). "Companies are taking matters into their own hands to drive better engagement."

In terms of a strategy for taking on the extra workload yourself, Amit advises to start mapping the entire year with your key points of investor engagement. Include all events such as roadshows, bank conferences, critical meetings, AGM dates, etc. He adds that you can then take this to the C-suite, to get buy-in from management. "You can essentially map your entire year, in a repeatable format to recycle for years to come."

Approaches for Small Cap Coverage
While large corporates might have the resources to "renovate" their calendar of events, mid and small caps have to increasingly fight for coverage and investor attention. In the micro space, Andrew says "you have to be especially proactive." This means maintaining a constant dialogue with your core investor base, as well as "being receptive to people you don't know." He explains that many institutional investors "hunt like wolves," travelling in groups. He adds, "you have to meet one to meet many, and stay aggressive about meeting them and remaining responsive."

Sara says that it's also important not to get caught up in your day-to-day, and sometimes, "take a step back." She likes to take a look at who she's seen in the past, leveraging tools like share and peer analysis. Sara emphasizes that in today's environment, small caps should spend more time creatively planning how they communicate with investors. Smaller cap companies "shouldn't be afraid to ask investors how they want to communicate." There might be opportunities outside of roadshows and the expenses of travel, such as organizing a dial-in webinar for clients. "Not all investors want to do roadshows, ask them how they want to communicate. "

Technology and the Future of Roadshows
Sara encourages finding ways to be clever about using new tools. One of her favourites is her IR site and featuring video to explain her story. She says that it's an effective way to bring her story to life and show technical details that might otherwise seem dry to a more generalist audience. "It has helped me not only sell our story to investors, but also to a wider audience."

Andrew says that a robust CRM is one of his most critical tools. It helps "keep him sane," in terms of giving him investor context and perspective, "knowing who you spoke to and how often you spoke to them, and being able to go back and reference those investors." He says that this is especially important when you're a small cap, because you're not only pursuing entirely new prospects, but also owners who got out of your stock that could potentially return.

In terms of targeting, Sara uses share and peer analysis, to identify who and who isn't investing, and why. Amit adds that as it becomes increasingly important to find pools of capital that are compatible with your story, you need to look for data both inside and outside of where your peers search. He believes that the key is leveraging data analytics, to reconcile the huge volume and diversity of data out there.

In addition to targeting existing shareholders through ownership data, Amit says that IROs can effectively find non-holders with the help of technology. He looks to Q4's AI Targeting, which is driven by a powerful artificial intelligence engine. "It's the most advanced technology for churning billions of data points into high quality and accurate targets."

But Amit adds, "we're seeing early adoption work best, in tandem with the qualitative feedback of brokers and intelligence analysts." The real takeaway for IROs is that you need to "use data smartly and work with people who can translate and deliver it with added value." For roadshows and beyond, 2019 seems to be all about creatively managing and pooling your resources.

If you missed last week's webinar, you can watch it now, on demand.

Marla Hurov is the Content Marketing Manager at Q4 Inc and blogs regularly about trends in investor relations, technology and digital communications.