Of all the IR trends we witnessed in 2019, the surge in social media use was among the most notable. Recent research shows that three-quarters of FTSE 100-listed companies are now using social media for results reporting, and have a combined following of more than 37 million people. For IR teams, the uptake in social media is a logical response to the increase in digital usage among investors. According to Brunswick's 2019 Digital Investor Survey, 98% of investors report using digital sources to conduct research, and a whopping 88% (up from 70% last year) are actually making decisions based on information they have learned online.
For IR teams, social media can provide the ideal platform to communicate corporate information like earnings results, and can be particularly helpful to small and mid-cap companies who often struggle to reach investors through traditional formats. According to Matt Van Tassel, Manager, Global Disclosure Services at Business Wire: "Social media platforms such as Twitter and LinkedIn can and should be utilized to augment the reach of your message. At a minimum, your team should be posting event dates, links to earnings press releases, investor day information and registration links to garner participation by stakeholders. If your team has the bandwidth, incorporating tweets into the actual earnings cadence can provide for better engagement of your company's story."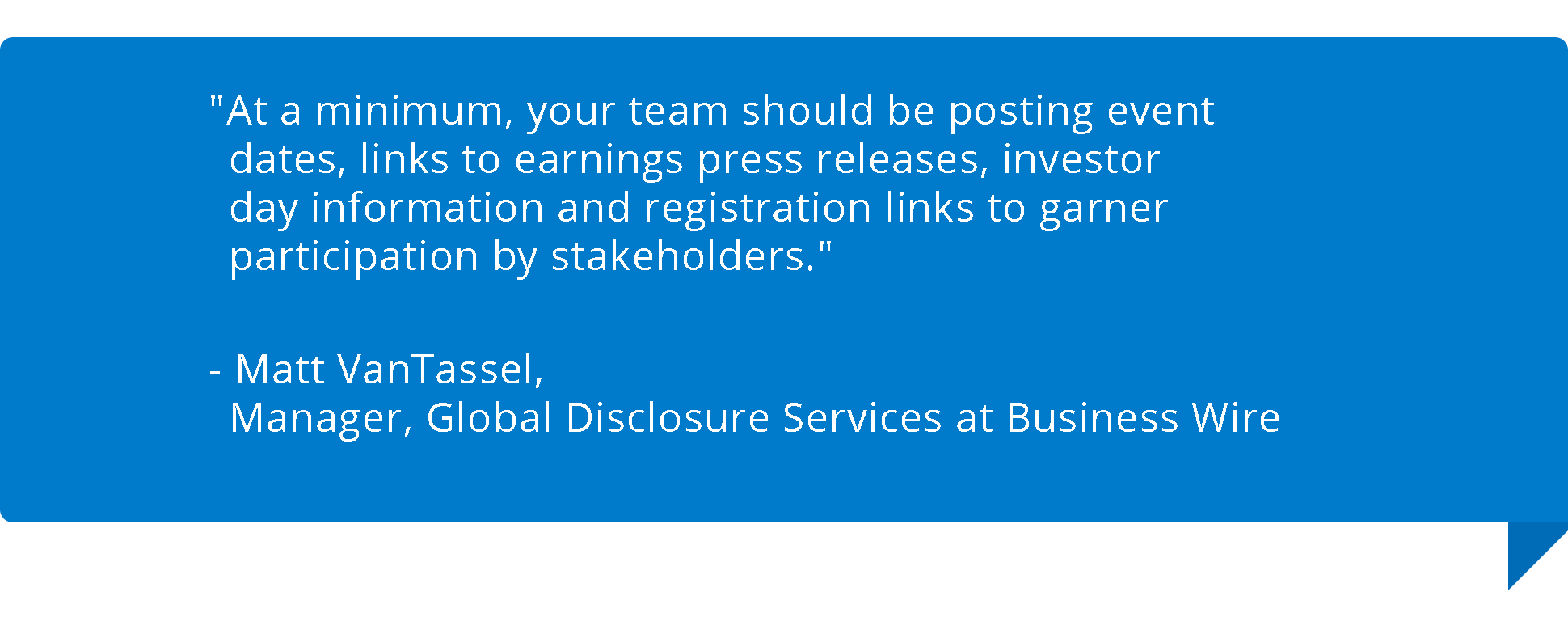 With millions of investment dollars up for grabs, you can't underestimate the importance of integrating social media into a successful earnings strategy. As one of the most popular social media platforms and a leader in IR, when it comes to leading by example, Twitter has some undoubtedly big shoes to fill. Here are a few ways the company effectively leverages social media for an impactful earnings.
Gaining more visibility and standing out from the crowd
As a leader in social media, Twitter understands the importance of standing out from the crowd. They do this by developing a distinct social media identity for IR, separate from their corporate profile that focuses on product and customer service. Keeping these pages separate helps ensure that content is relevant for followers of each page, and makes it easy for specific audiences to find what they want. Taking it one step further, the company also leverages its 'cashtag' (a corporation's ticker symbol preceded by a dollar sign) — to direct their social audience to relevant conversations, while monitoring what people are saying about the brand, detect patterns in sentiment, and react quickly when necessary.
Twitter also ensures their stakeholders and investors can easily find them on social media, by integrating live feeds of their social channels on their IR website. They also mention their Twitter handle and cashtag in the opening remarks of their earnings call, to encourage Q&As and a two-conversation on multiple channels: "We'll also take questions asked on Twitter, so please Tweet us at @TwitterIR using the #TWTR." – Krista Bessinger, Vice President, Investor Relations.
Keeping out of the crosshairs
Before reporting anything on social media, North American regulation requires that IR information is provided fairly to all shareholders via news releases. Accordingly, prior to sharing any content from their earnings call, Twitter provides a disclaimer and directs social audiences to their IR website where earnings materials and SEC filings.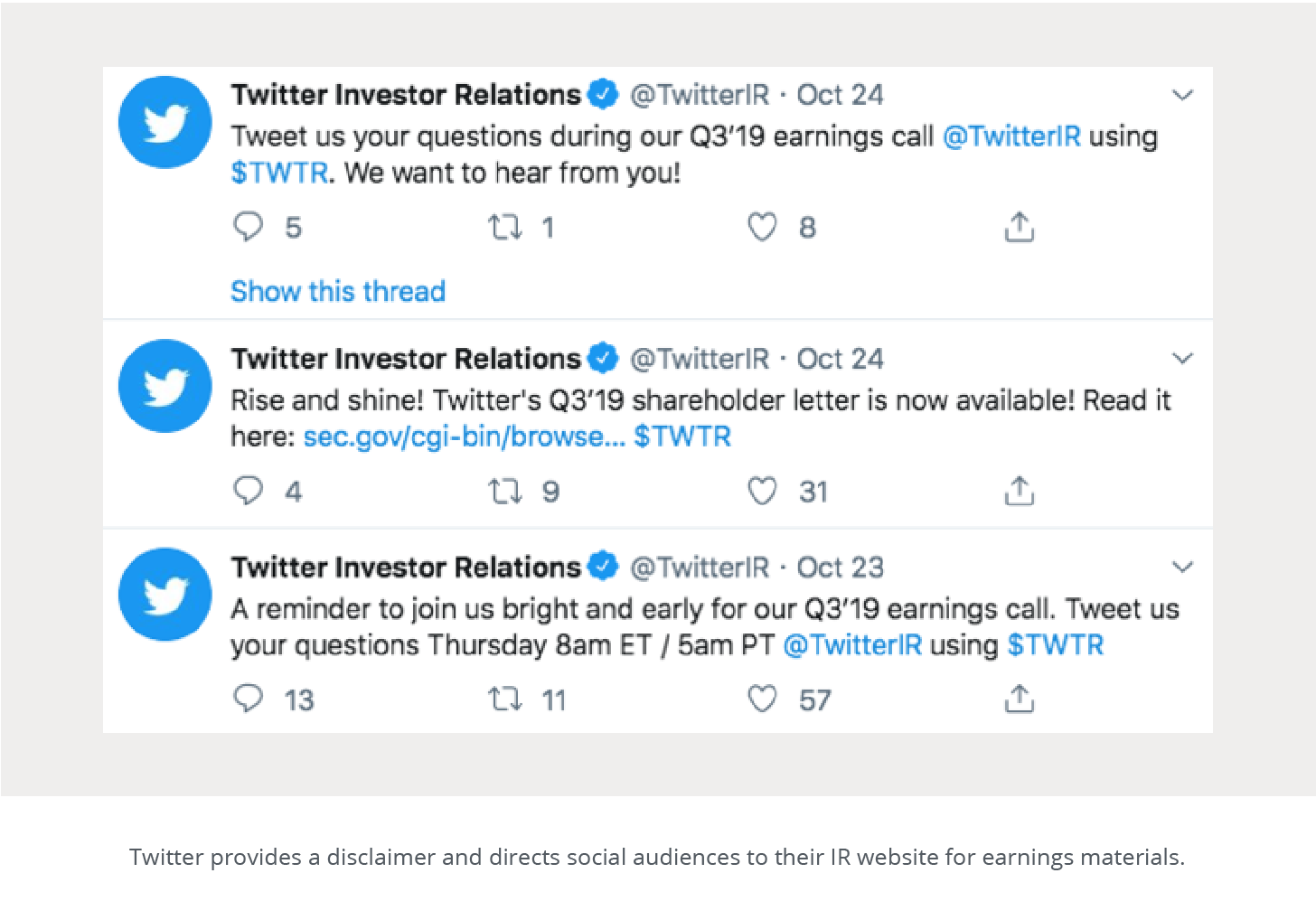 Crafting compelling content
Twitter is arguably the most valuable channel to leverage during earnings, since it facilitates real-time updates. They do a great job of leveraging their own platform, by tweeting out reminders for upcoming earnings calls, sharing excerpts from press releases, live-tweeting conference calls, and inviting investors to submit questions. As a best practice, they keep their tweets short and succinct, making references to the key metrics (such as operational and financial highlights) and linking back to official disclosures when appropriate.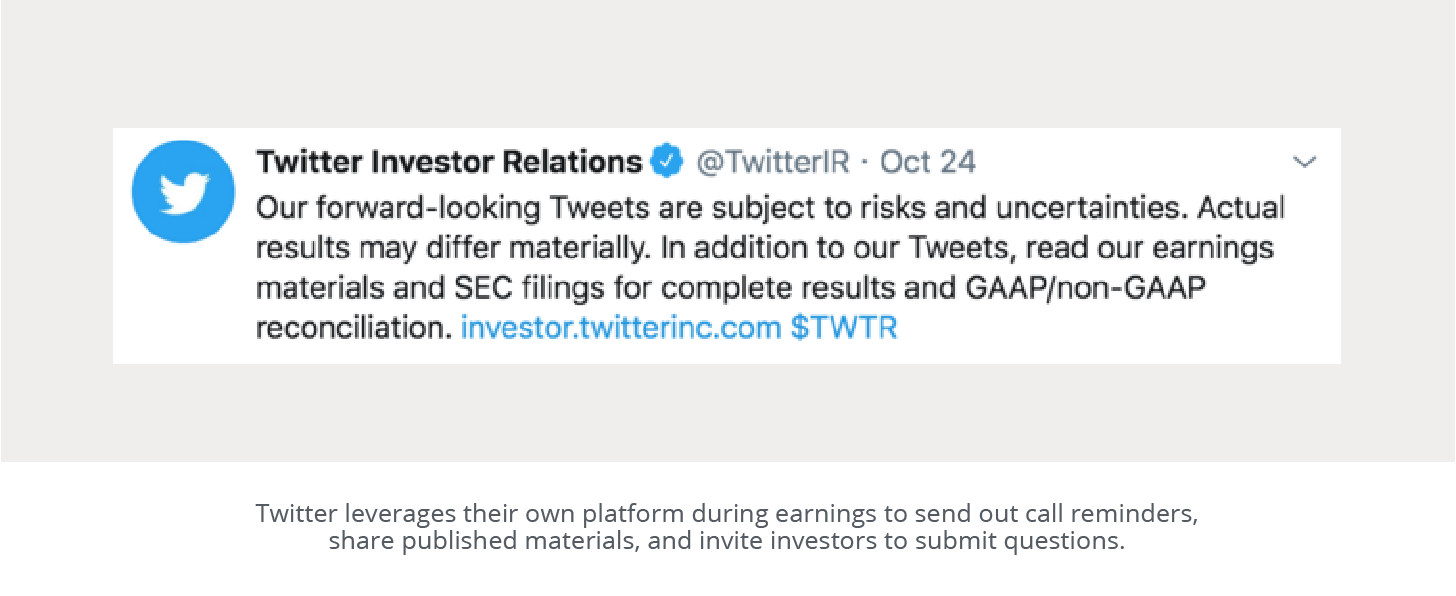 To keep their audience engaged during the earnings call, Twitter also leverages a variety of media to emphasize key updates and achievements. For example, they featured an eye-catching graphic to emphasize a new partnership with NBC Sports, which makes the tweet (and information) stand out from previous tweets.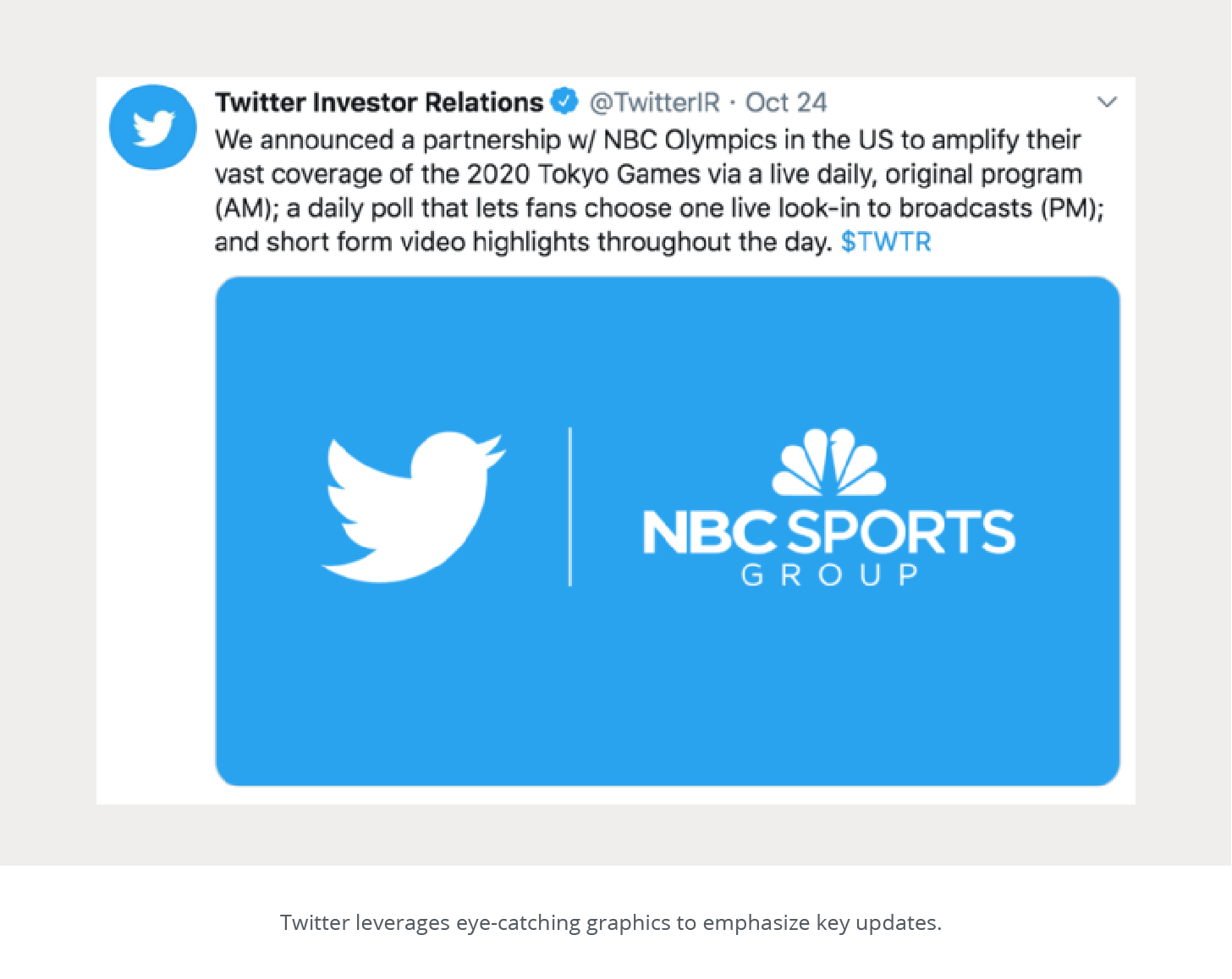 And finally, video is another popular and cost-effective route for IR teams to share earnings presentations. Although Twitter doesn't tend to do this, many public companies, including Netflix, share their earnings calls and highlight videos on Youtube to increase engagement. As an added advantage, companies can benefit from posting shorter snippets of these videos across other social channels to further extend the reach. In fact, according to LinkedIn data, video is shared 20X more often than other types of content formats in the LinkedIn feed, with a combined 20+billion video views occurring every day across social networks.
Social media has become a vital part of increasing the reach and impact of investor communications, especially during earnings. For IR teams, it is an invaluable tool for sharing your company's achievements, communicating financial information, and showcasing your management's vision — not to mention, increasing traffic to your investor relations website and earnings calls. IR teams everywhere can take a little inspiration from social media giants like Twitter, and leverage social as an important piece of a successful communications strategy.
For more social media tips for IR professionals, check out Social media tips for IR from a marketing specialist.