Reporting plays a crucial role in the daily process and overall success of IR teams everywhere. It's ironic then that capturing, analyzing, and interpreting data also happens to be one of the most time-consuming and manual tasks in the IRO's day. As the new year quickly approaches, now is the time to start thinking about ways to improve your reporting for 2019. With the right reporting tool, you'll not only be able to increase your team's efficiency and improve your ROI on investor outreach, but you can rely on accurate, timely and actionable insights to report upstream.
With that in mind, the team at Q4 is thrilled to close the year with the release of Report Builder. Q4 Desktop's advanced reporting tool is designed to help IR teams simplify their workflow, improve investor targeting, and effectively present meaningful insights to management and the board. Report Builder generates board-ready reports that are easy to digest at a glance, clearly displaying all of your key metrics and bringing your data to life.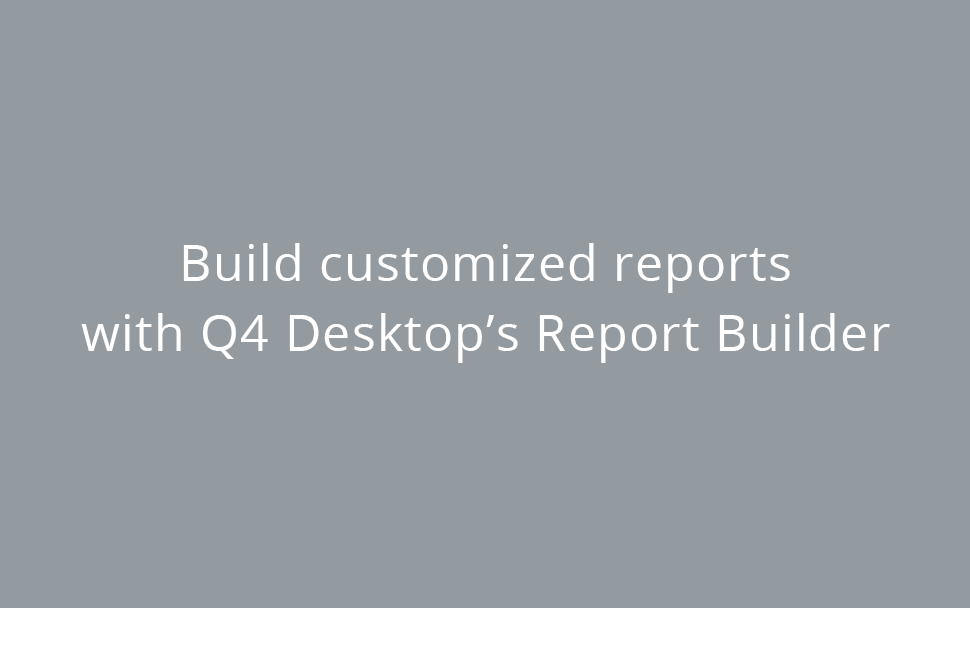 One Tool, Unlimited Possibilities
Most IR professionals rely on external tools to build reports, essentially running their IR program from a spreadsheet. But the spreadsheet has its limitations (to say the least). It can be nothing but tedious and overwhelming trying to gather data from multiple and disparate sources, and then have to manually filter and aggregate everything into an excel spreadsheet. With Report Builder, you can manipulate your data automatically, in real-time and in one place.
Report Builder empowers you with the ease and flexibility to automate and customize your board and management reports, streamlining the creation of reports to identify trends between your outreach efforts and changes in your ownership base. With a simple drag-and-drop interface, you can easily assess correlations between your activity and ownership data, based on your own specific preferences. Choose from a comprehensive selection of templated reports, or create your own reports, with the flexibility to mix and match a variety of CRM and ownership data sets.
Gain a snapshot of your relationships with your investor opportunities and shareholder base. With the click of a few buttons, you can sort, filter and aggregate your top buyers, sellers, and shareholders. This includes where they come from, their investment style, market value, and even "quality rating," against real-time stock changes. You can finally measure the effectiveness of your outreach and the impact of your meetings, roadshows, and conferences on your ownership and peers. Draw the lines between prospective investor touch points and increases in investment, addressing such questions as: Did our meeting make a difference? What conferences are worth attending? Which roadshows positively impacted ownership? Is our shareholder base improving? Which firms did we (or didn't we) contact? And so on.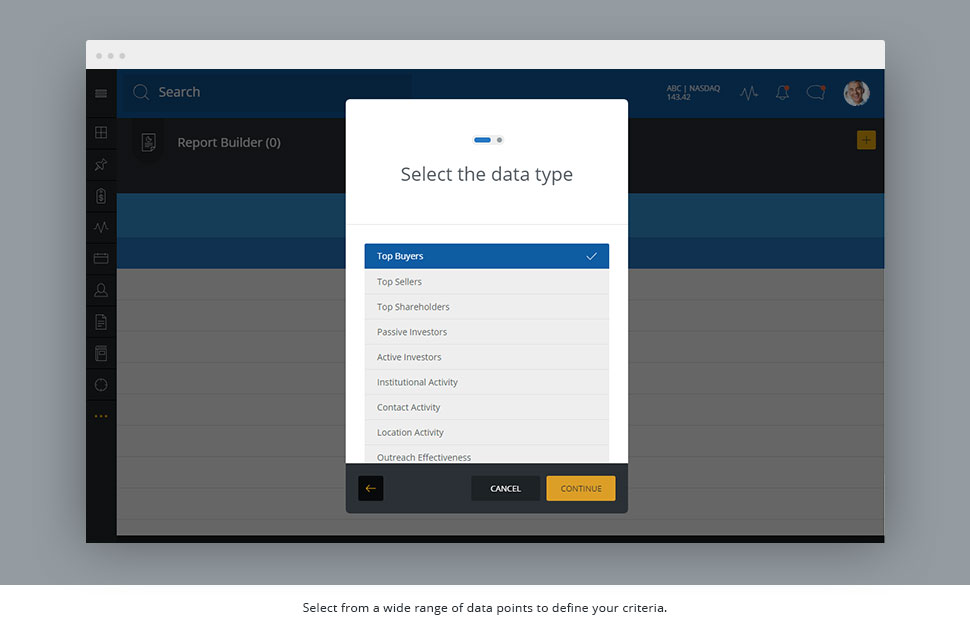 Simply Designed for your Workflow and KPIs
An advanced reporting tool shouldn't be complicated to master. You need the ability to quickly pull-up essential information on the investors you meet and your shareholder base. Report Builder is designed to streamline your workflow, so that accessing key ownership and activity data is simpler than ever. The tool has a highly intuitive drag-and-drop interface, with built-in automation and functionality across your CRM platform. With Report Builder, you can seamlessly produce robust reports for your management team, anytime and anywhere ownership happens.
Report Builder is also fully customizable to your specific interests and KPIs, so you can capture the data that drives your outreach and makes a real impact with your audiences. Every IR team is unique, which means it's essential to configure reports with your own IR and management teams in mind. With Report Builder, you can plug in the variables and targeted KPIs that match your company's vision. With clear visual indicators of your progress, you and your team can refine data into actionable insights and strategically write your own story.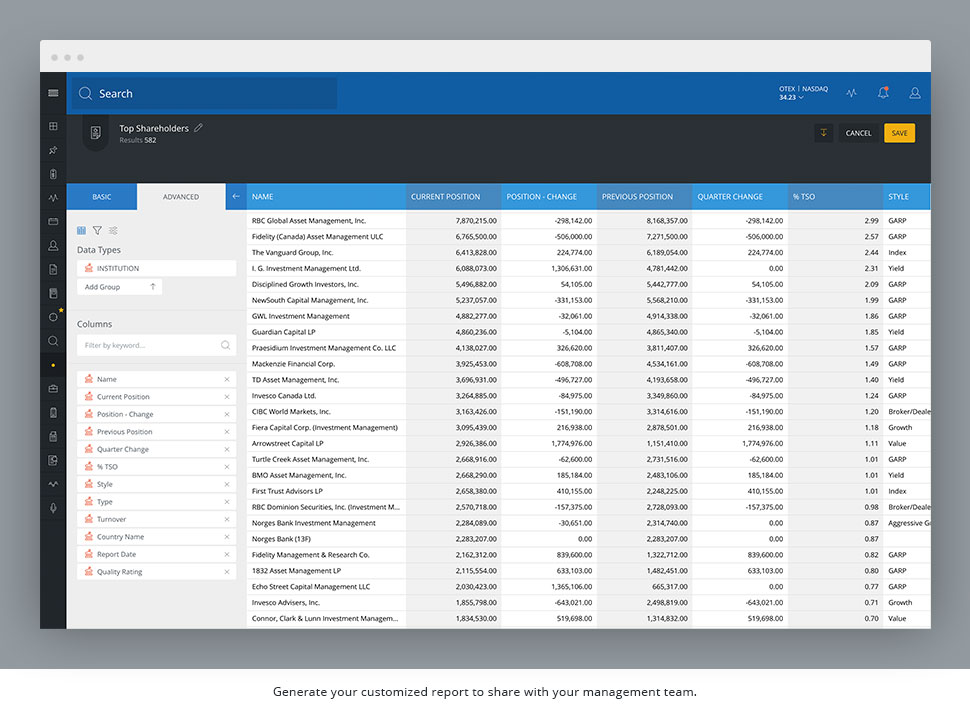 Staying on top of the constantly changing tide of investor behavior is critical for IR. You and your team rely on it. Your data essentially tells a story and you need to see the leading indicators that could change that story mid-sentence. Report Builder offers you (and the C-suite) an in-depth understanding of where you stand and the ability to quickly adjust your course of action, so you can continuously improve investor outreach and stay motivated by your progress.
As you start contemplating how to optimize your IR program for the new year, think of Q4 as your IR partner. We're always working to improve Q4 Desktop to help you target the right investors and manage your shareholders, with the most innovative and intuitive tools in the industry. Report Builder will continue to evolve with your needs in 2019 and offer ever-increasing functionality and data sets for your reporting. We look forward to a great new year together in the making!
Interested in learning more about Report Builder? Request a demo today.
Marla Hurov is the Content Marketing Manager at Q4 Inc and blogs regularly about trends in IR and digital communications.
(Visited 11 times, 1 visits today)