Technology continues to disrupt a variety of industries and drive real growth potential. Over the past year, this has led investors to put significant money to work in the sector. In fact, the Technology Select Sector SPDR Fund (XLK) was the only SPDR ETF that made fresh 52-week highs, after the market correction in February. But with the recent sweep of controversial headlines about Facebook sharing personal data, President Trump targeting Amazon, and NVIDIA halting autonomous vehicle testing, the sector is facing some serious headwinds. In addition to this recent volatility, investors are also on edge about potential tariffs leading to a trade war with China.
With the first quarter closed out, it's an opportune time to dig a little deeper into the Technology sector and take a close look at the rise of the Semiconductor space. If you're not already aware, semiconductor chips are used for most of today's groundbreaking innovations, from self-driving cars, to mining bitcoin, virtual reality, artificial intelligence, PC gaming, and graphic processing units (GPUs) in the cloud. Here's a look into the iShares PHLX Semiconductor ETF (SOXX) for a meaningful examination of the players in the space.
iShares PHLX Semiconductor ETF (SOXX)
Year to date, the SOXX has outperformed the Technology Select Sector SPDR Fund (XLK) and the SPDR S&P 500 ETF Trust (SPY). But there's also been a fair share of volatility in the semiconductor space with proposed tariffs and a trade war with China, creating tremendous uncertainty. China represents ~50% of U.S. semiconductor revenues, and conversely, the U.S. market represents 75% of China's semiconductor supply. And with automobiles on the proposed tariff list, automotive chip suppliers (AVGO, NVDA) may also be affected. It's important to note that tariffs have not been put in place, but the market has been struggling to determine if the U.S. is using it as a negotiating tactic or if a trade war is actually imminent.


At the end of the day, everything is relative and portfolio managers have to outperform the broader market and stay fully invested. The SOXX broke out to multi-year highs in 2016 versus the SPY and has never looked back. Looking at the chart below, we've clearly arrived at an intriguing point. Has the SOXX made a double top? Or is the current dip a buying opportunity before an organic move higher? As of now, the SOXX is holding up nicely with each pullback presenting itself as a higher low and buying opportunity. Until we see a breakdown or a reversal in this trend, portfolio managers will likely hold onto their long positions.
Taking a deeper look, let's shift our focus to three of the top five holdings of the ETF which include Intel, Broadcom Inc., and NVIDIA.

Intel
Intel (INTC) has the largest weighting of 8.61% in the SOXX which has been helping its overall performance. The stock is higher by 10.70% year to date and is trading firmly above the 200-day moving average. We saw some selling pressure on April 3rd, when Apple announced that it would begin to manufacture their own chips and move away from Intel. The strong move lower, towards support, became a buying opportunity and the stock has since rebounded off the lows. The $47 level is support on the downside, while $53 indicates resistance on the upside.
When we look at the crowd psychology through INTC's higher trend, combined with Q4's proprietary sentiment indicator which determines how investors are "feeling" (by analyzing equity and options data, short selling, and pattern recognition), we see bold signals that suggest the path of least resistance is to the upside, and a move back towards $53 is the more likely outcome. Clearly, however, any further advancement on potential Chinese tariffs could stall this rally in a heartbeat.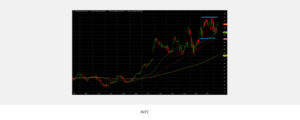 NVIDIA
With products used to power computers for autonomous driving capabilities and mining bitcoin, NVIDIA (NVDA) has been a sector-leading momentum stock with immense growth potential. The stock has been strong, rallying higher by 16.92% year to date with a 7.80% weighting in the SOXX.
However, NVDA has also been showing some recent weakness, with active sellers hovering around the $250 level. Based on its closing prices, the relative strength index (RSI) charts the historical strength or weakness of a stock. In NVDA's case, the RSI was showing a bearish divergence each time the stock tested the $250 level. This indicates that NVDA was getting weaker, even though it was still trading at the critical $250 price point – the high end of the range.
On March 27th, news broke that NVDA will suspend self-driving car tests, creating a strong reversal off the $250 level. We'll likely see weakness in the name persist, with a shift to the 200-day moving average of ~198 a possibility. On the flipside, if RSI breaks the trend lower, we're pretty certain to see bullish inflows causing some strong tailwinds.
One thing is certain: the stock is sitting at a highly pivotal point, with traders unsure about the next trend direction. That said, leveraging Q4's proprietary Volatility Indicator (which uses equity and options data to gauge the size of future moves, regardless of directions), we see that traders are starting to price-in greater volatility for the stock – expecting outsized moves (+/-) in the near-term. While the risk to a downside correction is more probable, most traders are likely to sit contently in a holding pattern, until the next trend is more clearly defined.


Broadcom
Broadcom (AVGO) appears to be the weakest of the stocks in question, both in terms of performance metrics and from a technical perspective. AVGO is lower by 6.45% year to date and represents 8.05% of the SOXX weighting.
Broadcom made an offer to buy Qualcomm, but promptly withdrew it after the Trump Administration rejected the deal citing "national security concerns." AVGO is now trading below the 200-day moving average, breaking the neckline of a head and shoulders pattern at $241 and trying to hold support at the $224-$225 level. Additionally, the 50-day moving average has crossed the 200-day moving average from above "death cross." Stock technicians see this as an extremely bearish sign of a negative reversal as a longer-term trend.
While the trend seems to be lower from here, we could see enough buyside interest coming into the stock near $225, to support a short-term move back up to the $244-$245 price point. Breaking it all apart again, however, there's a more likely downward move to $220, followed by an eventual re-test of the 52-week lows of $208.44.    

Overall, semiconductors have shown robust YTD performance. And, despite the recent ups and downs, the iShares PHLX Semiconductor ETF (SOXX) is made up of 30 individual equities which allows for some pretty compelling diversification. After looking at three specific stocks within the sector, it's clear that each stock has its particular exposure to recent events in the news, with its own unique technical structure. Given the heightened volatility in the broader market, picking the right stock at the right time is more critical than ever to generate returns. Portfolio managers need to watch for stocks trending higher, bullish sentiment, and relative strength versus the broader market. As far as the overall semiconductor sector goes, PM's are still likely to remain overweight for the foreseeable future, but that doesn't necessarily mean every stock in the space will outperform.
Rodney Raanan was Q4's Equity Strategist & Director, Advisory. Rodney worked directly with publicly traded companies, providing real-time money flows, stock activity updates, options analysis, and technical analysis. He has over 10 years of capital markets experience as an equity trader and an analyst. Follow Rodney on Twitter and Linkedin.