For a small-cap company, especially one with thinly traded shares, a top investor suddenly exiting a position can have a devastating effect. IROs who use stock surveillance are at a distinct advantage.
With surveillance IROs are able to identify which investor is starting to decrease their position within days of their first sale, rather than months later via public filings. This enables the IRO to take swift, informed actions.
Whether it?s keeping senior management informed in real-time, better understanding a seller?s motivations, or working on a strategy to line up a new buyer, stock surveillance provides the tools necessary to run your IR efforts more smoothly and facilitate a better, more stable capital structure.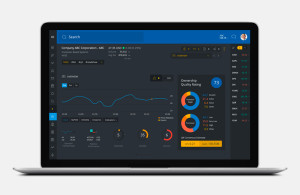 Real-time data on relative performance drivers, peer tracking, and activist monitoring programs are a few cutting-edge surveillance tools to help you be more efficient.
Real-time trading analytics
Bill Pfund, vice president of IR at Scientific Games Corp., says that reasons to embrace stock surveillance are different for small-cap companies than they are for large firms. While an IRO at a larger-cap company, he worked closely with a stock surveillance provider to identify very large institutional orders, measure his company's sensitivity to macro-trends, and track cyclical fund flows. "When you're a large-cap company with literally hundreds of stockholders and you need to keep your finger on the pulse, stock surveillance is very good," shares Bill Pfund, vice president of IR at Scientific Games Corp.
Now at Scientific Games, a smaller cap issue, Pfund still relies on the intelligence gleaned from stock surveillance, but in different ways. For instance, because Scientific Games is highly leveraged and the chairman of the board owns 40 percent of the stock, with another 40-50 percent concentrated in the hands of 10-12 other investors, shares are very thinly traded. Pfund notes that he, "can always pick up the phone and quickly speak with an investor" but stock surveillance continues to have value.?
Real-time data on relative performance drivers, peer tracking, and activist monitoring programs are a few cutting-edge surveillance tools to help you be more efficient. For more volatile small-caps, these trading analytics are vital to understanding investor behaviours and momentum.
Understand short-selling
Small-caps, which typically suffer a dearth of sell-side coverage, can find it difficult to find answers to short-term share price fluctuations, including short selling. A fully implemented stock surveillance program can fill that void and provide better clarity. I have a very high degree of leverage, says Pfund. "So there are a lot of people who short the stock? By utilizing analysis of loaning activities, measuring hard-to-borrow rates, and tracking options order flow, best-in-breed surveillance firms are able to quantifiably measure not only short selling in small-cap shares, but also provide intelligence behind market sentiment and forward-looking investor expectations as well.
Identify rumours about the company
In today's world, there's a lot of quant trading, says Pfund. When he sees much heavier stock trading activity, he turns to his surveillance provider to find out whether there?s bad information out there. He continues, "When it comes to information about the company, the facts about results, we want to make sure that information is accurate. Stock surveillance firms are uniquely positioned to pick up on market rumours, innuendo, and momentum trading. Leveraging sophisticated algorithms and technology, relative performance models engineered by today's surveillance providers are capable of separating fact from fiction. 
Manage volatility
Small caps are particularly vulnerable to volatility. For thinly traded stocks, changes in market conditions can quickly lead to large price swings. Analysis of quant trading can help an IRO understand how volume and sentiment are changing. This information empowers you to proactively warn management of expected turbulence ahead.
Early warning
Julie Tracy, senior vice president and chief communications officer for Wright Medical Group and a member of NIRI's board of directors, values stock surveillance because it lets her know about shareholder movements before too much time has elapsed. "For me, the great thing about stock surveillance is that it serves as an early warning for new shareholders getting into the stock or a shareholder exiting a position," she says. This can be of extreme value to an IRO at a small-cap issue, where shares can see massive price divergences from their norms when a large institutional investor makes a significant move into or out of the stock.
Targeting intelligence
Many small-caps and lesser-known companies don't have sell-side brokers pushing the buy-side for them like larger caps do. Surveillance can help small-caps target more effectively by identifying larger institutional investors that might be interested in their companies, or that have recently been spotted putting money to work in peers. IR budgets tend to also be tighter in small-cap companies, and IROs want to make the most of their allocated marketing spend. Putting management teams in front of the right investors, at precisely the right time, can mean the difference between walking away from an NDR or conference with a new top 10 holder or not.