An interview with Maxim Integrated.
Electronic devices are becoming increasingly intelligent and sophisticated about integrating into our daily lives. "Body sensors monitor our health. Cars drive themselves. Networked homes power-up." In this vein, California-based technology mid-cap Maxim Integrated develops integrated circuits specifically for the automotive, industrial, healthcare, mobile, and cloud data markets. Their mission is to "solve engineering problems and empower design innovation."
Working with Q4 since 2015, their IR team has been focused on enhancing the impact of their surveillance  and web strategy for stronger investor outreach. I recently spoke with the company's Vice President of Investor Relations, Kathy Ta, to find out more about her surveillance and web strategies, and what she's learned along the way.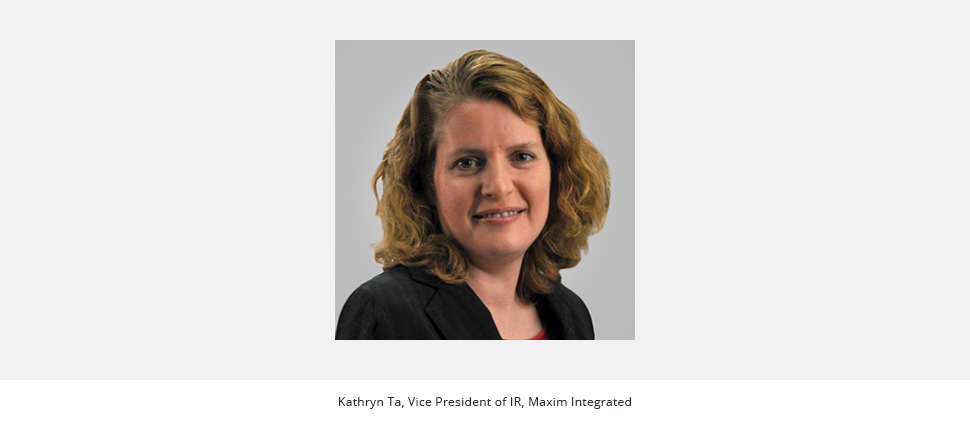 What's your favorite part of being VP of IR?
I love interacting with some of the smartest people in the industry. I'm constantly battle tested on any and every question about the company.  As the face of the company for our entire IR audience, I can make a real difference. I have to be always up to speed about everything related to our company and competitors, and what's happening in the industry.
How has your team's surveillance evolved?
Before working with Q4, we didn't have an actual analyst, but rather "automated" surveillance. The service essentially offered generic attempts at connecting buys and sells within the quarter. But I needed substantially deeper and more sophisticated insights into who was behind the trade and why.
I had worked with Q4 on our IR website redesign and was extremely happy with the results and our client-vendor relationship, so it just made sense to look to Q4 for surveillance as well.
We're working with one of Q4's most senior analysts. He's experienced and provides real insights into what's happening inside the quarter — insights I can act on.
What influence has Q4 had on your investor outreach?
We now have much stronger and instant insight into who is buying and selling. We're finally able to make the connection between a meeting we've just had and what's going on with our stock ownership.
We're also much better at reporting on performance to our senior management. And we can effectively respond on-the-fly to their questions about what's happening within the quarter, especially when we see a big and unexpected dynamic within the stock. We can always trust Q4 insights to be directionally accurate.
What about your IR website? Why were you looking for a redesign?
Our internal web team from our corporate site also developed and supported our IR website. But the team really didn't understand the needs of an IR audience, even the basics like leveraging the site for newsletter subscriptions and press releases. We needed a partner who understood how to create the right experience for our unique audience.
Can you describe your process for selecting a web partner?
I literally looked at every web company servicing the IR space. Q4 won our business because of your expertise and experience in integrating critical best practices for IR sites. Honestly, Q4 was the obvious choice.
Our company doesn't usually use external web vendors, so I had to make a convincing case for the impact a new IR site would have on the business, in terms of targeting and resonating with investors and shareholders.
How did you implement your website redesign?
The site's implementation was a lot of work, for both Maxim and Q4, but the process and execution went smoothly. We had clear objectives for the site, in terms of branding, messaging and usability.
For our current day-day to updates, Q4's customer service is excellent and always responds within minutes. Our dedicated Client Success Lead gives us the white glove treatment, especially when it comes to crucial content and timing, like posting our earnings reports and slide decks. He makes sure that the process is seamless, every time.
How did the website redesign impact your IR program?
With a "real" IR website, we're able to quickly and easily share key information to prospective investors and our shareholders. We use the site as our IR hub, housing such content as quarterly reports, investor decks and filings, as well as advertising in-depth special topic calls.
Our site is also powerfully integrated across social media channels, including the automatic sharing of our slide decks with Linkedin Slideshare. And we love Q4's "multi-screen" approach," seamlessly and instantaneously delivering content across devices.
What's next for Maxim Integrated and your IR program?
After a long time of concentrating on profitability, we're ready to focus on our growth drivers. With this top of mind, we'll continue to work with Q4 as a key partner in our success.
Marla Hurov is the Content Marketing Manager at Q4 Inc and blogs regularly about trends in IR and digital communications.