The notion of the template has faced some longtime prejudices. The very word "template" might conjure-up associations with cookie cutter creations and the inability to make a personal mark. But the reality is that modular designs have dramatically evolved. When it comes to IR sites in particular (especially with today's increasingly tight go-to-market timelines and budgets), there are actually some highly practical and compelling benefits to web solutions based on templates. In fact, with over a decade of building award-winning websites for industry leaders (including Apple, Spotify, Netflix, Shopify, Nike, and Visa); Q4 is taking IR website design to the next level, by reinventing the concept of the theme library and changing the way the market sees templates.
With the recent release of Studio, clients now have the freedom to choose from out-of-the-box designs to full customization. According to Joe Di Bacco, Director of Client Operations at Q4, "our themes offer a robust and thoughtful structure that contains all of the critical elements of an IR website. We've taken everything we know about industry standards in keeping with best practices, and added the flexibility and variability to showcase a brand's identity and story." He underscores, "We want to blast away any negative connotations of a template."
I recently sat down with members of Q4's implementation and design teams to explore the art (and science) behind powerful out-of-the-box designs with the flexibility and personality to meet the needs of today's IR teams.
The concept behind the theme library
Joe says that the concept behind "Studio themes" was driven by the mission to build IR websites more quickly and efficiently. It takes approximately 2-3 weeks to build a Studio One  site, versus 4-6 weeks for a custom IR site. That's essentially half the time. Sya Briones, Q4's Creative Director, explains that Studio themes "substantially speed-up the web design process, by taking the designer and developer out of the process."
She describes the process of creating a series of theme layouts as a combination of looking at IR best practices and design trends, as well as client trends by sector. "Over the last decade, we've been collecting and applying best practices across our client sites. We also look at the latest trends in design both inside and outside of IR" (these include big and bold fonts, images and colours, high contrast design, and incorporating videos and animations). She adds, "in addition to integrating these best practices and trends to create a series of modular layouts adaptable for all brands, our implementation team mapped out and took inventory of the most popular and successful designs across our client sites."
At the essence of all IR sites is a checklist of essential parameters and a hierarchy of content to consider. In addition to having to be regulatory compliant, IR sites tend to be content heavy, housing a variety of documents (versus corporate sites which tend to be much cleaner and simpler). Q4 Graphic Designer, Sergio Higuera summarizes, "For IR sites, it's all about making your content easily accessible. The main goal is to effectively convey your key messages, information, and data."
Joe says, "our best practice formula is the same formula we always use (and continuously update) to build our websites." This is in large part based on the premise that, "an IR site is the same at its core for all clients. It's the content and brand story that differentiates it." Matt Twydell, Q4's SVP Communications adds, "With these modules, clients save time making decisions about their website's structure and functionality, because we've already optimized everything for the Street. We've put a lot of thought into these layouts and structures, so clients can put their energy into what really matters, their key content and brand story."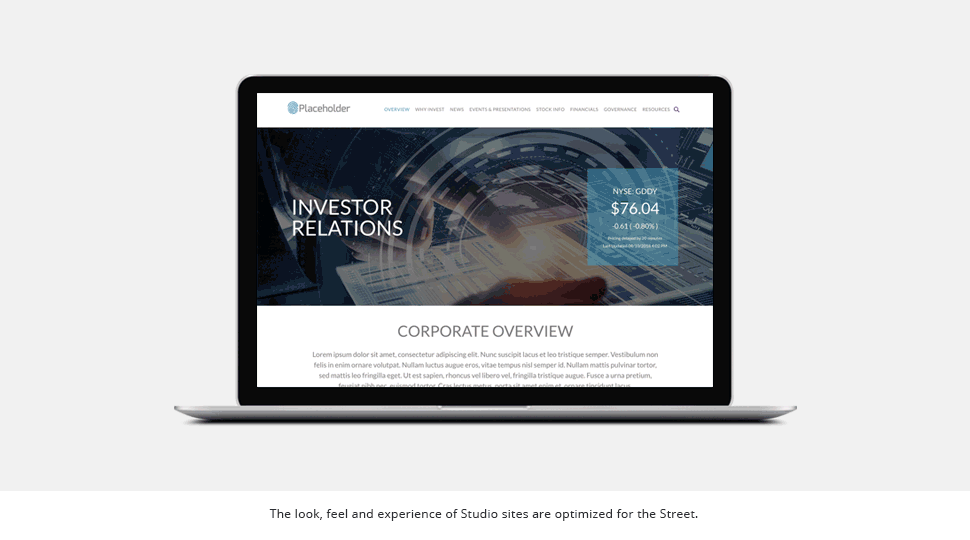 The making of powerful modules with personality and flexibility
Built with the same essential features, functionality, and design best practices at the heart of all Q4 websites, Studio's library of modules is designed for a variety of market segments. Joe describes the process, "The first phase was to build module skeletons, the core pages and components of any IR site. The second was leveraging all of the tools for creating the most full featured websites."
With this line of thinking, Jeyson Lopez, Q4's Digital Designer, says that the design team's aim was "to create a series of 'ready-to-go' themes which expedited the entire design process and catered to the needs of diverse clients, by compiling best practices and making them compatible with a variety of brand styles." Matt adds, "We created a thoughtfully vetted module that integrates all of our best practices as a starting point for the websites we build. We took that base and applied it to various sectors."
One of the design team's greatest challenges was creating modular designs that would be flexible enough to elevate diverse brands. A key strategy for giving the layouts personality was applying them to key client sectors, including mining, fashion, retail, technology and pharma. Individual designers were assigned to each sector module for a range of creative perspectives. Sergio explains further, "the look and feel of each theme is inspired by different sectors. For example, a mining site typically looks bold and aggressive, versus a fashion site which is more elegant and clean, with round shapes and often soft colours."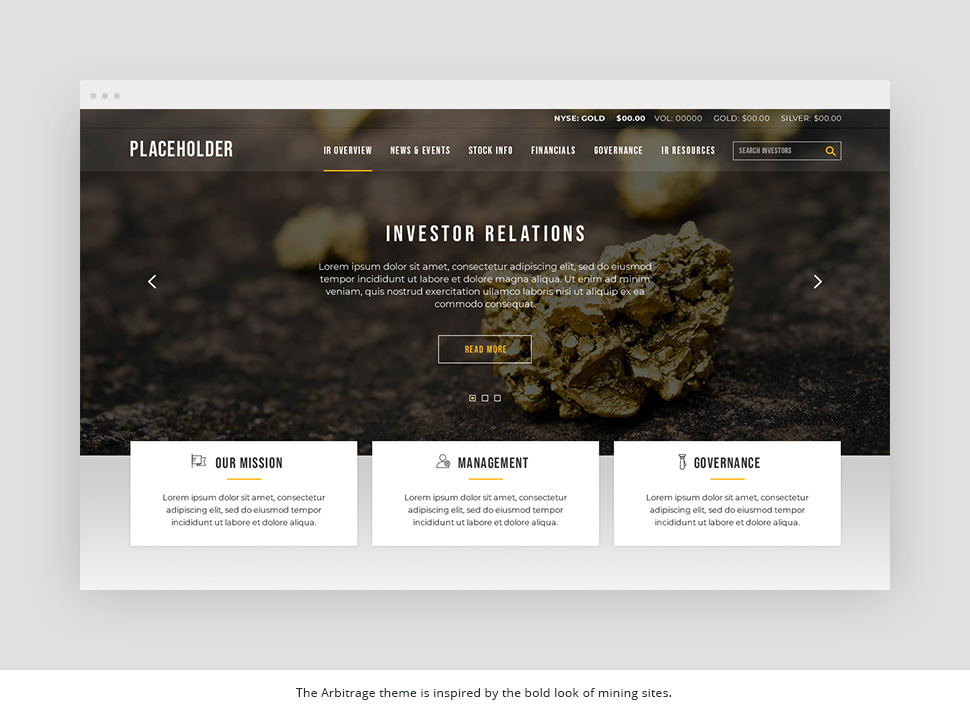 Sya adds, "We chose different sectors to experiment with a variety of layouts for diverse brands. We wanted to give our clients a sense of what their site could become, without narrowing it too much. We needed to establish best practices and a visual context, but the themes also had to be adaptable for any brand." Jeyson underscores, "the theme library offers websites that look great with built-in best practices, as well as the flexibility to incorporate a client's brand style."
Studio One essentially integrates a company's branding, corporate personality and visual identity in modules across verticals. Sya explains, "Our themes provide out-of-the-box designs that are ready to go with all of the core functionality imaginable, but clients can still choose all typography, images and colours. There is always an essential level of brand customization." She adds, "We typically get a brand guideline and then focus on the look and feel we want a user to experience."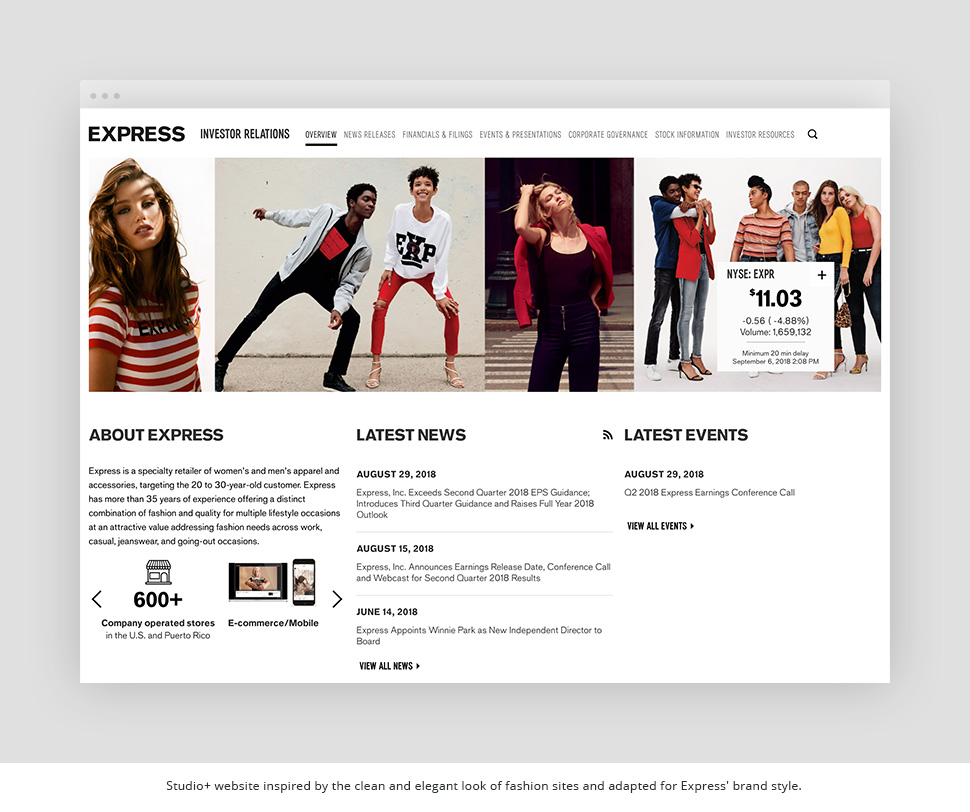 The themes help clients envision what their site could become, without limiting the possibilities. Sergio likens it to Jenga, "you always have the same blocks, but you can build something totally unique every time." Joe brings up the analogy of a model home, "You get to see the floor plan of all the rooms for a real sense of how you could live in it. But that can also be a starting point. If you need something more complex, like raising the floor or ceiling, we can do that too. Studio+ has all of the baseline features with greater flexibility for customization."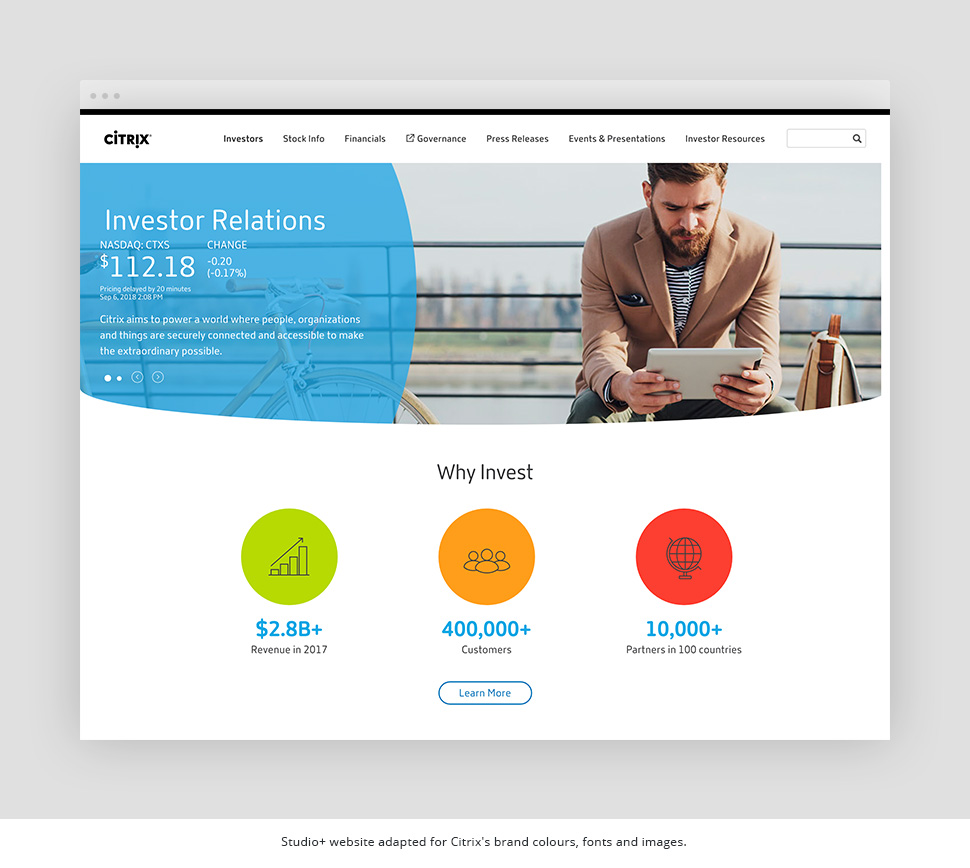 What's next for Studio?
According to Joe, "we'll be expanding the depth of the library, as well as the breadth of the tool, based on client feedback and needs, and expanding critical pages like 'Why Invest' and earnings results. In the long run, Q4 ultimately intends to grow its functionality for site building, so anybody will be able to build a custom site using Studio" (completely blurring the lines between out-of-the-box and custom sites).
Out-of-the-box or custom?
Both design and implementation teams agree that out-of-the-box and custom designs have their own distinct advantages. If you're considering out-of-the-box designs, Sya says that "they work great when time and/or cost is a concern. Studio themes take the designer/developer out of the equation, so you can get a professional, great looking and impactful site live, in as little as two weeks." She adds, "with design modules, we can also spend more time improving the user's experience with more interactive and unique content, such as animations and hover states."
For Joe, it's really a question of practicality, particularly in terms of accessible and visually compelling content. If you want to push the envelope with something more creative or unconventional, then custom is the way to go. But "if you want a well-built, attractive site with a quick turnaround time, there's no reason to complicate things. Essentially there isn't any real benefit to a more complex website. A simple well-designed site is just as effective as a custom one." He adds, "most investors and stakeholders are searching for information across IR sites and expect some level of consistency. Breaking that convention is counter-intuitive."
Matt sums it all up, "our themes are based on IR website best practices. Studio One and Studio+ cover all essential variations of IR sites. We can expertly match these themes with a company's brand standards and visual identity, as well as layout structure. We've designed and built thousands of IR sites and had the privilege of working with some of the best agencies in the world. We have the ability to define what the best approach is and that's what we've brought forward with Studio."
Marla Hurov is the Content Marketing Manager at Q4 Inc and blogs regularly about trends in IR and digital communications.