Just a couple of weeks ago, Canada set a global precedent as the first major world economy to legalize the use of recreational marijuana. As other countries follow suit and cannabis continues to gain acceptance in the global economy, it's undeniable that the sector is presenting investors with a decent dose of investment opportunity. Though the so-called "green rush" around pot stocks has also created soaring valuations, which ultimately look unsustainable.
With all of the current buzz and speculation around legalizing pot, the medical side of the sector tends to get a little (undeservingly) overshadowed. Medical marijuana has actually been legal for almost two decades longer than pot in Canada. And the global medical cannabis market is projected to quadruple to $31.4 billion US by 2021.
In fact, the recreational and medical markets have traditionally been kept separate. One of the biggest challenges of medical cannabis brands is educating consumers about the differences between medical and recreational cannabis. When it comes to medical brands, the essential differentiator tends to be the quantitative research behind understanding the effectiveness of marijuana cannabinoids for treating a host of conditions and diseases; from nausea to chronic pain, anxiety, glaucoma, multiple sclerosis, epilepsy, and fibromyalgia.
The focus is on scientifically monitoring and demonstrating the product's benefits, dosages, potential side effects and interactions with other drugs. With research-backed formulations (from smoking to vaping, tinctures, oils, patches, edibles, and even suppositories), the aim is to persuade healthcare providers and patients (and ultimately insurance companies) to embrace marijuana as mainstream medicine. Essentially, there's a veritable gold rush for cannabis research. The race is on to uncover the most effective cannabinoid strains and innovative means for delivering dosages, to treat pain and reduce our overwhelming dependence on opioids.
It looks like the growing legalization of pot will actually further the divide between medical and recreational cannabis. Doctors might finally be relieved of gatekeeping cannabis from recreational users posing as patients; while legit users may be tempted to self-medicate with the new convenience of purchasing cannabis in a corner store or online. Long-standing medical producers also tend to have more experience and expertise (with the ability to ramp up production and keep up with demand) than plenty of the newly hatched recreational brands out there. Not to mention that medical marijuana LPs have the unique advantage of being able to sell a legal but largely unregulated product, as they raise research money to break new ground in the pharmaceutical market.
As recreational marijuana becomes increasingly legal, it's likely that there will also be new divisions within the medical landscape itself. Many LPs will remain science-based focussed, while others will seize the opportunity to expand into the consumer space. The cannabinoid-based drug developer, Tetra Bio-Pharma, tells a brand story which is firmly grounded in the "biopharmaceutical" and clinical cannabis arena. They are actively engaged in a variety of cannabis-based clinical trials for the treatment of pain. I recently spoke with their IR Communications Consultant, Edward Miller, to gain more insight into the medical side of the emerging cannabis sector.
Could you tell us a little about Tetra Bio-Pharma and your brand story / value proposition?
Medical cannabis is a crowded space, based mostly on anecdotal, rather than clinically-based evidence. Tetra Bio-Pharma is positioned in the pharmaceutical industry as a leader in the discovery and development of pharmaceutical drugs that contain cannabis. Many LPs call themselves medical cannabis companies, but we consider ourselves to be a pharma company, which just happens to be developing cannabis as medicine. We're the only company in North America that's collaborating with Health Canada and the FDA on clinical trial programs, working with independent clinical research organizations.
What's different about us is that we're providing actual clinical data around the safety and efficacy of cannabis for treating patients, with the ultimate goal of getting a drug identification (DIN) with Health Canada. The research that we're doing meets the rigorous standards required by health regulators like Health Canada, the US Food and Drug Administration, and the European Medical Authority. As a result, the drugs we develop will be considered like medicine, with access in pharmacies and covered by private and public drug plans. Essentially, the scientific evidence that we're offering is what's been missing for physicians and medical institutions to trust cannabis as a therapy.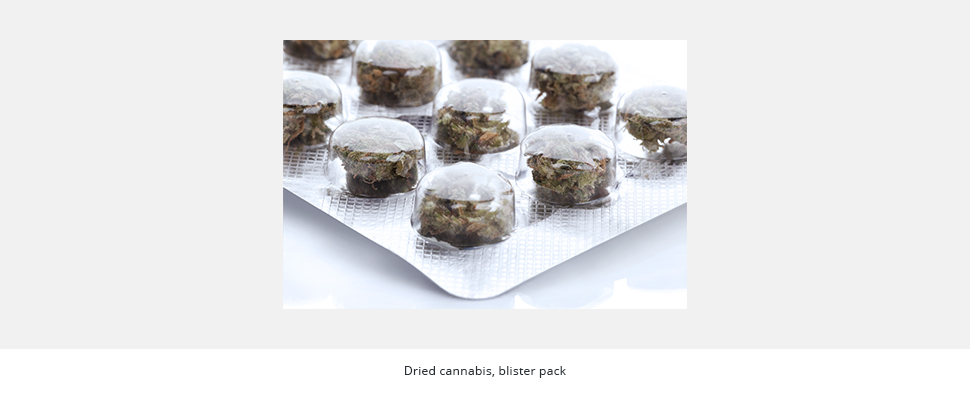 We offer novel drug treatments to patients through their healthcare providers, by delivering clinical information about the cannabinoid in the drug. Our clinical data will ensure that doctors can prescribe our cannabis medications to their patients, with confidence in its treatment of pain. No other company is conducting clinical trials for both Health Canada and the FDA. The only company doing something in a similar vein is GW Pharma, a UK based pharmaceutical company. They're listed on the NASDAQ with a product which was recently approved for patients with epilepsy. Tetra is targeting a much larger pain market. Given the significant number of people suffering from pain, including cancer pain, breakthrough pain, fibromyalgia, ocular pain (to name a few), it's easier to for us to recruit patients for clinical trials.
We're incorporated out of Ottawa and have close to 175M in market cap. Tetra Bio-Pharma went public in 2015. Since then, we've shifted our focus from the medical to pharmaceutical market, seizing the opportunity to provide scientific research to meet the standards of regulators, medical professionals and payers. We've moved from Phase One to Phase Three, in just over two years. That's remarkable in this industry.

What's your role in the company and how long have you been in the cannabis sector?
My role at Tetra is as a Communication Consultant, assisting IR and corporate communications with a focus on shareholders. I've been in the pharmaceutical industry for 18 years as an IRO, and in the cannabis sector since mid-2017. I made the switch because I saw the incredible growth of this new industry forming in Canada. I also like that I can put my past experience in the pharmaceutical sector to good use. I've been working to help launch Tetra's investor relations program, with its recent IPO on September 20th on the CSE. It's exciting to play this role, in what is an entirely new frontier.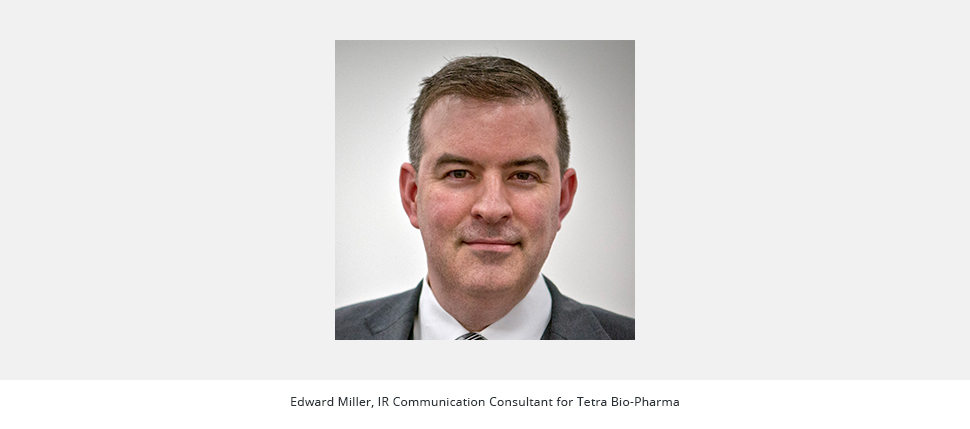 What are a few of your greatest challenges?
My greatest challenge is educating the investor population that the clinical data we're working on will be the smartest long-term route, as opposed to believing anecdotal testimonies. Doctors have resisted prescribing cannabis because of a lack of evidence. A good example is that the Canadian Medical Association has not endorsed medical cannabis. My mission is to explain the rationale behind Tetra's unique approach, in taking a pharmaceutical pathway to offer a drug with an identification number, backed with clinical data. We strive to help people understand the difference between pharmaceutical clinical trials versus medical cannabis studies.
What are the biggest perks of being in the cannabis sector?
It's a brand new and exciting industry with a huge investor appetite. It makes my job easier to build awareness for the company in this hot new sector. We're growing at an enormous rate. The interest is unbelievable, and the business opportunity is vast.
From where do most of your investors come?
Most of our investors come from Canada, especially the Eastern provinces like Quebec and Ontario. Our next focus will be on bringing the story to the U.S. market. Americans have incredible knowledge about biotech companies. I'm excited about our potential in the U.S (as well as in the UK).
In this increasingly competitive and saturated market, what have been some of the most effective ways of promoting your brand?
There has been a huge change in the use of social media. I can use Twitter, Facebook and LinkedIn to get my message out to the market. When looking at IR websites, the key message is "content matters." Many websites have incredible splash, but they lack easy accessibility to the key information and content that investors need to make informed decisions. I chose Q4 because I've known your team and have always been impressed with the quality of the people dedicated to creating and delivering powerful content.
Do you experience any prejudice or misconceptions about the sector?
I've personally never consumed cannabis. Most people find that shocking. Initially, when I was recruited, I was hesitant because of the stereotypes around marijuana. But I did my research and became enlightened about cannabis' all-natural and incredible medicinal value. I also realized the great potential in advancing the pipeline of this clinical work. I became absolutely convinced in Tetra's mission.
The last two years have been phenomenal. Older generations who were so against cannabis are now realizing its medicinal benefits for helping relieve pain, especially pain related to arthritis and aging. This has helped remove the stigma around cannabis, as they increasingly realize that medicinal cannabis isn't "Woodstock," but a natural substance which offers medicinal benefits.
Moreover, doctors are prescribing opioids at alarming rates. We want to dissuade the use of opioids, by transitioning patients to cannabis. Our focus is on natural pain relief, from cancer to ocular and neuropathic pain.
How has the public's perception about cannabis evolved since you've been in the business? What are the greatest legal implications in your sector?
Industry professionals are finally hearing our story, in terms of pharmaceutical cannabis being backed by clinical data, as opposed to medical and recreational cannabis. It requires a constant drumbeat to change attitudes and perception.
We have to get through the regulatory hurdles of navigating Health Canada and the FDA.
Do you see an international marketplace coming in the near future and where do you see the greatest opportunities for growth?
We've had two international partnerships thus far with Israel and Portugal. Our objective is to add more partnerships in which countries can represent our product pipeline in their respective countries, helping to promote pharmaceutical drug discovery and development globally.
It's the international U.S. market that will drive our long-term growth, as the market increasingly opens.
What advice would you give to other IR professionals in the cannabis sector?
While cannabis is a new industry, IR professionals still need to provide tried-and-true methods in giving their shareholders clear access to key information and content. It's essential that companies use platforms and organizations like Q4. I work with you because of your innovative CRM platform, as well as your dedication to developing the highest quality websites. Q4 helps me ensure that my shareholders and investors are consistently and effectively updated with timely information and fair disclosure.
This interview is part two of a two-part series on the cannabis sector. Read part one here.
Marla Hurov is the Content Marketing Manager at Q4 Inc and blogs regularly about trends in IR and digital communications.
(Visited 31 times, 1 visits today)