When it comes to innovation, few concepts are more important than iteration. Constantly improving the customer experience and listening to user feedback (from both our clients and internal teams) is what fuels our product roadmap forward. One of our key projects for 2018 was redesigning Q4's Content Management System (CMS), our platform for managing investor relations and corporate website content. The aim of the overhaul was to bring more structure, clarity, and organization to the workflow and back-end of our CMS, to ultimately help the Web Support team better service our clients.

Back in 2015 when I first started at Q4 in Web Support, our smaller client pool afforded us the luxury of a less structured workflow. If my colleague had left the office for the day, but a client reopened a request, I could take the time I needed to familiarize myself with the update, until I was comfortable enough to jump in myself.

Fast forward to four years and several hundred clients later, and needless to say, things are moving a lot faster. As our clientele dramatically grew, we swiftly recognized the need to grow with it. Within the Support team itself, we took major strides to organize our help desk around optimal efficiency. We focussed on systematizing internal communication through standardized ticket handoffs, towards the end goal of reducing bottlenecks and ensuring accuracy. With all of our agents finally speaking the same language, the logical next step was to streamline our CMS and how we support our clients in managing their website content.

Enter "Studio" dashboard, a fundamental layer of Q4's web solution, which effectively serves as a behind-the-scenes task management interface. And, as we quickly discovered since its launch this past summer, also happens to be the missing piece in the client support puzzle. Essentially, Studio has revolutionized the day-to-day workflow of our Support team in terms of automation, efficiency, and accuracy for our client sites.
Automating tasks to prepare for what's coming next
Studio has a lot to offer our clients. For today's IRO, regularly on-the-go, time management is a top priority. This is especially the case during the craze of roadshows and earnings. Studio can't buy you time, but it can help you tackle tomorrow's tasks, today. Studio's industry-first earnings automation and advanced scheduled publishing means that you can stage, preview, group, and publish your changes as far in advance as you'd like.

Imagine yourself on the road. Your company is slated for a conference presentation to present at 9:00 am, but you need the corresponding presentation published to your website by 8:30 am. Instead of having to fire-off an email to Support to push the presentation live in time, wouldn't it be a relief to know this detail was already covered?

Or take, for example, the day of your earnings call. Picture having the ability to confidently ensure, at anytime before the call, that each document is correctly in place, up-to-date and scheduled to publish with precision timing.

There's also no need to sweat last-minute changes. Studio offers the flexibility for documents to be swapped-out, up to a few minutes before your call. Not to mention that it helps the Support team pinpoint exactly where to make the update. So, if you notice a press release typo in the heat of crunch-time, you can get it immediately fixed (before investors are any the wiser).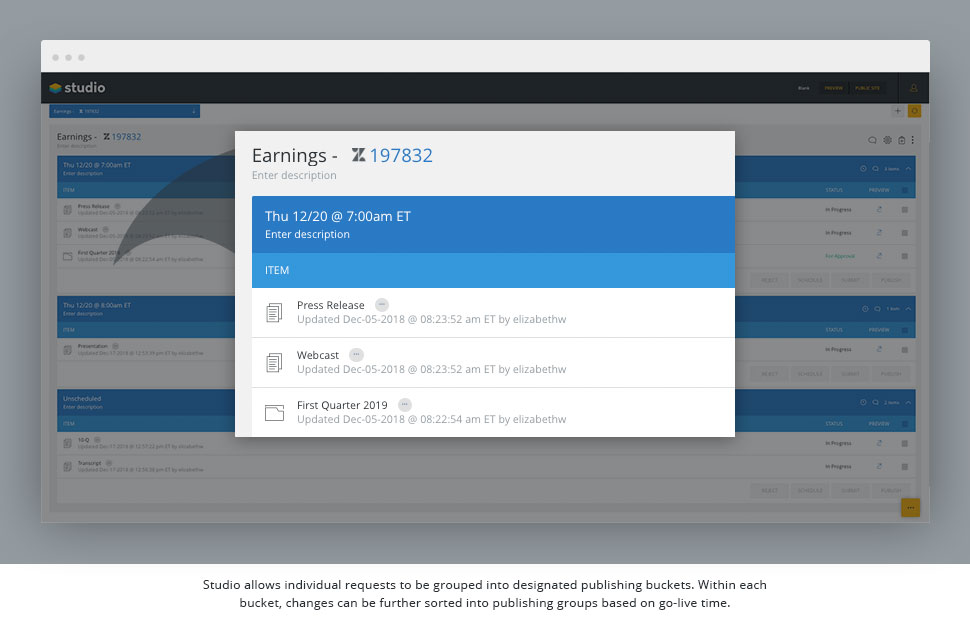 Ready to hustle, staying quick and nimble
As a Web Support Analyst, my primary goal is to provide our clients with best-in-class customer service. Because time is of the essence when it comes to the vast majority of support requests, our level of service often hinges on quick turnaround times. The faster I can efficiently respond to and resolve a request, the greater my client's (along with my own) satisfaction.

With Studio, we can create individual buckets with associated notes for each separate request, clearly identifying and streamlining which dashboard items correspond with which tickets. We can immediately pick up where any colleague leaves off.

The bottom line? Your ticket gets out the door that much faster.

Reducing the margin for error

When you're moving quickly, it can be easy to overlook the finer details. At Q4, we pride ourselves on both speed and accuracy. Studio helps us keep tabs on every aspect of a request, so that nothing slips through the cracks.

Here's a quick run-down of a few Studio features actively safeguarding your site from error:

Publishing buckets: Individual publishing buckets help group changes and consistently keep track of each project on the go.
Publishing groups: Changes need to go live in phases? Publishing groups visibly differentiate which changes need to go live and when.
Email alert indicators: In sync with publishing an event, press release, or presentation, we can effectively trigger an email to subscribers. Studio dashboard features a visual alert indicator, showing which items will trigger an email when published.
Controlled disclosure timing: Studio allows us to schedule a specified "start" time, so that updates see the light of day on the live site, exactly according to plan.
Integrated notes: We keep communication channels wide open between your IR team and the Q4 Support crew. Built-in buckets group conversations, making it simple and efficient to view and share comments.
And that's just the beginning. Like I said, iteration is everything. We'll continue to explore opportunities for automating and streamlining our CMS, to consistently improve workflow for both our clients and Support agents. Our overarching mission for 2019 is to truly understand the needs of our clients and fully support them like an extension of their IR team. We're passionate about connecting the dots for the bigger picture, so that we always have our clients' backs.
Elizabeth Wood is a Q4 Team Lead for Web Support. She is dedicated to serving her clients and also enjoys writing about customer experience.

This article is part two of a two-part series on Studio websites.

(Visited 33 times, 1 visits today)