The investor relations website is a critical platform for a company to share its story with shareholders and prospects and encourage confidence by providing timely, accurate, and helpful information. And in today's competitive marketplace, it's more important than ever to build a strong online presence to stand out from your peers and make a lasting impression with the Street. To help you accomplish this, we consulted with our experienced Implementations team for some best practices they share with clients. Here are the top five features of an effective and impactful investor relations website.
1. Capture users with a strong homepage
The homepage is the most visited page on an IR website and is often the first impression investors will have of your company. It's therefore critical to leverage thoughtful design and intuitive navigation to ensure a positive user experience. Your visitors should be able to find what they want at a glance and explore your site effortlessly. Help guide and engage your visitors by consolidating menu options, keeping text brief, and leveraging high-impact visuals and call-to-action buttons.
There are certain materials that users view on a regular basis that should be highlighted on the homepage: 'Why Invest', 'Latest News', 'Latest Quarterly Results', 'Feature Presentation', and 'Latest Events'. However, it's important to keep these modules concise, to reduce scrolling, and instead link to interior pages for more information.
The Etsy IR website encompasses all of these suggested materials in a seamless and user-friendly way. They effectively group key content on the homepage, and leverage vibrant images and videos to call attention to their content. Etsy also incorporates an in-page viewer (embedded on the site) for easy access to their recent investor presentations. This ensures visitors can find the information they need without having to navigate away from the page.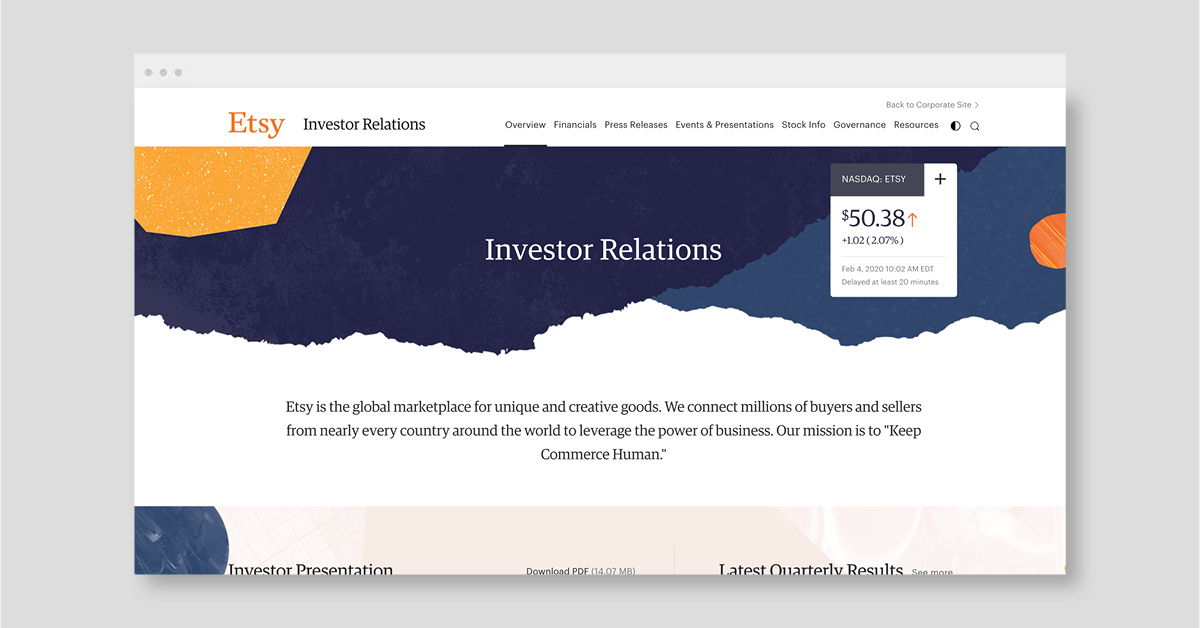 2. Attract investors with a "Why Invest?" section
Including a "Why Invest" section makes it easy for users to access important information about your company and your investment proposition, which helps to attract potential investors and retain existing ones. It is also an effective platform to share your company story in a visually compelling way, for example, by incorporating engaging icons or an infographic.
HP's "Why HP?" page shows key stats at a glance, breaking down their story into digestible bullet-points and eye-catching icons. They also include interactive tabs to consolidate and organize information for easy viewing while maintaining a clean and impactful design.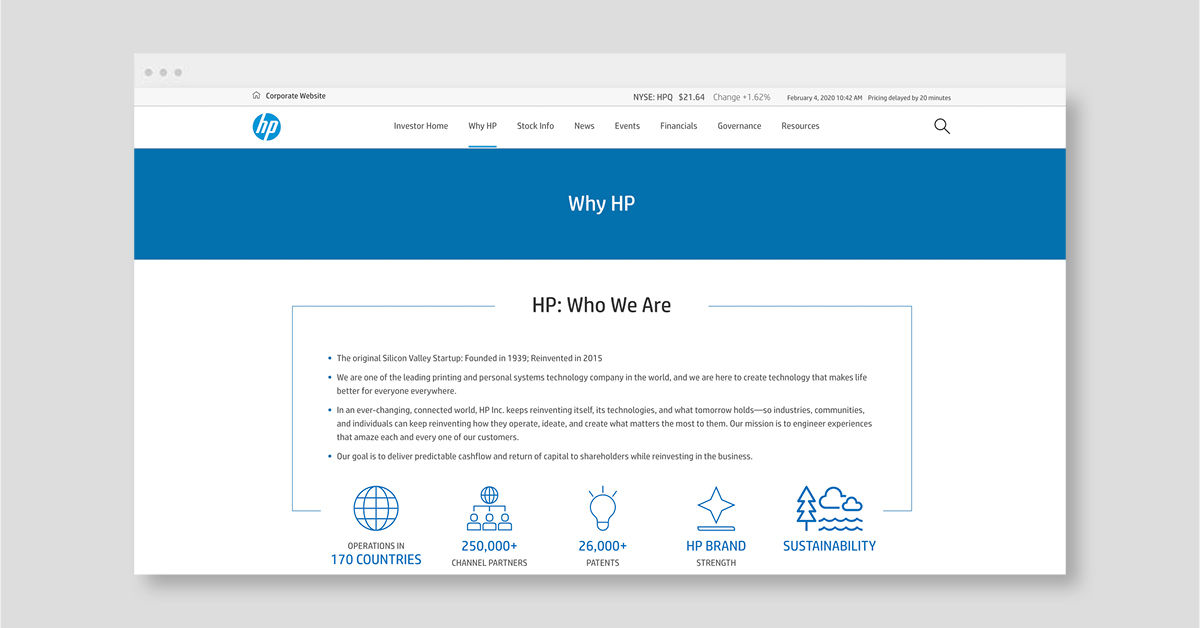 3. Impress with an interactive financials section
Showcasing your regulatory filings and reports is crucial for your investor audience. In fact, financials are one of the top three content items within an IR website. Make sure your financial materials are prominent and accessible, by providing them in multiple formats (including HTML and PDF).
You also want to make your financial information as easily digestible as possible. Consider incorporating a "financial summary table," to allow users to access all past financial reports at a glance and provide a hub to house all materials that investors would be interested in viewing. Alternatively, an Interactive Analyst Center (IAC) is another option for delivering interactive, "as-reported" financial and operating data. The IAC displays a company's income statement, balance sheet and cash flow statement, and can include non-GAAP financial measures, operational data and key metrics.
The Zayo Group Holdings, Inc. IR site encompasses all of these features in an eye-catching and engaging way. They effectively include a financial summary table, to consolidate data across a number of years, and an IAC, so investors can access and engage with a broad range of financial content at a glance.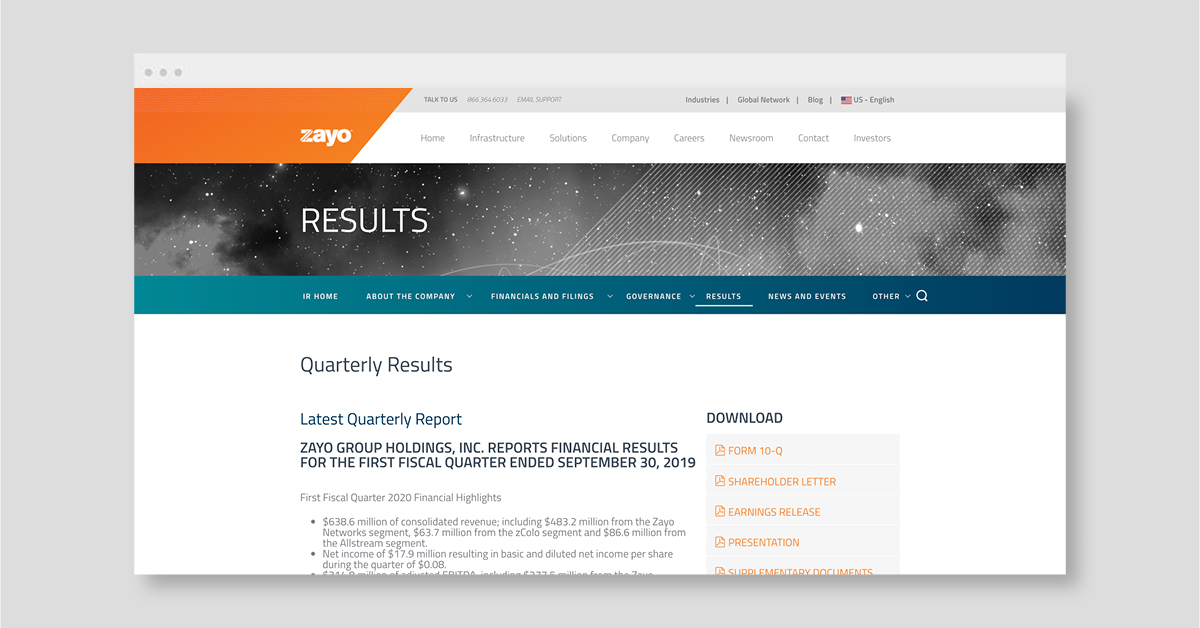 4. Showcase your company's ESG initiatives
ESG initiatives are increasingly becoming a top priority for investors. In fact, according to the 2018 Global Sustainable Investment Alliance's review, global sustainable investing assets reached $30.7 trillion in 2018 — marking a 34 percent increase over the previous two years. It's therefore critical to leverage your IR website to share your ESG efforts and showcase your company's success stories.
Wendy's does a great job of showcasing their ESG initiatives on their recently redesigned IR website. Separating the page into sections for the "E", "S" and "G", they were able to effectively show their initiatives at a high level. They also incorporated best practices by including a drop-down menu for ESG, succinct sections with internal links, and impactful visuals. The result is a clean and compelling page that encourages investors to keep reading.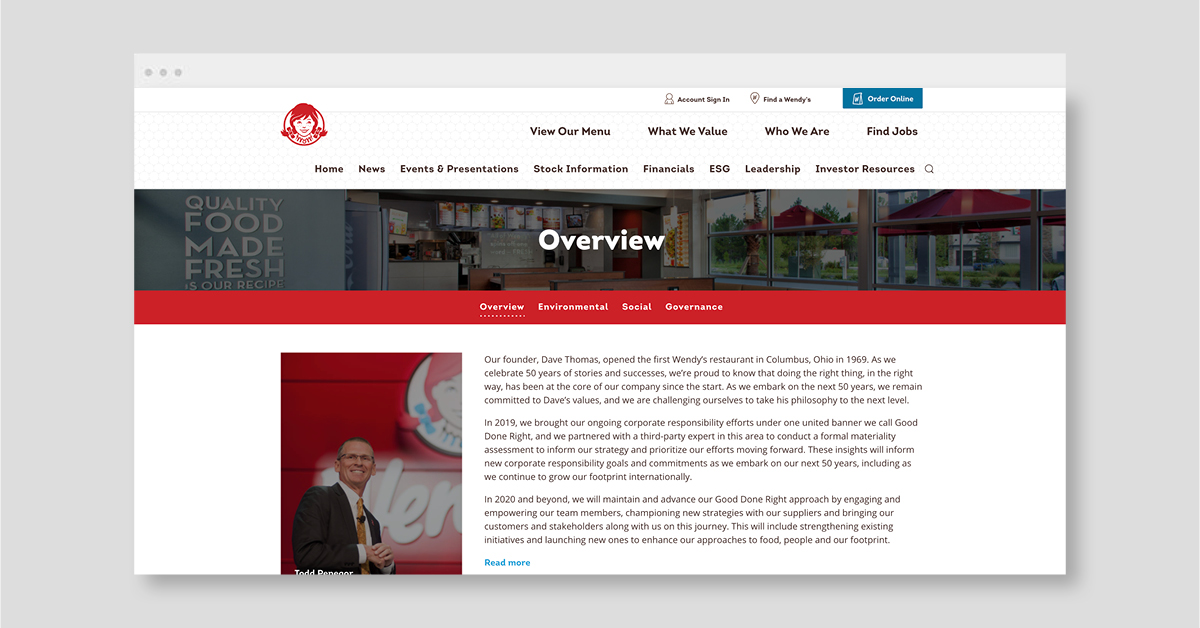 5. Make it easy to connect and stay in touch
Enabling your investors to easily connect with your company is an essential feature. Including a section for investor resource materials and contact information, such as FAQs, email alerts, subscribe/unsubscribe, and the ability to request a meeting, will make it easy for investors to stay informed and engage with your company. Additionally, incorporating your contact information into the footer of your IR website is also a simple and effective way of providing investors with the opportunity to connect directly with your company.
Whirlpool incorporates these elements into their IR site in the form of a sticky footer, ensuring their contact information and email alerts module is accessible from every page. They even include a "Request a Meeting" button, making it as easy as possible for institutional investors to request a meeting with their management team.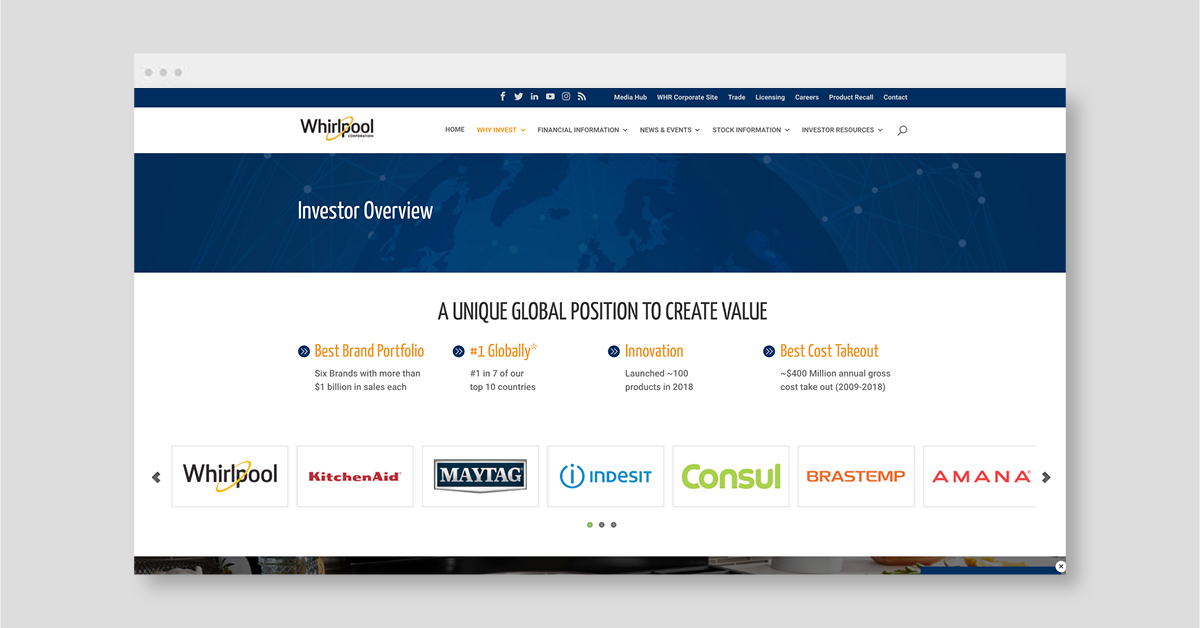 Conclusion
Investor relations websites are all about conveying your story and elevating your brand, in a way that engages your audience and differentiates you from your peers. It's therefore critical that your website leverages industry best practices and leading design trends, and provides a seamless user experience. For more tips and tricks on how to use your website to bring your brand to life and make a measurable impact with the investment community, download our Quick Guide to Designing your IR Website.

(Visited 4,754 times, 1 visits today)