Over the past decade, market participants have been pretty spoiled. Fantastic returns, highly correlated moves across most sectors, as well as historically low volatility made for some of the longest and most profitable bull runs in modern times. Following a tremendous 2017, this year started off on a relatively high note with a nearly 6 percent gain in the S&P 500 Index. But as we all know, things can change quickly.
This past February, the markets suffered what some have referred to as a "mini-crash:" the S&P 500 dropped nearly 10 percent in a matter of weeks, and volatility spiked to multi-year highs. As well, the CBOE's VIX Index (a commonly used gauge of investor fear) surged to 37 – its highest level since 2011. Market leaders (including tech and semiconductors) began to break down, interest rates started to rise and short-term investor sentiment – as measured by Q4's proprietary Sentiment Indicator – dropped sharply. Some pundits inevitably began to wonder if the bull market had run its course.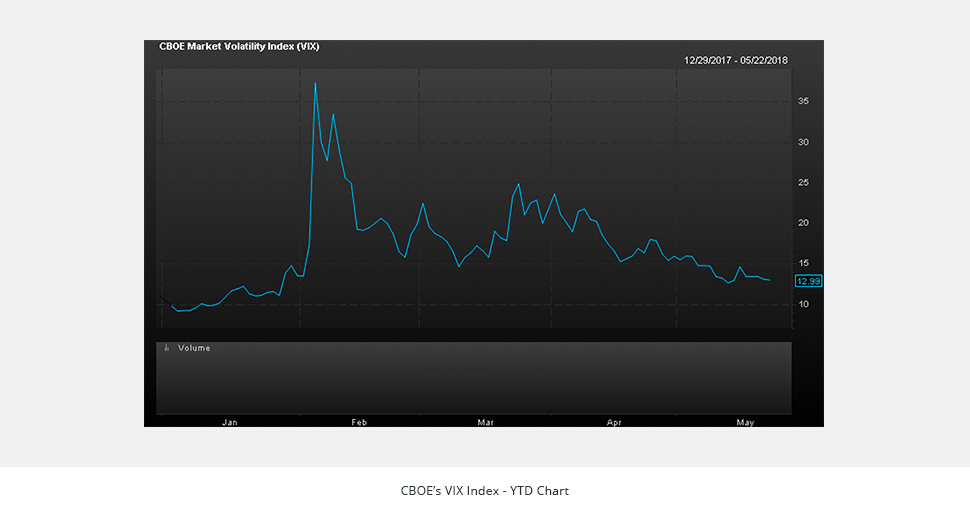 However, the sharp February correction proved short-lived, as the broader averages recouped more than half of their early losses within two weeks, and the S&P 500 ended the month with "only" a net 3.9 percent decline. Since early March, the S&P 500 has been stuck in a relatively tight band, trading sideways between roughly 2,600 to 2,800 – and an even narrower range over this past April, between 2,650 and 2,725.
A look at April/May 2018
The last couple of months have truly been a test of patience for many on the Street, as bulls and bears alike have been struggling to gain footing. Each rally initially appears to be a resumption of the bull market, but quickly fails to break through prior resistance levels and just rolls over. Conversely, every time it looks like we'll see a turn of events such as higher interest rates, global trade concerns, unrest in D.C., and geopolitical threats may finally be too much for equities to bear, buyers step in and the markets hold key support near previous lows. It's been a directionless market, failing to find its way without true leadership.
As it turns out, the first quarter earnings season was actually a success for most companies, with roughly 80 percent reporting that they beat their earnings estimates, and over 60 percent topping revenue expectations. That being said, the markets are forward-looking and quarterly reporting is essentially a rearview mirror perspective. Valuations have come in slightly (at least broadly speaking) with the overall P/E ratio of the S&P 500 constituents now standing at 21.4. However, a drop in valuations isn't necessarily an automatic predictor of near-term stock price appreciation. Certainly, stocks could still get "cheaper" from here. Furthermore, we need to remember that there are two equally important parts in the P/E equation: "P" (stock Price per share) and "E" (Earnings per share). Declining valuations could be suggesting the "E" in the equation is set to fall in coming quarters, which (all things being equal) would cause P/E's to rise and make stocks "more expensive."
Speculations for the for summer 2018
Historically speaking, the summer months tend to be fairly quiet on Wall Street. The old "sell in May and go away" adage exists for a reason. While volumes tend to be much lighter in the summer and can make for added volatility in thinner trading, they're also a sign that fewer investors are playing in the markets. Generally speaking, this phenomenon tends to keep major market moves at bay.
So, will the market finally get some fresh legs after a few months of tired trading and break through to new highs once again? Or will the bears finally break the will of the bulls and cause the averages to slip below the February lows? The other possibility, of course, is "door #3": choppy, volatile, and generally directionless trading that continues through to August. It appears that the markets are pricing in more of the latter, but if 2018 has taught us anything so far, it's that everything can change in a heartbeat. Watch out "sluggish" markets… here come some restless bears and bulls!
Adam Frederick is the Senior Vice President of Intelligence at Q4 Inc and blogs regularly on market commentary.
(Visited 11 times, 1 visits today)