Similar to enterprise sales, investor relations is a process. When it comes to nurturing potential prospects and building relationships, there are some pretty strong parallels. "Selling" your company's stock is essentially about reaching the right investors at the right time, by identifying new opportunities and managing them across a series of stages. From targeting prospects to qualifying leads, aligning your story, executing meetings, nurturing relationships, and ultimately reporting investments made, IROs are essentially managing a pipeline of investor opportunities. But staying on top of "deal" flow can be highly challenging. Traditionally, IR professionals have had to rely on intuition alone, without the formal tools or quantifiable insights that sales teams typically leverage with CRM functionality (such as Salesforce).
Sales teams prosper and perish by their pipeline. Pipeline management is a critical best practice for actively monitoring and propelling prospects through each phase of a prospect's decision-making process, and measuring their progress through the pipeline. From initiating and cultivating opportunities to closing "deals," successful sales teams rely on their pipeline to drive performance, shorten deal cycles, forecast outcomes, and increase ROI. According to a study by the Harvard Business Review, "there's a direct correlation between effective pipeline management and strong revenue growth." In fact, effective pipeline management led to a 15-28% increase for companies grossing $250 million-$1 billion.
Applying pipeline management to IR
Managing investor relations like a sales pipeline can help the IRO see where investors are in each stage of the nurturing process, tracking their probability of investing and how many shares they're likely to buy. This kind of visibility enables IR teams to better drive prospects along the path to investment, as well as accurately forecast, monitor, and measure a program's performance.
With a transparent process and quantitative insights, you can take a more proactive and strategic approach to closing opportunities and increasing ROI. A pipeline offers data-driven insights about the current activities and behavioural patterns of potential investors, in line with your outreach and conversations. Depending on what stage they are in, you'll know what your prospects are most interested in talking about, allowing you to reshape your message to increase the likelihood of additional investment on a deal-by-deal basis. You'll also have a better sense of how many meetings it takes before an investor is likely to invest, the types of meetings/events that work best, and which corporate participants are most effective in helping to push deals through the pipeline faster. And above all, it's the best way to keep track of investors who are most interested in your stock and weed out the ones that aren't.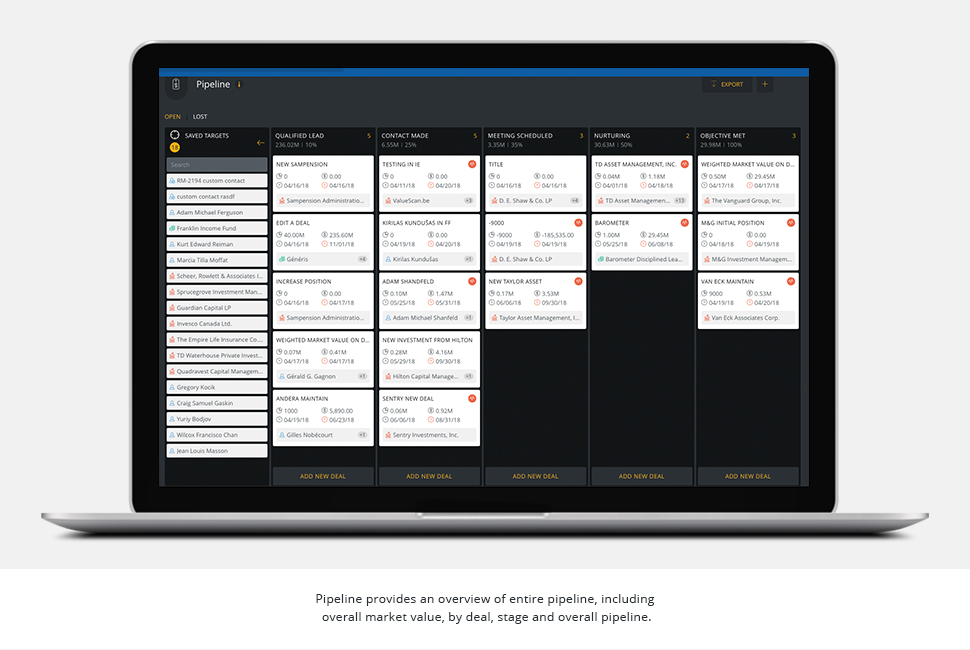 Driving investors down the funnel
A complete view of all your opportunities enables you to stay on top of deals, by knowing exactly where your "deal" is in the process and how close you are to hitting your ROI. By establishing your priorities, sharpening your strategies, and informing your reports, you can be in full control of the process.
Pipeline management enables you to drive opportunities through the funnel, by seeing how your deals are progressing. Focus your time and energy on the prospects that are most likely to invest and the deals that are most valuable to your company (and conversely flush those going nowhere). Identify deals that are getting stuck at different stages and catch them before they fall out of the pipeline altogether. Align your story with prospective investors at particular pipeline stages, by presenting the right messages at the right times. Managing your pipeline can also help you improve your overall process, by giving you a better handle on which specific actions move deals forward.
Forecasting KPIs and reporting ROI
The most effective way to manage the expectations of senior management is to leverage performance data. The good news is that the real power of pipeline management is delivering data-driven insights.
You can keep track of the status and deal size of every opportunity, their likelihood of investing and potential buying power, as well as whether you have the right distribution of opportunities to meet your quarterly and annual goals. Pipeline reports show the value and quantity of all deals in each stage of the pipeline. And by establishing key milestones and performance indicators (KPIs), you can uncover which data has the biggest impact on closing deals and accelerating the velocity of your pipeline cycle.
Setting a new industry standard, Q4 recently released a groundbreaking Pipeline tool that applies sales best practices to IR. It's an automated way for IR professionals to manage the entire pipeline process, by assigning a value, stage, and next steps to propel investment deals forward. Pipeline gives you the structure and visibility to determine your pipeline's market value and KPIs to track and measure your success. With your pulse on the status of opportunities, you can now combine qualitative observations with quantitative insights to successfully project, streamline, and understand your program's performance.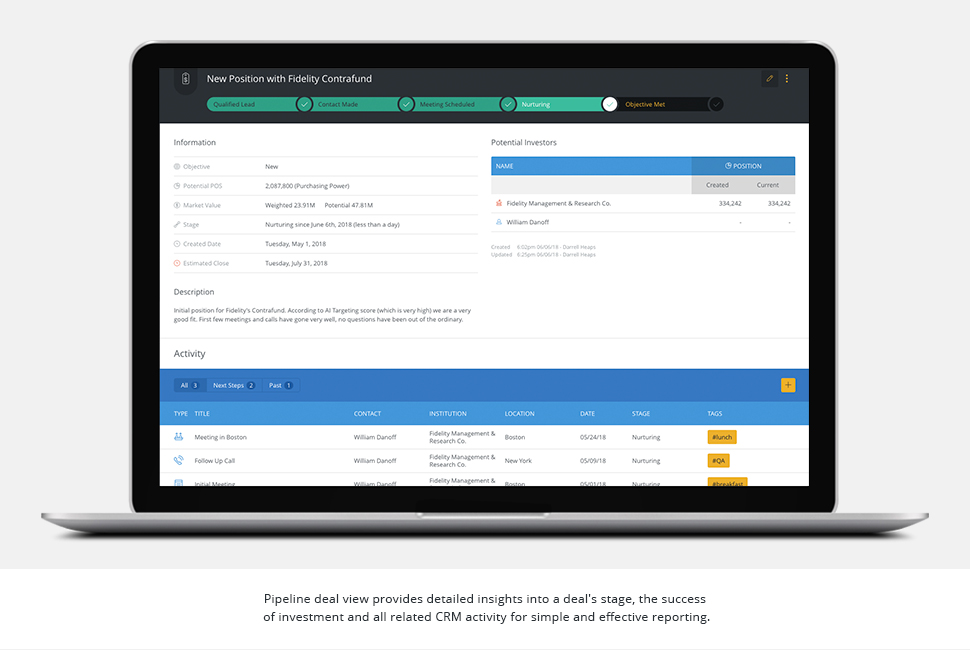 Marla Hurov is the Content Marketing Manager at Q4 Inc and blogs regularly about trends in IR and digital communications.