Zuora's investor relations challenge.
Zuora (NYSE: ZUO), a cloud-based provider of billing solutions for subscription-based businesses, found itself at a crossroads. Having grown significantly since its IPO, Zuora had expanded its services from its initial offering, Zuora Billing, to a whole host of products, including Zuora Revenue, Zuora Collect, and Zuora Central Platform. It developed an intelligent hub that handles the customer's payment system from the initial quote through payment collection to recognize revenue. This growth increased the need for frequent and effective shareholder and analyst engagement.
However, with a small investor relations (IR) team of just two members, Zuora faced capacity limitations and outdated IR solutions that didn't align with their investor relations program needs and business objectives. They needed a comprehensive platform to empower them to manage their growing responsibilities efficiently.
The Q4 solution.
Recognizing their challenges, Zuora turned to Q4, an IR solutions provider they already worked with for Website and Events solutions. They decided to consolidate their efforts under one roof and utilize Q4's Platform, including Desktop CRM, Stock Surveillance, and an ESG Webpage.
Q4's Desktop CRM was simple and comprehensive, backed by strategic and insightful support. Their Surveillance solution offered more significant insights, empowering Zuora's team to make data-driven decisions. These innovations enabled Zuora's IR team to scale their time, reduce complexity, focus on expanding their shareholder base, and become strategic partners to the leadership team.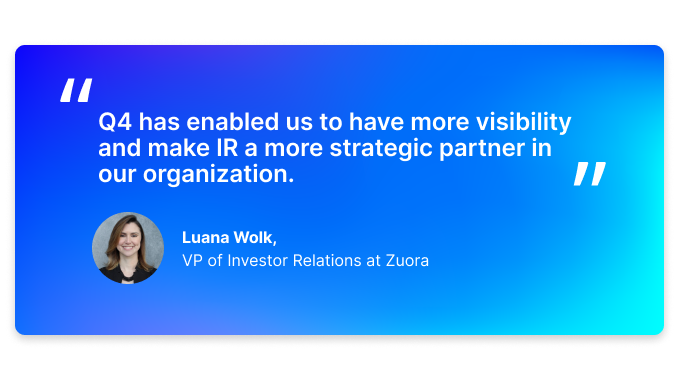 The results of Zuora and Q4's partnership.
The Q4 Platform has been a game-changer for Zuora. The IR team has enhanced its efficiency, enabling them to perform tasks that previously took hours in a more streamlined manner. With Q4's support, Zuora has established more defined investor targeting cadences, simplified preparations for non-deal roadshows, and maintained a keen eye on market movements.
One of the most crucial aspects of Q4's solutions has been the substantial support and strategic insights. For instance, Q4's team has entered meeting notes and individual meetings in the CRM, produced critical reports linking shareholder engagement, meeting activities and ownership, and provided essential trading insights. This has enabled Zuora's IR team to focus on higher-value tasks, making the IR team a more strategic partner.
Conclusion
The Zuora case study demonstrates how a small-cap company with an expanding portfolio can benefit from a comprehensive, supportive IR solution. By effectively leveraging Q4's services, Zuora has scaled its IR team's time and impact, simplified its operations, and built stronger investor relationships. The transformation exemplifies how IR solutions can help companies manage their investor relations effectively and carve out a path for growth and success.
For a complete review of the impact on Zuora's IR strategy, review the full Zuora Case Study.