As your organization seeks funding or prepares to uplist, the pressure is on. Among other things, you must ensure that key company information is made available digitally, remains up to date and reflective of your distinct reason to invest, and reflects the sophistication required to drive your organization's transition to the next level. At this point in your transformation, you can't afford to have ineffective investor relations websites … or, worse, no IR website at all.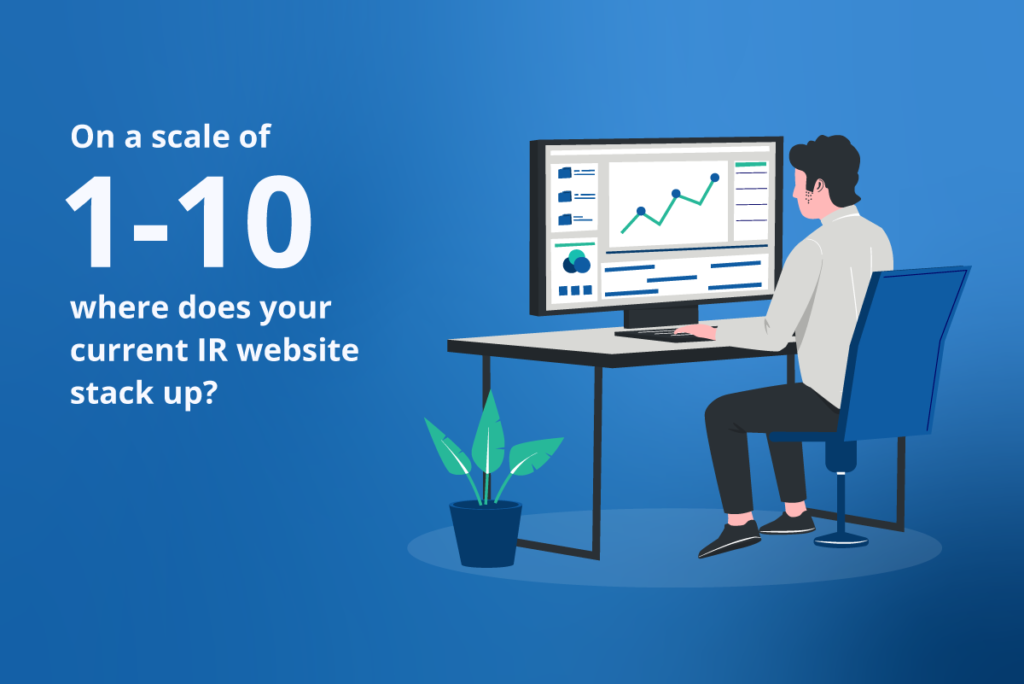 It's no surprise that many organizations in your position lack the time, budget, or dedicated skill set to develop or redesign this critical digital real estate on their own. Between SEC and regulatory guidelines, GDPR, and relevant information like stock price, there are many factors that require specialized knowledge in addition to the sophisticated web development and design skills necessary to build a successful site. As a result, many companies partner with external experts. It's often a great way to go, so we aggregated our experience partnering with thousands of IR teams to provide some valuable tips here.
If you're thinking about working with an external partner, consider these must-haves in your evaluation process:
Specialization or Area of Focus
It's important to match your needs with the specialized value provided by the vendor you select. While there is no shortage of potential website partners, your project will go smoother and conclude with better results if you narrow your list of possible providers to ones that have a demonstrable focus on and deep experience building investor relations websites for public companies. They should not only offer strong website-building skills, but they should also function as consultants, suggesting design and content ideas that will make your website stronger.
Tips:
Strong vendors should be able to share a portfolio of work highlighting best-in-class investor relations websites with approachable and glowing references.
Colleagues within and outside of your own organization can often suggest great partners they've worked with before.
Value
Once you've identified a handful of specialized providers with deep IR website experience, analyze the value each can provide relative to universal considerations such as security, SOC-2 certification, and up-time as well as your company's specific priorities. With data breaches and extended downtime proliferating across the internet, these foundational issues can't be overlooked. In addition, compare how each potential partner's offering stacks up against your company's specific priorities. Can each of those on your shortlist tangibly and concretely explain exactly what they will provide, what they are responsible for, and what each item and service will cost? How does the total value package of each compare to other vendors you're considering and those you may have worked with in the past? Can they translate these features and services into the value you seek?
Tip:
Don't hesitate to insist on receiving a detailed proposal so that you can compare it to those from others on your shortlist. Evaluate the relative merit of each with a focus on the elements (many of which may be mentioned here) most important to you and your project.
Professionalism & Project Timeline
The balance between professionalism and project timeline can be tricky. Our industry knowledge indicates that project start dates and completion timelines can vary dramatically depending on the provider. While this can be especially challenging in the current environment, finding a partner who can meet your quality needs is most important. The strongest providers will offer an experienced team who knows how to manage
Strong vendors should be able to share a portfolio of work highlighting best-in-class investor relations websites with approachable and glowing references.
High-quality projects without sacrificing speed or quality. And this know-how should be reflected in their statements of work, samples, and references.
Tips:
It can be challenging to evaluate these factors at the proposal stage. If you haven't worked with any of the agencies you're considering, you don't know what you don't know. Tenured colleagues and mentors can often take a look and help you determine if what you're hearing and reading seems reasonable for the project at hand.
Don't forget to assess your internal resource situation. Does your organization have the internal bandwidth to provide the partnership necessary to meet the suggested timeline?
Is the vendor assigning the right number and skills-based mix of resources to your project to meet the proposed timeline?
What are the specific project management skills and qualifications each vendor offers?
Is there a project plan with dates and time-stamped milestones? Does it look reasonable and focus on the experience you need?
How does each finalist ensure that they stick to the timeline proposed? Is this something their references can attest to? Are there penalties assigned to you or them if timelines aren't met?
Design
In-Brand
With so much to assess already, it's easy to reduce design elements to the most glaring factors like imagery and colors. However, taking the time upfront to discuss how your shortlisted vendors plan to reflect your brand in all aspects of your IR website is paramount. Of the providers on your list, determine which one will do the best job rendering or interpreting each of your design elements accurately and with the sophistication your site requires. While this may seem straightforward, it's something our customers frequently express frustration over when it comes to providers they've worked with in the past.
Tip:
Evaluate how the accessibility elements of each proposal compare relative to one another. The best partner organizations will represent accessibility best practices in each of the templates they offer, particularly through the use of sophisticated readability and visual elements that not only create an inclusive website but add to the overall elegance of the site.
Accessibility
In addition, digital accessibility continues to grow rapidly in terms of universal importance. It's a must, even though lower-tier providers often overlook it. The consequence to your company of an inaccessible website is too great to ignore, so examine the proposals you receive to ensure accessibility is included in their offerings.
Tip:
If your proposals include copy creation, don't forget to discuss factors like messaging strategy, critical words and placements, degree of formality, and use of jargon. When speaking to vendors and reviewing their proposals, determine which can most accurately reflect your organization's tone of voice while demonstrating a clear understanding of how to maximize your organization's value to current and potential stakeholders.
Support
Ease of Self-service
When you're focused on finding the right partner to help you build the right site for the right value and in the right timeline, it's easy to de-emphasize what happens after the new or revised site is up and running. However, this tends to be a make-or-break factor down the road. Considering the proposed sites' self-serve functionality and ease of use upfront will save much hassle and time over the long term. The two main factors to assess are the platform proposed and the technical skill of the human resources building your site. Are your potentials suggesting commonly-used platforms like Sitecore or WordPress with limited but relatively straightforward self-serve features?
Tip:
Ask each agency to provide the name and qualifications of the web designer who would be assigned to investor relations websites. Can they show examples of site builds using best practices that keep your site architecture as simple and straightforward as possible?
Dedicated project support
It's also essential to appraise how each vendor on your shortlist will manage your project, account, and relationship. You're already strapped for time and don't want to find yourself project managing your IR website build as your professional side gig. Key questions to prioritize include:
Will you have a dedicated project manager, web designer, and/or relationship manager?
What responsibilities will be assigned to each of the above, to you, and to others in your organization?
How will you participate in decision-making and be updated on progress throughout the process?
What is the cadence, and who are the recommended attendees of your regular status meeting?
Does the vendor offer an SLA in terms of responsiveness?
Tip:
Be sure to determine whether or not there is a documented escalation process in place if issues arise. Without it, projects can experience significant delays.
Ongoing support
In addition, don't discount the longer-term picture. Review what kind of support each potential partner provides once the site is designed or redesigned, built, and up and running. Major factors to weigh include:
Do the providers you're considering include ongoing service with their build price?
If so, for how long? If not, is there a monthly or annual fee for this type of support?
What exactly does it include in terms of issues, services, events, and site changes?
What are their SLAs in terms of response or turnaround time?
Tip:
Ascertain whether or not each provider offers an ongoing dedicated service rep or relationship manager. If not, find out what the process is for engaging the vendor when you need assistance. Service processes and SLAs can become far more salient than you might imagine. If they're insufficient, you could end up devoting considerable time to tasks you didn't anticipate.
The stakes are high for your IR website, so getting it right matters. In our experience, it can be the most effective tool you have to show the market your organization's value en masse. As such, your site must be built to the same high standards as those of organizations listed on the NYSE, NASDAQ, and TSX, especially as you seek funding or prepare for your transition to a larger exchange.
Remember that a great IR website serves as the main platform to advertise the strength of your offering, expanding your audience reach and ensuring that the right visitors find the right information to invest in your company at the right time. Selecting the right partner to aid in your company's transformation is essential.
Want to learn more about building a world-class IR website? Q4 has you covered with a variety of practical tools and research, including a guide, blog posts, and an infographic. Check out our Quick Guide to Design your IR Website, Blog, and Infographic on this topic.
Ready to explore how Q4 can help? Click here to learn more.