How Technology is Evolving Briefing Books
Briefing books are not new to the IR industry. Preparing management and stakeholders with the necessary data and background regarding contacts, institutions, or funds that they may be speaking with is one of the integral tasks that must be completed as an IRO. However, effectively inputting and managing data manually is a cumbersome task that leaves room for oversight and takes up an incredible amount of time. Fortunately, IROs can effectively and easily consolidate multiple data points into an informative and digestible format through the use of technology. If you're still creating briefing books manually, consider the following as additional reasons to increase your adoption of IR-specific technologies.
Valuable Insights at a Glance
Time is money, and there's a lot of effort and detail that goes into inputting, managing, and translating your shareholder database. Minimizing the time it takes to identify who's in your stock, who you'd like to be in your stock, and really getting to know your base enables IROs to quickly assess the current status of their shareholder base and share that information with leadership. The data points in the briefing book could include how far out each key investor looks at information, what kind of content they rely on, what cues key investors look for when making judgments, and who's investing in your peers.
Cataloging this information effectively allows IROs to provide thorough and informed details to their team in order to prepare them for any potential situation and enable them to move quickly. As the role of the IRO continues to shift into the role of data synthesizer, it's essential to be able to operationalize all of the data your program collects in a fast and efficient manner. The markets can change very quickly and it's necessary for IROs to be agile in order to move with the market and keep stakeholders up to speed
Keep Your Stakeholders Informed
One of the most valuable resources available to an IRO is the members of their company's C-suite. However, this is also one of the most scarce resources, making it essential to ensure the time is well spent, for both your leadership team and potential or existing shareholders. Investors are also interested in connecting with other leaders in your organization outside of the C-suite, so leveraging your database as a single source of truth will help arm other executives with consistent data and background. However, because each person consumes data and information differently, it is likely that the IRO will need to deliver a variety of formats based on individual preferences.
While certain team members prefer to see things in a very short and concise format, others require more in-depth background or may simply want different data than their colleagues. With that being said, it's essential for IROs to easily access and construe their data to provide nuanced briefing books that customize how information is displayed, depending on the team member and specific situation.
Evolving with the Industry
The way in which IROs operationalize the data they collect on their shareholder database is what makes the biggest impact. But trying to parse data and create briefing books manually allows ample room for error and can take hours to complete. Leaning on technology and offloading cumbersome manual tasks will simplify your operations and improve the process of creating briefing books, allowing you to spend your time in a better way. By using a CRM, you can not only store and organize all of your important data but also pick and choose what information is most salient to your team for each scenario, quickly and efficiently.
Q4 Desktop combines CRM with program analytics and market intelligence for a 360-degree view of investor behavior which leads to better, data-driven, and actionable insights. Q4 continually evolves its technology to integrate new, customer-focused enhancements to meet the changing needs of IROs, including minimizing the time it takes to get pertinent information to management in customized briefing books and tear sheets. The latest configuration of briefing books now includes two all-new configurable templates that can be modified to include salient data for meetings with added commentary, ownership trends, activities, and notes. IRO's can easily and seamlessly generate key assets tailored to the deal flow stage and management preferences. Ultimately, IROs have access to all of the resources they need to identify and manage their strongest opportunities, raise capital, and maximize the ROI on outreach efforts.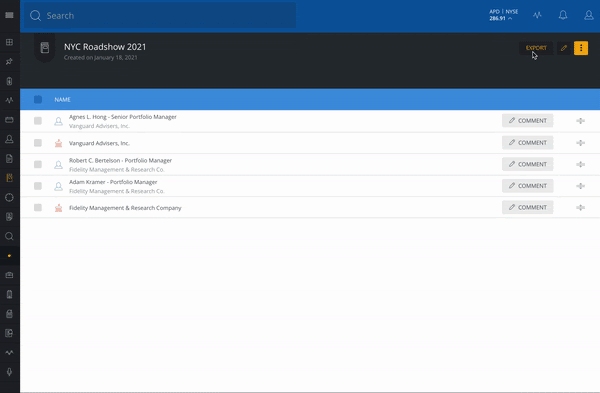 The latest changes to our briefing books were informed by user feedback and suggestions based on day-to-day experience with the tool and reports. On developing the latest updates, a Product Manager at Q4 notes, "I think that's the piece of the puzzle where we will know – for clients to work with it, get the information that they need, but also to get the feedback from the CEO and CFO who are going to consume it, and that way we understand if we are giving them the right data points." By interviewing clients and allowing them to test the new briefing books features, it has helped to determine if the solution better addresses the needs of both them and their C-suite. Using the latest version of the tool, Alex Corradini, Investor Relations at Iren SpA, a multi-service utilities company based in Turin, Italy, felt that, "These are the most complete reports that we have, and are very useful to our management teams so that they can see all of the critical topics and prepare in a better way compared to the previous."
To learn more about Q4 Desktop and how to increase the effectiveness of your investor relations program, visit our website.