As a busy IRO, having a high-performing IR workflow in place is critical. Partnering with a broad-spectrum, full-service provider can help meet your IR needs and make your job easier, more efficient and more effective. As one of the capital markets' most innovative providers, Q4 Inc. is happy to share our insights with you on best practices, investor relations and service partners. We recently hosted a webinar titled, Revolutionizing your IR Workflow, featuring Q4's Investor Relations Partner; John Nunziati, VP of Issuer Events; Jamie Bardell, Solutions Consultant; Jay Vaidya, and Director of Investor Relations; Jamie Stanton.
Environmental, Social, and Governance (ESG)
As the market becomes more concerned with environmental, social, and governance (ESG) issues, showcasing your company's initiatives in an easily accessible and locatable place within your website has become increasingly important. Still, we have worked with businesses without a focused ESG presence or strategy. These companies often had snippets of information located randomly throughout their websites.
This approach not only lacks consistency and usability, but it often leaves investors confused, causing them to exit a site unsatisfied. In fact, 98% of investors are looking through non-performance data to understand your ESG position, and 73% of investors are digging into asset positions on specific climate change initiatives when making investment decisions. As a result, your ESG story needs to be told in a way that makes sense for stakeholders and potential stakeholders as opposed to you or your team.
Given the above, what steps should you take to improve your ESG presence and strategy? The panel recommends collaborating with a sophisticated team and leading IR technology to build highly navigable, accessible ESG pages within their websites.

Given the various stages that companies develop their ESG programs, we recommend looking for a partner who can help you begin your journey by simply adding one-page ESG statements at the top of your menu. Specifically, this allows your organization to take credit for the policies you're introducing, which can link out to compliance documents, environmental reports, and other materials that are already on your website.
The benefit of this option is shorter timelines, less effort, and less design work, with a quick launch turnaround time. For those organizations further along on their ESG path, think about partnering with a team that can build a comprehensive microsite that allows you to break out the components of ESG, highlight your most important concepts, actions, and achievements, and take credit for your ongoing initiatives.
Events Part in the IR Workflow
When it comes to events, the clear takeaway over the last two and a half years is that we've grown more accustomed to meeting virtually and become more comfortable with streaming technology in general – whether that's 1:1 meetings or presentations to thousands of people. In the past, many events were conceived for in-person first, with a virtual component added as an afterthought in order to ensure that the fair disclosure regulatory requirements were met. But, as the webinar panel mentions, the expectation going forward is that there will be a shift in orientation to plan for the virtual event first and add the in-person element when necessary or appropriate.
For the team at Q4, it's exciting to see that many investor relations departments have begun to embrace the idea of promoting a wider swath of their senior executive teams through video. As the C-suite has become more comfortable with this concept, it introduces a new era of virtual communication that promotes transparency and allows analysts and shareholders to get to know the company even better.
In addition, organizations have begun to realize that earnings calls, investor days, and other IR-focused events must communicate much more than simply numbers. Each and everyone is a strategic opportunity to deliver a crisp, transparent message for long-term value creation. Savvy issuers use these opportunities to showcase their key initiatives and outcomes beyond providing financial results.
What else makes an online event successful? For many IROs, it's the utilization of an excellent technology platform combined with the addition of a partner with deep expertise, knowledge, and skill to plan and produce the event from a content and technology perspective, simultaneously ensuring compliance and alignment with the company's overall and event objectives.
The panel suggests sourcing a purpose-built events platform dedicated to investor relations communications to create a unified experience tailored to your strategy. Doing so will ensure the organization of every element that goes into your event, whether that's an operator-assisted conference call, pre-recordings, transcripts, or even managing any on-site production required. In addition, ensure you work with a partner who provides a fully-moderated live question-and-answer module and a fully-branded experience for your business featuring your logo, color palette, and imagery.
The partner you choose to work with should aim to deliver an end-to-end seamless IR workflow, from stress-free pre-event planning with our dedicated event managers to post-event analysis and replay availability.
Challenges faced by IROs
IROs are responsible for many things, from managing the earnings process, helping the company message any specific events like an acquisition, making sure analysts' models are reflecting an accurate consensus, to ensuring that companies' IR websites are up to-date and easy to navigate for investors and readers. Answering inbound questions, scheduling meetings, and making sure their overall corporate stories and messages are well understood and fairly represented by Wall Street and the financial media are yet another set of IRO responsibilities.
But those are just the tactical components of your job. The panel mentions that in order to elevate your IR program, you must also clearly understand what is driving your stock, what's going on with your shareholders, who are buying and selling critical technical trading levels, and finally, have a good understanding of your options activity.
With all these responsibilities top-of-mind, it can become increasingly difficult to focus, and a large number of these resourced-constrained IR teams cannot do it all without the right technology, resources, and partner to lean on. A viable solution can be to build all these technologies and functionalities in-house, but let's face it, there are often time and resource challenges that make this unrealistic. On the other hand, the right external provider can offer seasoned talent and high-performing technology focused on helping IROs succeed in all their critical performance areas.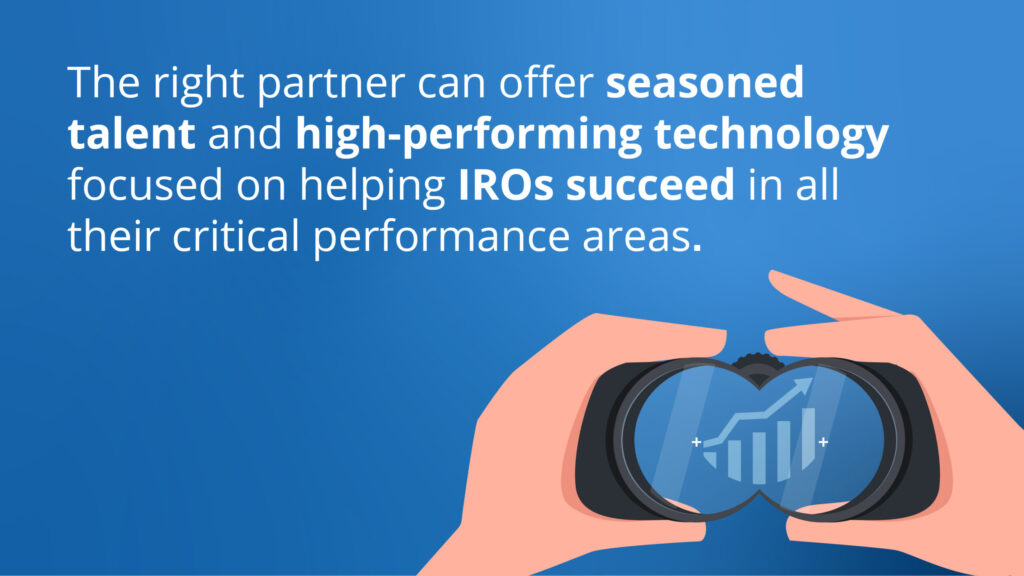 When it comes to your IR workflow, having a partner that offers support, technology, and really effective solutions is critical. Q4's technology and expert team can help you plan and showcase your ESG strategy, online events, and digital presence to stay on top of your day-to-day tasks, plan and execute your events, and much more. More than just a tactical provider, we are a strategic partner who works with you to ensure you're seizing the opportunities your website and events can present to you. You can find out more about our IR Workflow offerings or watch the entire webinar here.