For publicly held companies, Investor Days can be a real needle moving communications vehicle. A well executed Investor Day can increase investor support, as well as drive valuation. For an IRO, that means thinking strategically about the event's foundational messaging, alongside tactically planning a myriad of details. The question is: how do you effectively attract the right audience and engage your investors?
In a recent webinar, we explored proven best practices for your next Investor Day, including maximizing reach, developing differentiated messaging, creating best-in-class presentations, delivering a strategic Investor Day roadmap, and effectively executing the logistics. Our panel of experts featured Scott Solomon, SVP Sharon Merrill Associates, David Calusdian, President of Sharon Merrill Associates, David Fine, Principal of Fine Communications, and Karen Greene, Investor Relations Partner at Q4. Here are ten key ingredients for creating a successful Investor Day: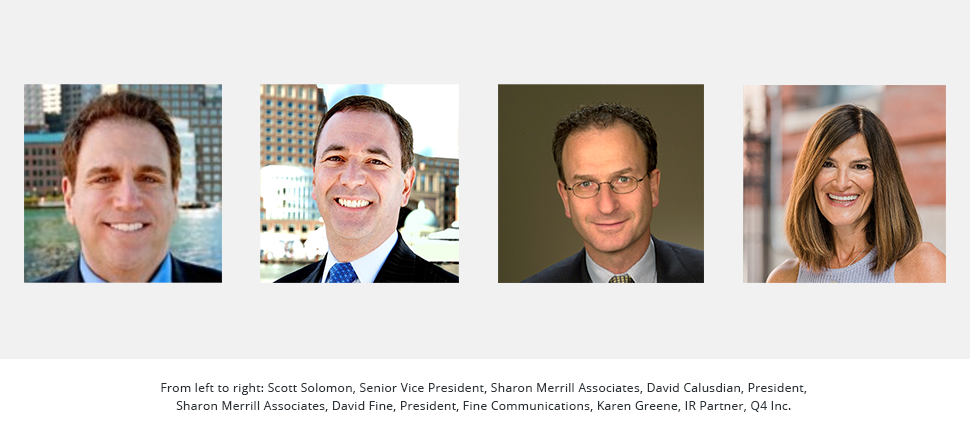 1. Begin with the end in mind
At the highest strategic level, David Calusdian says that you should be crystal clear on what you want to achieve with your Investor Day and the messages you need to communicate. Are you showcasing a new strategy? Are you introducing a new CEO to the investment community? Did you complete a major acquisition and now need to show what the combined company will look like?
He advises IROs to "think through the goals for the day and make sure that all of your decisions support that strategy." That applies to everything from your selection of speakers, to your slide messages, and even selecting industry analysts, customers, and/or product demos for your panel.
Investor Days are complex events with plenty of details. Start by evaluating when and where to hold your event. Consider the weather at that time of year for attendance, and whether there are any conflicting trade events, investor conferences, or peer Investor Days. For your venue, if your focus is on showcasing operational excellence, holding the event at your facility could bring your message of lean manufacturing to life. If you're a new software company and want to get as many people in the room as possible, midtown Manhattan is a better choice.
Plan every detail and create a timeline, from outreach to catering and presentations. Calusdian advises keeping a flow schedule of target completion dates, along with a minute by minute run of the show schedule to ensure "smooth sailing."
2. Select the right speakers
When it comes to your speakers, Calusdian recommends selecting four to six people who can best speak to your messages — also taking into account their strength for public speaking. If your focus is on showing how your company looks after an acquisition, you'll likely want your company's business leaders and key members of your acquisition team to present.
Speakers should be "tightly aligned to the story you're trying to tell," says Karen Greene. David Fine adds, "make sure what they say underpins your message of the day and provides content that helps investors understand your company."
3. Practice and then practice some more
While many companies focus on fine-tuning their slides, Calusdian says that taking the time to rehearse makes for the most successful Investor Day.
According to Fine, "70% is not what we say, but how we say it." He explains, "the focus needs to shift to how to talk to the slides and handle Q and As," says Fine. "Most of us are more effective speakers when we talk to slides, instead of reading from a script," he continues.
Your speakers need to sound excited about the story. After all, meeting your management team is one of the main reasons your investors are coming to the event.
4. Don't underestimate the value of Q and As
"Research shows that audiences would like as much as 50% of the time allocated to Q & As," reports Fine. He advises spending as much time as possible on Q and As. Weaving them into your presentations livens up the day. Fine recommends putting one at the middle and the other at the end of your event. Additionally, make sure that speakers have a response to any potential question, "especially to ones they don't want to answer."
5. Get feedback from your guests, before they arrive
Understanding market perception of your company is essential. Calusdian says that "if you conduct perception audits prior to your event, management can proactively understand investor concerns and integrate that into the messaging." He adds that after your event, you should do a brief feedback survey to see if anything has changed.
Fine agrees that third party perception studies are invaluable for Investor Days. He points to a client's recent Investor Day: "The perception on the Street was focused on how the company would perform in the next downturn. Because in the last downturn, they lost a billion dollars." They were able to effectively address the issue head-on in their Investor Day.
6. Be clear on your message
"Make sure that your Investor Day is message driven and has a real impact on the perception of your company," says Calusdian. Your messaging needs to be crisp and tie into the key goals for your Investor Day. The trick is to "imagine what your headlines will be the day after the event and how you can feed into that," he says.
He points to the example of a client who was presenting a new CEO and moving towards growth, after five years of margin improvement. They used their messaging to support a growth plan. "When you look at the headlines the day after, they were as good as it gets. People saw it as a growth story, which set the stage for what came later," he explains.
7. Follow the three-second rule for slides
When it comes to creating slides, Fine underscores the importance of following "the three second rule." He explains: "Your audience should understand your slide in three seconds." If it takes any longer, you've lost them. The key for your slides is simplicity, with one clear takeaway in the title and a logical overarching structure.
He advises organizing information into buckets that tell a story that's easy to absorb, as well as including an agenda slide before every presentation. Leveraging future roadmaps and money metrics can also help guide your audience. According to Fine: "Analysts need good guidance to update their models and report afterwards."
8. Get the right people in the room
You can't underestimate the importance of getting the right people to your event, whether in-person or remotely. "Beyond inviting your current top holders and sell-side analysts," Karen Greene advises using your Investor Day "to build, refine, and reach out to your investor and analyst pipeline." She says that, "it's essential to fill the room with prospects (in addition to your current holders)."
At least nine months out, Greene recommends initiating pipeline targeting. "Identify and reach out to potential investors and analysts with your company factsheet." She continues: "Formulate your dream investor invite list, including both current and prospective investors and analysts. Don't be afraid to build a long list." Likely only one third will say "yes" to your invite.
"You want the most important people in the room," she adds. If you're limited on space, she recommends trying to recruit your top prospects first. After prioritizing your list, send out VIP invites and guarantee participation by an RSVP deadline. Once that date passes, move onto your B and C list.
By six months out, send out a "save the date" invite and be sure to track the open rate, trying again with those who haven't opened. At the three month mark, send out a reminder, and follow-up with additional reminders every two weeks, and closer to the event date, every week. Leverage subject lines tailored to your target audience, along the lines of: "Come meet company X, a textbook story about X you can't miss."
9. Hook your audience with webcasting
In today's digital age, webcasting is a must. The trick is keeping your audience hooked. Greene recommends broadcasting a video live stream. Live video is one of the most effective ways to engage online audiences and make them feel like they're in the room.
You can also empower viewers with the ability to engage with presenters through Q and As, in an open console or as private messages. Also consider using viewer controlled slides, so they can control the pace of the presentation. And be diligent about providing them with supportable materials, including press releases, URLs and video clips that are downloadable directly from the webcast console. After your Investor Day, chapter your archived event, to give on-demand viewers the freedom to skip to different sections.
10. Keep control of the dialogue and end on a high note
Nobody wants a surly investor to turn up at their Investor Day. Greene advises keeping a list at the door and tactfully enforcing the proof of invitation and ID rule.
If the last question of the day is negative, that could also leave a negative impression. Fine looks to one last best practice: "At the end of the event, your CEO should conclude with a presentation of the key messages and takeaways of the day."
Learn more about Investor Day best practices. Watch the webinar on-demand now.
(Visited 122 times, 1 visits today)