When it comes to corporate communications, the sheer volume of information available has never been more complex to manage and disseminate. This is especially true for public companies that need to communicate with a variety of audiences, including journalists, bloggers, investors, consumers and employees. Not to mention that in our digital era, news is produced and shared 24/7, making it increasingly challenging to stay on top of the conversation and react immediately.

In fact, here at Q4, we're seeing a growing demand amongst our publicly traded clients for digital "newsrooms." As a dedicated media hub of carefully curated assets, such as press releases, media kits, awards, industry articles, blogs, photo galleries and videos, the value of a robust newsroom is undeniable. Here are five compelling reasons why your company should consider consolidating your media assets and build a digital newsroom.

1. Catch (and keep) the media's attention

In a recent study, a quarter of the journalists surveyed said they visit newsrooms at least once a week for collateral. A digital newsroom ensures that the media has easy access to critical (and accurate) information about your company, products, and senior leadership.
Another factor to take into account is that even when reporters are interested in a story, they often don't have the time and resources to cover it. By producing stories in-house and publishing them on your newsroom, you provide reporters with easy access to information and show that your topic is worth covering. A positive user experience also means that you're more likely to be top of the list for the next story.
The American Airlines Newsroom features a highly visual "multimedia" section with downloadable images, videos, fact sheets and logos, designed for reporters to quickly and easily grab assets at a glance.

2. Tell your corporate story and build brand awareness

Your newsroom is a reflection of your brand: your core values, corporate story and key priorities. A strong and consistent brand voice can help drive public perception. A newsroom also enables you to be proactive and react quickly to any media coverage, especially if it's negative. It gives you the platform to clearly position your brand values, steer the conversation and frame the story, before the public hears it somewhere else.
As a microsite seamlessly built into their corporate site, Tri Pointe Group's newsroom showcases a robust collection of assets including press releases, media coverage, thought leadership, awards and case studies, to tell a well-rounded corporate narrative.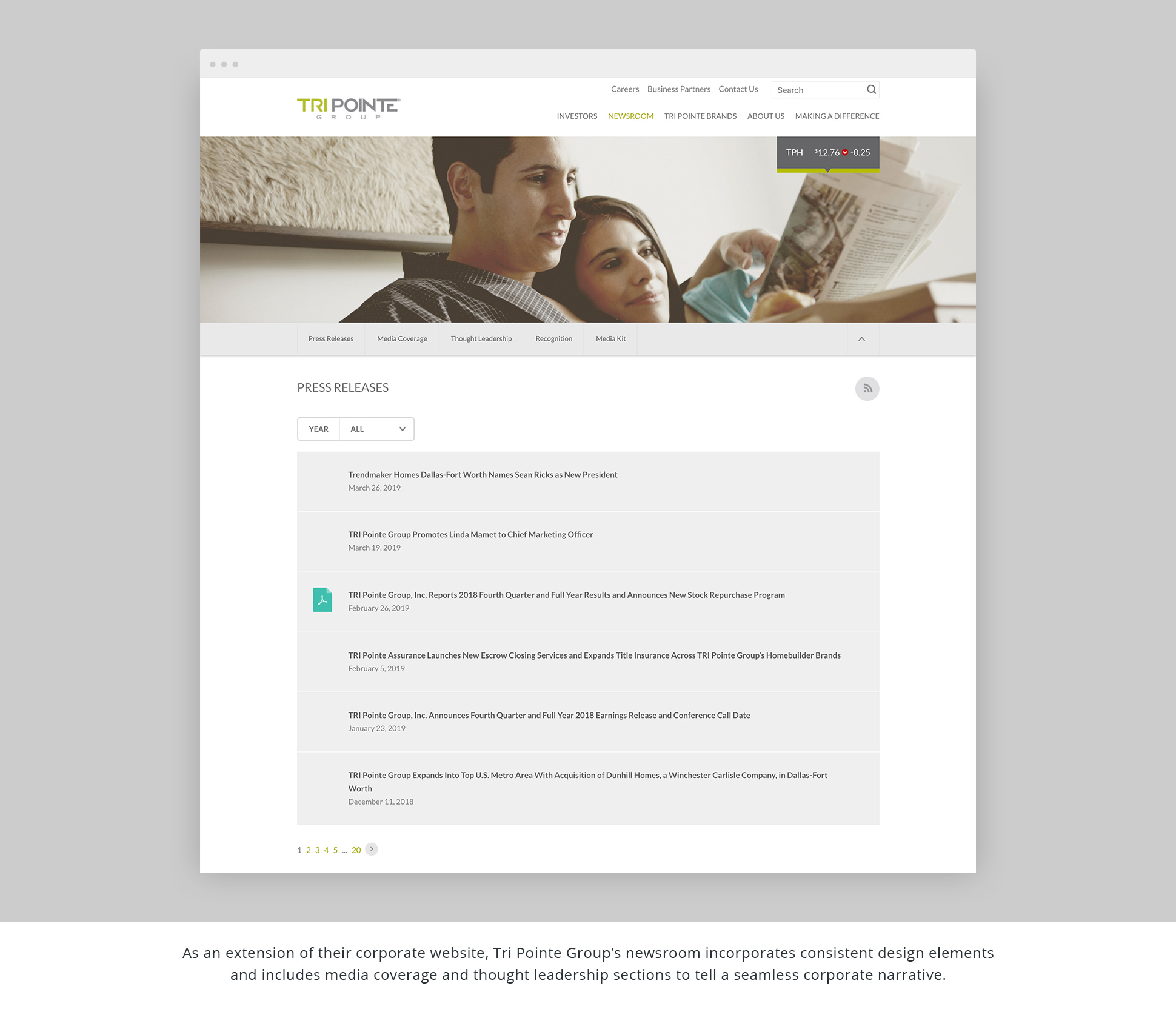 3. Share your thought leadership and build credibility

A corporate newsroom can serve as a central hub for thought leadership and blog content. You can leverage your newsroom to help position your company as an industry leader and a go-to destination for industry information and trends. And to showcase unbiased trust and support in your brand, you can also feature third-party articles about your company.
The TD Ameritrade newsroom features a variety of compelling content, including a blog series called "TD Ameritrade Stories." The series talks about industry topics from the unique perspectives of their employees. This helps humanize their brand, leveraging the diverse voices and everyday experiences of the people who drive their organization.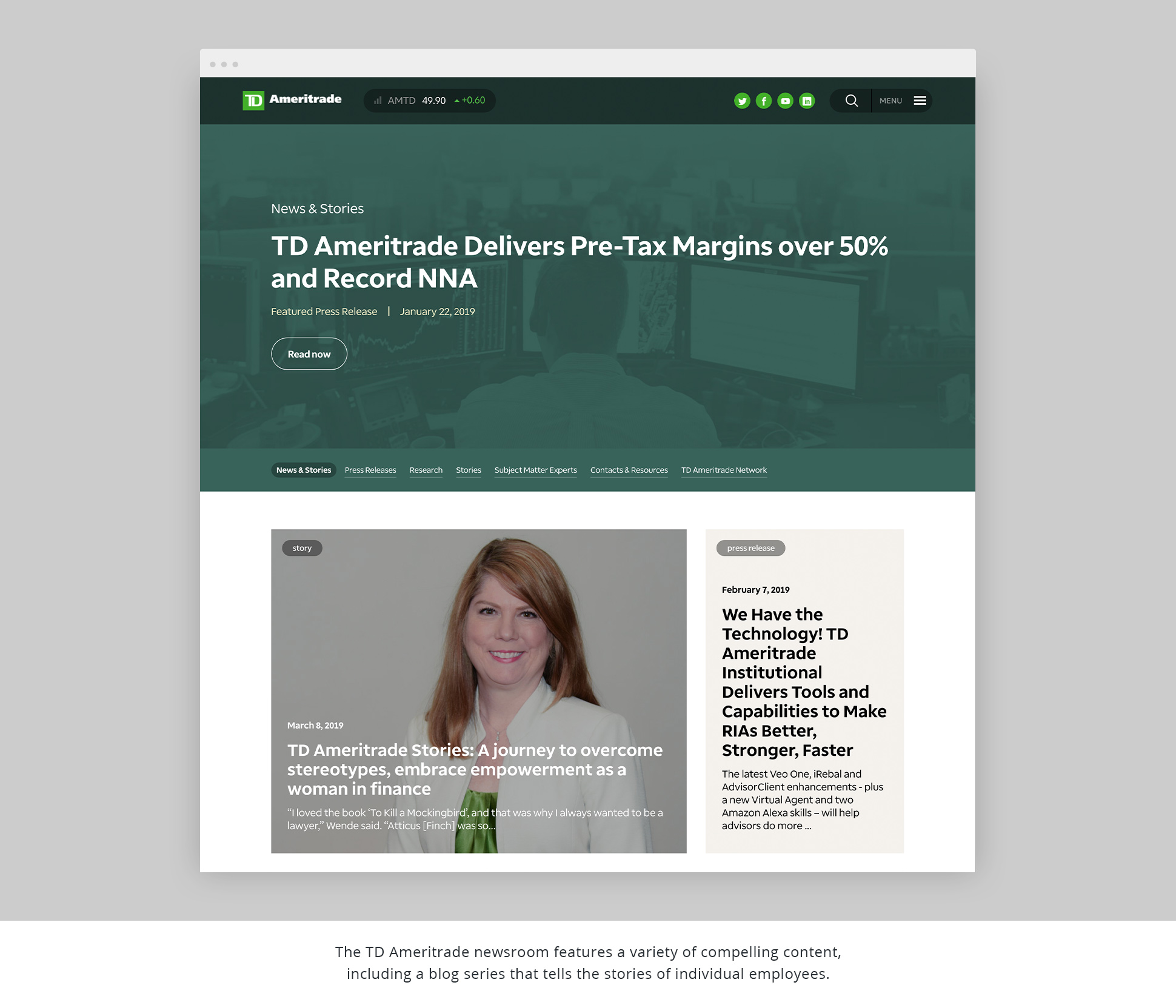 4. Drive visitor engagement and traffic

Content is king. According to 37% of marketing managers, the most important way to engage customers is through content-led websites like newsrooms. Great content helps build a meaningful connection and gives visitors a reason to keep coming back. And if they like your content, they not only have better brand recall, but are also more likely to spread the word by sharing it over social media. A study from TMG Custom Media says that 90% of consumers find custom content useful, and 78% believe that organizations behind the content are interested in building good relationships.

5. Gain valuable insights about your visitors

A newsroom can generate valuable insights about your audience profiles and the content that most interests them. Q4's newsrooms, for example, provide advanced analytics about the pages users visit and download, so you know who is using your media and how. It enables you to see what's working and where your strongest opportunities lie.

These are just a few of the reasons why corporate newsrooms are on the rise for a variety of brands. If you're looking to get started, or need some help revamping an existing newsroom, we invite you to get in touch with us at sales@q4inc.com.

Allyce Maclaren is Q4's Marketing Specialist and enjoys writing about trends in IR, communications and marketing.
(Visited 36 times, 1 visits today)