A strong corporate narrative is an essential part of every great corporate website. Investors look to your website to find out about your values and vision, which can be described with video, images, and text. These elements are, however, only part of the story — your corporate website financial information completes the narrative by providing investors with vital context that will help them make decisions about investing in your company.
While compliance requires the inclusion of regulatory filings and some governance information, providing access to financial information is more than just about remaining compliant. The tools you use to feed investors with quantitative information are important drivers with which you can map out your achievements, goals, and challenges.
The following are best practices that serve to tell your past and present corporate story, while enhancing communication with investors:
Supplemental earnings materials (webcasts, presentations, etc.)

Financial press releases
Annual reports and commentary
Historical stock data (5+ years)
Detailed share price
Total return calculator
Historical price lookup
Interactive analysts centre
Analyst forecast data
Corporate profile and strategy
Regulatory filings
Corporate governance charters and documents
These tools are all valuable communication touchpoints with your investors, which is why it's important to go above and beyond with interactive and easily accessible information. Here are three elements to focus on to keep your website in line with best practices.
Archived financial reports
Cisco's IR website has their financial reports categorized, making it easy for the user to navigate. As you can see below, they include their quarterly reports, annual reports, annual meeting, SEC filings, interactive financials, and analyst coverage in one accessible table. Cisco also has the financial information archived, dating back from the year 2004. For investors in particular, the ability to access archived financial reports is integral as they make comparisons between past and present company performances.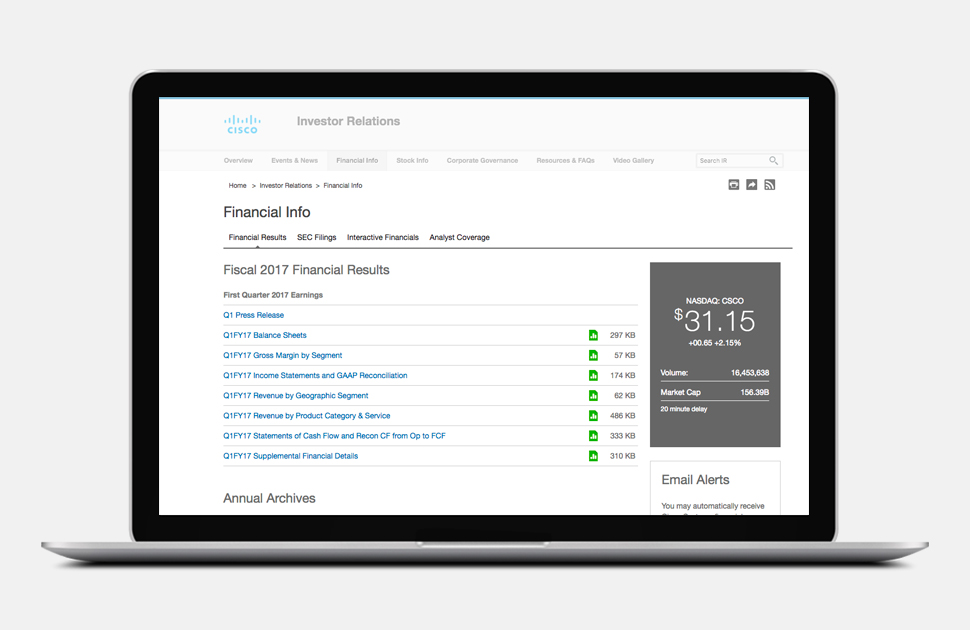 SEC filings (U.S.) / SEDAR (Canada) / Regulatory News (Europe)
Providing your past filing information for your investor audience is key. It provides a fuller background so they can get a sense of the changes that have shaped your corporation as a public company. While the SEC keeps all past filings in their records permanently, corporate website best practices recommend keeping records posted on a website backdated five to seven years. For Canadian websites, it's recommended to link directly to SEDAR records in order to remain current. And finally, in Europe, it's required that websites keep their financial information on their website dating back five years.
This information can get complicated and difficult to sort through, so it is important to add filtering and sorting tools to improve user experience. Nike Inc. does a fantastic job with an easy-to-filter list that allows users to drill down further by date and filing type (including separating out Section 16 filings).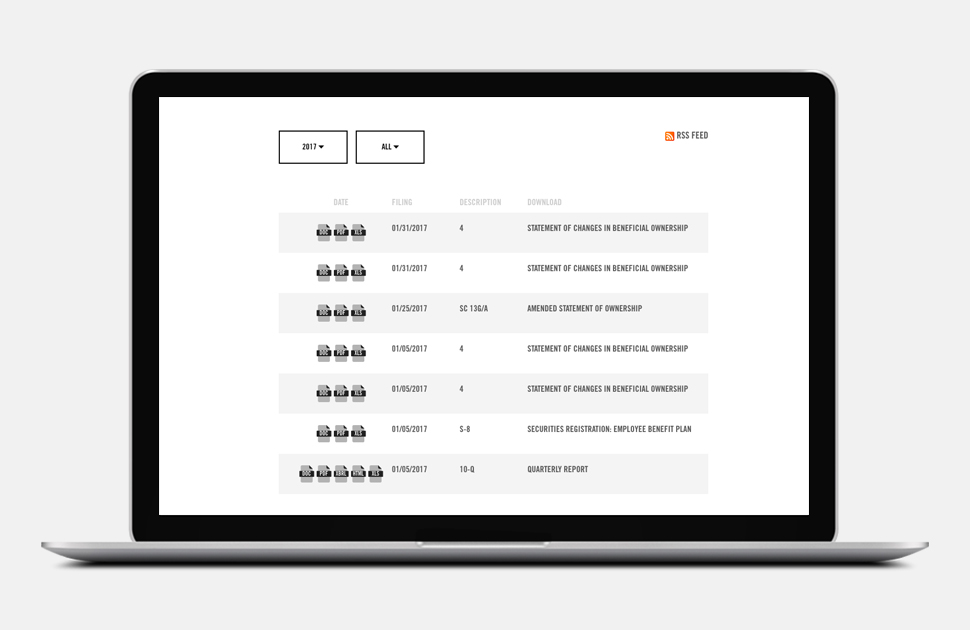 Online annual reports
Online annual reports have enhanced our ability to tell our company story to investors. As digital tools continue to become more sophisticated and accessible, public companies are looking to new technology solutions to help create a fulsome online experience using video, interactive charts and graphs, and better UI – all tools that provide investors with a full and customizable understanding of a company's performance, vision, and future strategy.
According to Rivel Research, digital annual reporting may lead to savings of tens of thousands of dollars over a printed report, depending on the digital features chosen. An online annual report may be as static or as interactive as you would like, depending on the resources for the project. Some ways to create a better online experience for your investors include:

Responsive design. Ensure your report is easy to digest on all platforms, including desktop, mobile, and tablet.

Thoughtful story layout. Share thought leadership pieces as separate stories to give investors the control to choose what they read first.

Downloadable data. Complement the online experience by including downloadable spreadsheets or PDFs throughout your report, so that investors can take information from the digital experience.
Find out more about the latest in corporate website best practices: keep an eye out on our blog or download our latest whitepaper to learn more about intuitive use, mobile best practices, corporate storytelling, presenting financial information, and corporate social responsibility showcasing.
(Visited 9 times, 1 visits today)