An interview with Rebecca Gardy
With the S&P 500 index up more than 200 percent over the last decade, there's been a stampede toward the public market. And for good reason, going public can raise the money your company needs to expand and grow. For the 40+ companies that went public so far in 2019, the first day of trading resulted in an average lift of 22%, beating the historical 13% to 15% range, with about 62% of recent debuts holding above their IPO price.
It can be easy to get caught up in the hype and excitement of an initial public offering (IPO). But the role of the newly appointed IRO can be complex and overwhelming. Oftentimes, IROs come onto the scene just a few weeks or even days before the public offering. It's a veritable race to plan and execute the initial roadshow and highly anticipated IPO day. And once trading begins on the public market, so does the countdown to your company's first earnings. And with no predecessor or processes in place, the task of building an IR program from scratch can be daunting.
I recently spoke with IPO veteran, Rebecca Gardy, Senior Vice President of Investor Relations at GreenSky®. She led the investor relations initiatives that took GreenSky and SecureWorks Corp (a Dell Technologies Company) public. Prior to that, she held senior IR positions at NIKE and Popeyes Louisiana Kitchen. Here are a few of her critical pieces of advice, before you take the reins in breaking into the public market and launching your IR program.

1. Don't wait until the last minute to hire an IRO
Rebecca's first piece of advice is actually to a company's management team: "Don't wait until the last minute to hire an IRO." An effective IRO should execute in the near term and scale for the long term, building out the messaging, processes and tools that will optimize the impact of the IR team, and position the company in the public markets for the most appropriate valuation. The IRO's voice should be incorporated into the company's messaging from the start of the pre IPO process — ideally early enough to fully understand market perceptions, 'test the waters' of the public offering, and draft the S-1.

She explains: "The sooner an IRO can come into the mix pre-IPO, the tighter and stronger your messaging will be." Involving the IRO in the development of all communications to the investment community helps ensure that the company's messaging is aligned and reflective of its overarching communications goals across its broad base of constituents. "From employees to the board of directors, customers, clients, and merchants, I take into account all of the opportunities the company has to reinforce its messaging," says Rebecca. "Investor communication needs to be unified, holistic, and consistent with the broader corporate communications effort. Any disconnect can create confusion and uncertainty with the public."


2. Think of the IPO process like drinking through a firehose
The frenetic pace of activity leading up to an IPO and the weeks and months following requires someone with a strong IR foundation and the ability to learn on their feet. Rebecca says that "it's imperative to bring on an experienced IRO who can ramp-up on the company quickly. You want someone that doesn't need to learn investor relations AND the company in such a brief period." According to Rebecca, it's not your typical onboarding experience of getting set-up and learning the ropes, because the clock is ticking loudly and there are no precedents: "There are targeted, immovable dates for your roadshow and IPO. Ramping-up quickly is not for the faint of heart."

After the roadshow and public offering, life does not slow down. Rebecca adds that "everything is in motion and on fast forward. You're off and running towards your first quarterly earnings." With this in mind, she advises IROs to take the time to plan "the marriage, not just the wedding." The key is to be "judicious about how you're going to structure and prioritize your time."

Her first weeks at GreenSky were spent negotiating the end of the listing agreement with Nasdaq, then immediately diving into planning the 'run of show' for IPO day, and simultaneously setting-up dates and best practices for the impending earnings call. She "worked back" from her key priorities and deadlines, to establish what she needed to accomplish and when. Rebecca also had to put in place all of the necessary tools and processes for IR best practices. She sums things up: "Management is looking to you to build IR from scratch and create process. The bright side of being the first person in the role is that you have the opportunity to architect what the function will look like and make it your own."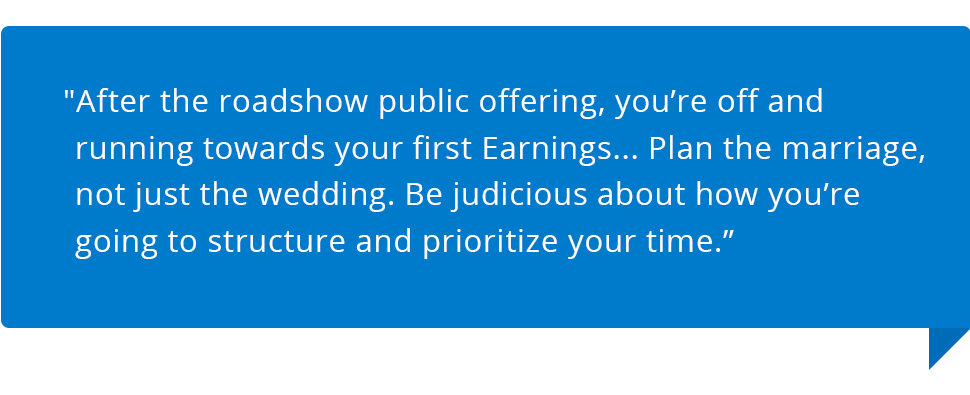 3. Educate your management and internal teams about good IR
For a management team that's never been with a public company, the IRO's role, function, and best practices are an unknown. Rebecca says that "it's critical to take the time to educate your management team about the IR role and responsibilities." Then over subsequent months, she recommends following-up with internal presentations across departments, especially with your marketing, operations and HR teams: "As a newly public company, they know you're there, but they won't understand the depth of what you do, what investor relations is exactly, and the important role they will now play in the earnings cycle going forward."

From your participation in Board meetings to internal interactions, she says that it's critical to "set the tone in the very beginning and build your credibility quickly." Rebecca underscores the importance of establishing a relationship with all of the internal players that will become important to you. She advises new IROs to "create visibility into your role" and commit to "an internal awareness campaign."

This stems from the fact that "when it comes to that first quarter, and every quarter thereafter, you'll be leaning on your business unit teams to provide you with monthly business reviews, dashboards, analytics and insights to discern the key messaging points." It's essential to build trust across your internal team, not only to be able to paint a qualitative picture of your company's financials, but also "to get authentic views and meaningful insights into your company itself." That's because learning the nuances of the business is key to good storytelling. Rebecca likens the IRO's role as a storyteller to that of an imbedded field journalist: "You need to know the good, the bad and the ugly, to come up with engaging and authentic messaging."
For her, "success is when you become really embedded in the company team and operations, and establish a cadence with key internal players." She explains: "the company recognizes the valuable role I play and includes me along the way, not just at quarterly checkpoints." Rebecca points to the example that the marketing, finance, HR and operations departments include her in their weekly and monthly meetings, so she can remain up to speed on the evolving storyline. She adds that her company also looks to her for the external perspective. "IR has such a unique 360 degree view of the company. Sharing the perspectives of the external financial community can really be valuable to the team, serving to inform and shape the company's strategy."

4. Simplify your message and know your audience
When it comes to defining what your company does and articulating its mission, know your audience and tell a clear and unique story. An essential part of that is "making sure that your message is easily digestible." Rebecca explains: "You need to be aware that analysts following you are also covering dozens of other companies, all announcing earnings within days or hours of your own." As IRO, she says that "it's incumbent on you to make your message easy to understand. The simpler and crisper you can make it, the better." She quotes French philosopher and mathematician, Blaise Pascal: "If I had more time, I would have written a shorter letter."

Rebecca recalls attending an industry specific conference where she visited exhibitor booths, collecting marketing materials from various companies. She reports that all of them used the same buzzwords to describe their businesses. For an investor, it would clearly be difficult to understand the difference. The key takeaway is "to consider how you rise above the noise and get your message to be sharp, compelling and easy to understand. Your investment thesis must resonate, be authentic, and differentiate your company."


5. Don't lose sight of your IR goals
Rebecca's last piece of advice is to stay focused on your long-term IR goals, even while the world around you is moving one hundred miles an hour. As a newly public company, there are no shortage of to-do's, not to mention a whirlwind of fire drills and endless inbound requests. It's easy to get caught up in the tactical management of whatever arises, sometimes at the detriment of what you are ultimately trying to achieve.
She emphasizes the importance of figuring out from the start the right strategies, processes and resources you need to attain the IR goals you and your management team have set. This includes knowing and employing best practices, having access to the right technology tools and bringing on additional headcount if necessary. Rebecca concludes that for all IROs, not just those who are with newly public companies, the key to success is "taking a step back and focusing your schedule and resources on what will move the needle over time."

Rebecca Gardy is Senior Vice President of Investor Relations at GreenSky® with over 30 years of experience in investor relations, finance, strategy and marketing.

Marla Hurov is Content Marketing Manager at Q4 and writes regularly about the latest in investor relations, technology, and communications.
(Visited 74 times, 1 visits today)