This year has been a tumultuous one for many, but Canadian gold mining stocks have been one of a very few industries to benefit from the coronavirus pandemic, reporting strong performance since the global health crisis hit in mid-March 2020. Viewed as the ultimate store of value, the precious metal has gained 15% since the start of the year.
Some experts believe that gold will soar even higher, particularly once the pandemic is more under control and we can better quantify the catastrophic economic fallout it will undoubtedly leave in its path. In fact, due to its considerable defensive attributes and an extremely poor economic outlook, some analysts assert that gold could reach a record-breaking US$3,000 per ounce over the next 18 months, and others believe its price could double by 2030.
Gold continues to be seen as a safe investment, increasingly so in these turbulent times. And while an influx of investors looking to spend money in your industry provides a great opportunity, it also presents some challenges for IROs. In the midst of this "gold rush," it's even more imperative that companies communicate their equity story and convey why investors should choose them over others in the space.
This competition for capital is where savvy IROs earn their keep, focusing on clearly communicating the company's value and targeting and engaging with the right investors. Obviously, there are many important aspects to a successful investor relations program, but as the first point of contact for many current and potential investors, creating an engaging IR website is a critical component. The most impactful sites provide context around the company's vision, strategy, and execution.
Below are a few examples from leading Canadian gold and mining companies, demonstrating how to best engage and inform website visitors.
Barrick Gold Corporation:
Barrick Gold's mission is to be the world's most valued gold mining business by finding, developing, and owning the best assets, with the best people, to deliver sustainable returns for its owners and partners. To clearly communicate this mission and its equity story, the company launched a clean, well-organized IR site showcasing the content most relevant to investors. Prioritizing the information most important and timely, the most recent results, such as how the company is addressing the COVID-19 crisis, are posted at the top of the home page. This design ensures that analysts can easily find what they're looking for and make a quick assessment.
To immediately facilitate engagement with IR website visitors, the Barrick Gold team prominently features its email subscription. Encouraging analysts, investors, and potential investors to sign up helps the team gain insight into who is visiting and may be open to learning more about the company.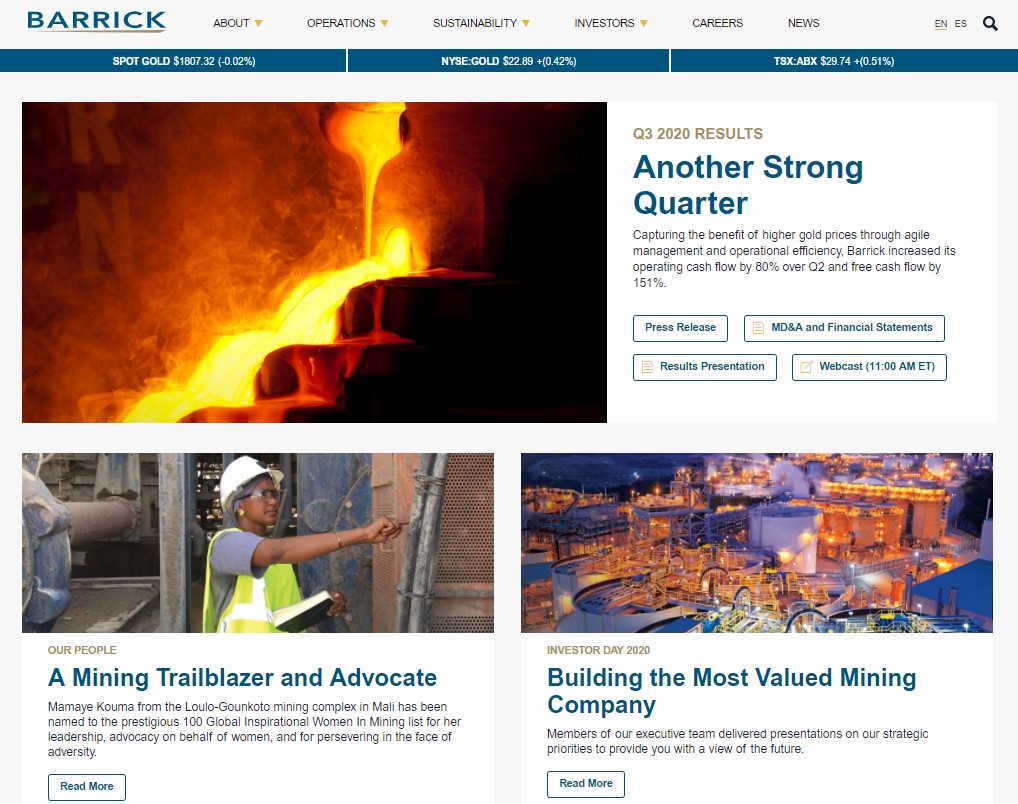 Alamos Gold:
Alamos Gold is a gold producer with a long-term track record of creating value for all stakeholders through solid financial performance, low-cost production growth, and a company-wide commitment to social responsibility and environmental stewardship. To communicate this story, the website leverages beautiful, dynamic imagery to draw visitors in.
A series of sweeping videos at the top of the home page provides a hero image that not only engages visitors but also provides immediate insight into the company and its brand. Visuals elegantly showcase what the company is about, introducing current and potential investors to some of Alamos Gold's greatest assets, including its employees, operations, and commitment to sustainability.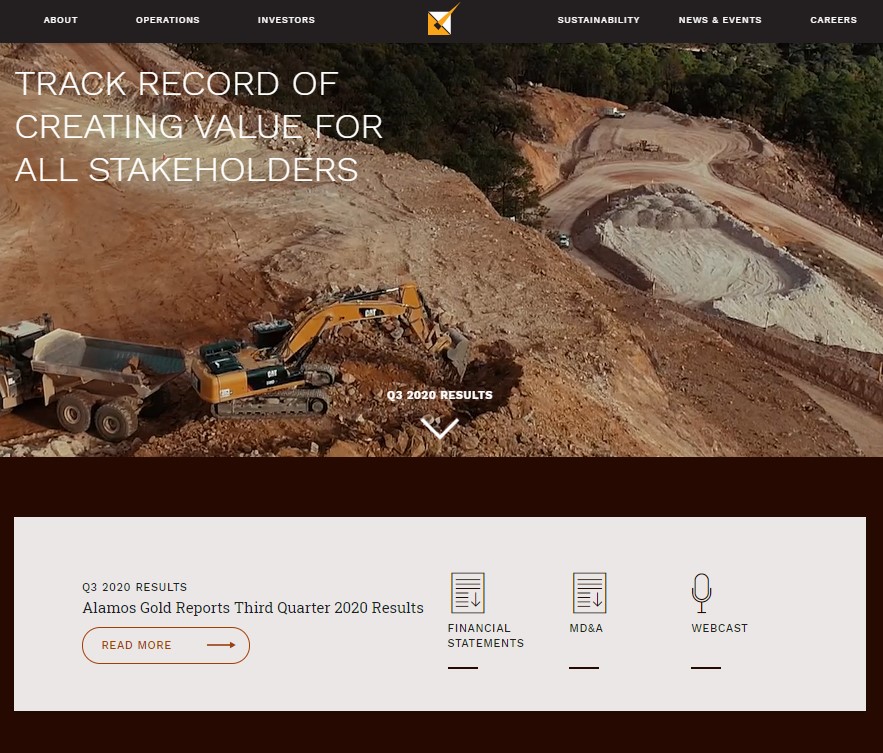 Agnico Eagle:
Agnico Eagle is a Canadian gold mining company that has produced precious metals since 1957. The company's mission is to build a high-quality, manageable business that generates superior long-term returns per share by: Increasing gold production in lower-risk jurisdictions. Growing operating and free cash flows. Providing meaningful dividends. Minimizing share dilution. Operating in a socially responsible manner.
Agnico Eagle's IR website does an impressive job of incorporating different types of content, not only to provide a full and contextual story to visitors but also to use that content to better understand them. Garnering metrics on how investors engage with website content brings valuable insights into what interests investors and, when correlated to other IR strategies and activities, can help build a better understanding of which messages are resonating and which efforts are working.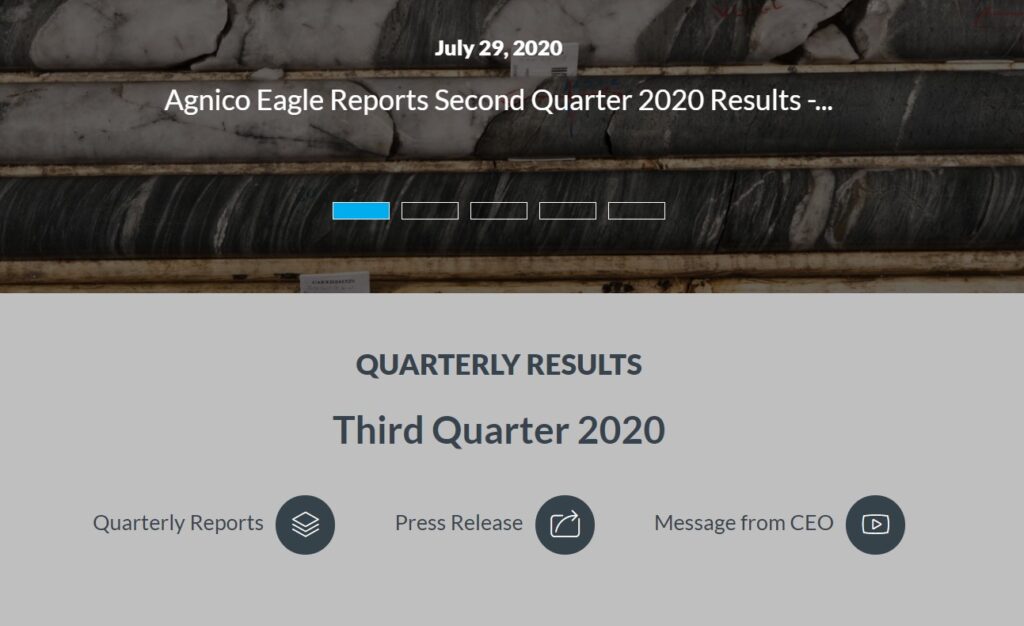 Each of these IR sites is a great example of the ability of IR websites to successfully communicate a company's investment story by providing investors with compelling and informative context that can ultimately influence a decision to invest. Having built this powerful foundation, IR teams across all industries are looking to extract additional value from the sites to be built into broader IR initiatives, whether that means collecting and analyzing market intelligence and insights around your shareholder base, peers, and sector, targeting the right investors, or engaging with those targets in a way that can convert them into stockholders. To learn more about connecting your data to uncover valuable insights, click here. Outside of Canada? Click here.