An Interview with Electronic Arts Senior IR Manager, Erin Rheaume
Based in California, Electronic Arts (EA) is a global leader in digital interactive games. With more than 300 million registered users worldwide, they are the second largest video game company in both the Americas and Europe. EA has a market cap of $28B and is recognized for their acclaimed evergreen brands including The Sims™, Madden NFL, EA SPORTS™ FIFA, Battlefield™, Need for Speed™, Dragon Age™ and Plants vs. Zombies™. With the mantra, "We exist to inspire the world to play," EA's mission is to transform the way gamers play, by building deeper relationships with their players and keeping games fresh with new content.

EA's IR team is a small (but mighty) team of three. As their Senior Manager of Investor Relations, Erin Rheaume spends a significant amount of her time focusing on process improvement. I recently sat down with Erin, to take a page out of EA's playbook and discuss how the gaming giant is tackling 2019 and beyond.


Q4: What do you consider to be your key ingredients for success in 2019?

ER: Scale is a big focus for us. We would love to be able to connect with more investors, and more often, but have time constraints. So, to increase our reach we plan on leveraging our IR website as a first touch point. Our vision is to have an evolving website, full of educational information that goes above and beyond our peers.

That meant that we needed to redesign our website. Working with Q4, we leveraged best practices to produce a highly user friendly, visually engaging, and easy to navigate "central hub" for investor communication.

Our new website features all of our earnings content and upcoming earnings dates on the landing page, so investors can quickly find the information they need. And most importantly, we can now showcase a lot more content to educate investors, such as executive interviews, upcoming game launches, as well as primers on new accounting standards.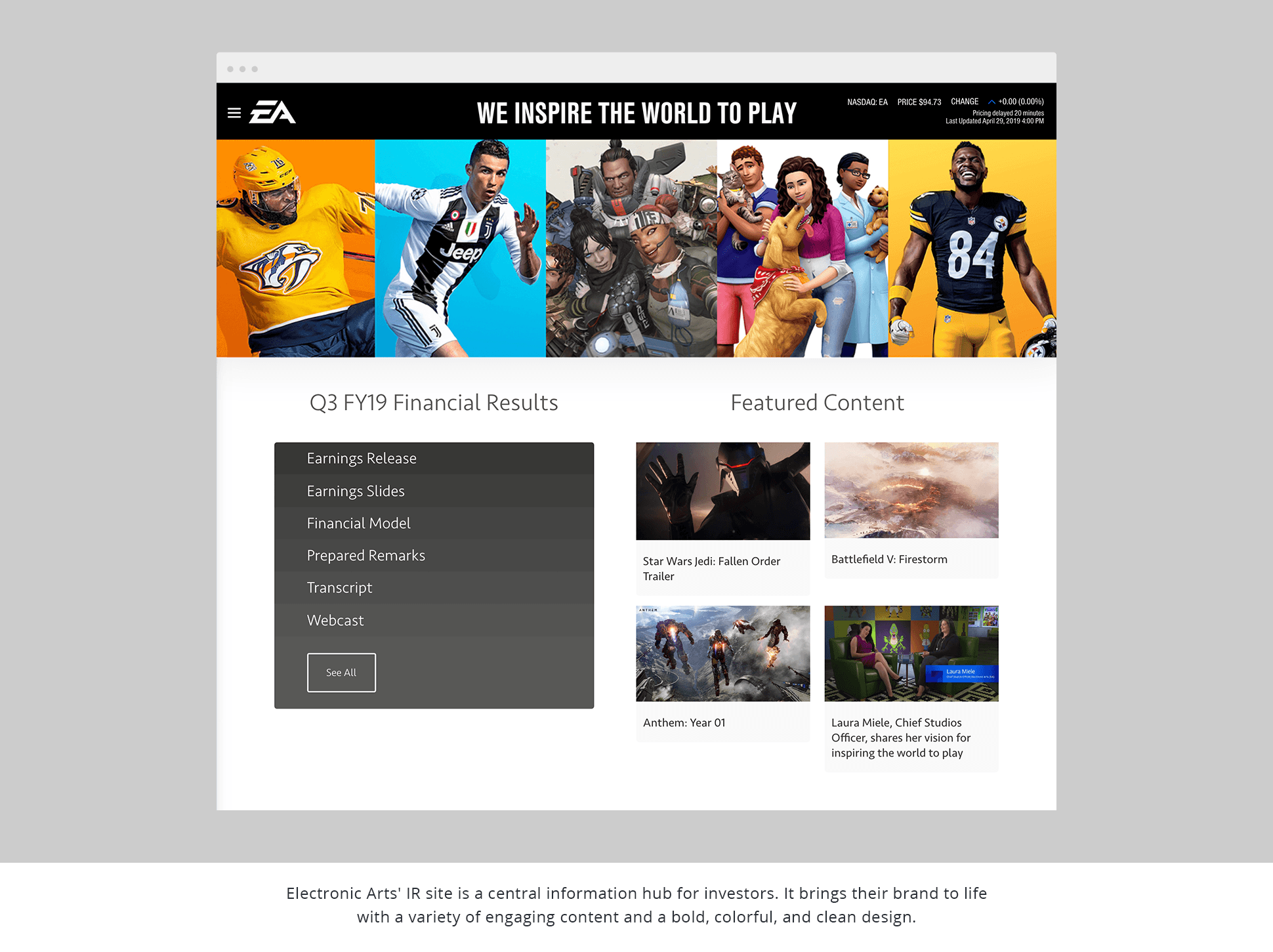 Q4: In what other ways are you looking to improve investor communication?

ER: On top of scale, we are looking to be more efficient, proactive and opportunistic. We are going to do that by reviewing the way we target and market. In the past, we've added marketing days to trade conferences, ran dual track NDRs in key locations, and targeted new accounts with IR only introductory meetings and roadshows. We've also experimented with doing NDRs in-house, which has given us a lot of control and flexibility, albeit also a lot of extra work. Some things worked well, some things not so well. It's a constant experiment.

We've also been concentrating on prioritizing our efforts. We originally only had a set callback list for our executive team, but we have recently implemented a callback list for the entire IR team, which allows us to effectively divide and conquer. We found that many investors preferred to get a call from the IR team immediately after earnings and then a follow-up call from management a few weeks later (after additional executive responsibilities settle, like BoD meetings and SEC filings). We also found that our key messages resonate with investors when they hear from the IR team, and then again from management. It's a feedback loop that shows the process is working.

Q4: Have you tried any unconventional or innovative ways to scale communication?

ER: That question speaks to the heart of my focus! I love process improvement and think we have a lot of potential to scale our communication with technology. Time is one of our most precious resources and it can often be scarce due to competing priorities, hence we need to find ways to work more efficiently. We're entertaining a few different ways to do this — one being a "virtual NDR" to cut out travel time. We can conceivably reach more investors, as well as potentially offer additional corporate access with team members that are harder to get on the road, again because of time constraints.
Q4: What trends do you see ahead for investor communication?

ER: I see ESG as an essential trend. The capital markets are realizing that social good is also good for business. And once again, we'll be leveraging our IR site as a platform for this conversation and showcasing our sustainability practices as a core part of our mandate.
Electronic Arts is a featured client in Q4's new Guide to Designing your IR Site. Download the guide here.
Marla Hurov is the Content Marketing Manager at Q4 Inc and blogs regularly about trends in investor relations, technology and digital communications.

(Visited 41 times, 1 visits today)