Over the past five years, investor relations tools have been transformed by what began with regulatory changes with the Markets in Financial Instruments Directive (MiFID II), then a global pandemic, and finally, the extraordinary headwinds from a tumultuous year in the capital markets.
Navigating these challenges, IROs have turned to new investor relations tools to help them effectively communicate with the markets. However, legacy methods of interacting among capital market participants have continued to largely be managed through manual processes and disparate platforms, delivering siloed investor engagement data. These traditional approaches drive inefficiencies (e.g. using separate web and event technologies to provide a singular earnings update to the market) and lost opportunities (because data cannot be aggregated, correlated, and used to point you to the right insight ).
Challenges Drive Innovation of Investor Relations Tools
With the milestone launch of the Q4 Capital Connect™ platform in June 2022 at the NIRI conference in Boston, Q4 delivered a singular place where IR professionals can communicate, analyze, target, and engage with their investors. Capital Connect™ is a unified platform that brings together traditionally siloed IR communication technologies. By having one platform responsible for capturing all workflows, data, and insights from across your website, events, and analytics, you have an opportunity to truly transform how investor relations tools engage with the capital markets. My good friend Amy Schroyer already spoke about this with her previous blog on how this led us to create the Engagement Analytics application!
What began in Boston in 2022 was just the beginning. In the first three months of 2023, innovative new experiences and efficiencies are being introduced by leveraging this one platform. Here are three quick examples of the work already done in Q1 2023.
Seamless Experiences Across Your Entire Workflow
In January 2023, we fully integrated the Desktop CRM experience into the Capital Connect™ platform with a unified single-sign-in experience. This single secure login enables users to access every part of the Q4 workflow, from website management to engagement analytics (more about that shortly), and now includes an innovative, easy-to-use CRM.
This minor yet critical release simplifies another task for an IRO, as one less password to remember is always nice. More importantly, it gives each user access to a roadmap of applications and workflows that will begin and end within one IR-optimized experience in Q4 Capital Connect™.
Analytics Upgraded and Elevated by Capital Connect™
This unified single log-in experience across Q4 Capital Connect™ unlocked an exciting and free upgrade for CRM clients; the Engagement Analytics application was released as a free entitlement for Desktop users in January 2023!
Desktop users have for some time had access to the legacy website and events analytics but could not correlate this data into actionable steps by mapping it with certainty to the investors driving those actions. Through unification with the Capital Connect™ platform, CRM has been upgraded to direct in-workflow access to the Engagement Analytics applications. It is now a seamless experience to move from peerless program analytics to targeting reports or vice-versa.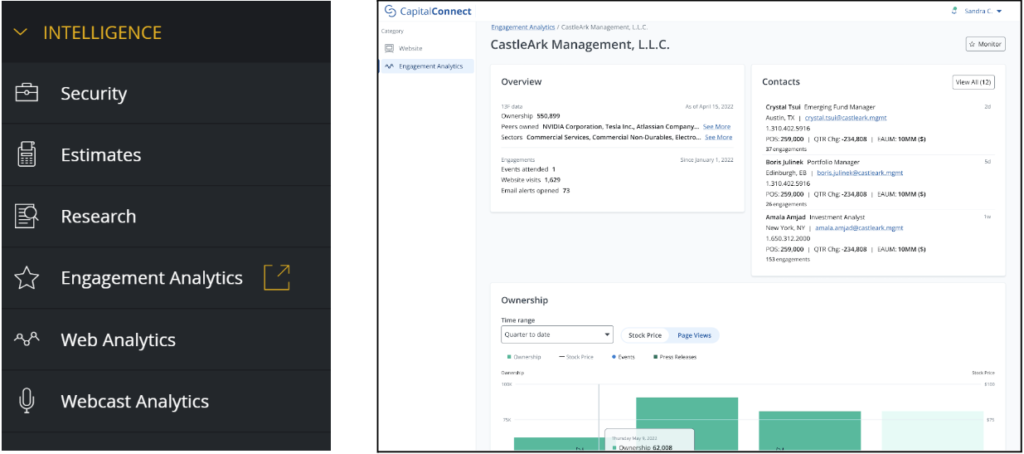 For those new to Engagement Analytics, this transformative application maps leading indicators – website and events analytics – to the institutional investors driving that behavior. Clients globally can now identify which specific institutional investor is visiting a website, downloading assets, reading announcements, and attending earnings events, allowing you to observe research behavior before actions are taken. Check out our video demo to learn more.
Capital Connect on the GO
On February 2nd, 2023, the all-new Q4 Go mobile application was released. This mobile application is built off the same unified data and insights as the Q4 Capital Connect platform, enabling it to be a scalable application that can take advantage of the aggregated value of Q4 workflows.
The introduction of Q4 Go represents a complete rethink of how IRO should engage with their IR program when away from their desk, wherever that might be. With this initial release, Q4 Go will deliver access to key CRM workflows currently fully integrated into Q4 Desktop (i.e. identifying contacts, entering meeting information, etc.). In the future, it will become an interface to other critical workflows that an IRO needs (like events or analytics) to work seamlessly on a mobile computing device when running between conference sessions, meetings, or other engagements.
For our current desktop users, download the introductory versions of Q4 Go for Android, and iOS here! To log in, users use their one unified login for Q4 Capital Connect™ to access the application.
To see the thoughts of our CEO on using these tools to measure your IR Strategy, you can view his interview with IR Magazine: