Investor Days are an opportunity for companies to give current and prospective investors, as well as analysts, the chance to learn about their business beyond the numbers. As a kind of open house, they offer insights into a company's history, culture, strategies and upcoming projects. But a real challenge is engaging audiences outside of the presentation room. That's where webcasting comes in.
By webcasting your Investor Day, anyone who can't attend the live event can still take advantage of the same information. The archived version of the webcast can also be sent to anyone interested in learning more about your company, and save tying you up on the phone.
There are a variety of webcast features to keep your audiences hooked over the entire course of a live event. Here are the Q4 Event Team's top five suggestions for leveraging webcasting to effectively engage your audiences on Investors Day:
Live Video: Raise your game for 2019, by broadcasting a live video stream of your Investor Day. According to a recent report from Cisco, 82% of all internet traffic will be video by 2020, and live online videos will account for 13% of that traffic by 2021. Video is the most engaging kind of content for an online audience. It offers a modern and dynamic presentation that's likely to catch and hold your audience's attention. Live video also opens up more creative ways of showcasing your content. You can use multiple cameras to transition between different angles, integrate video clips, product demos and so much more.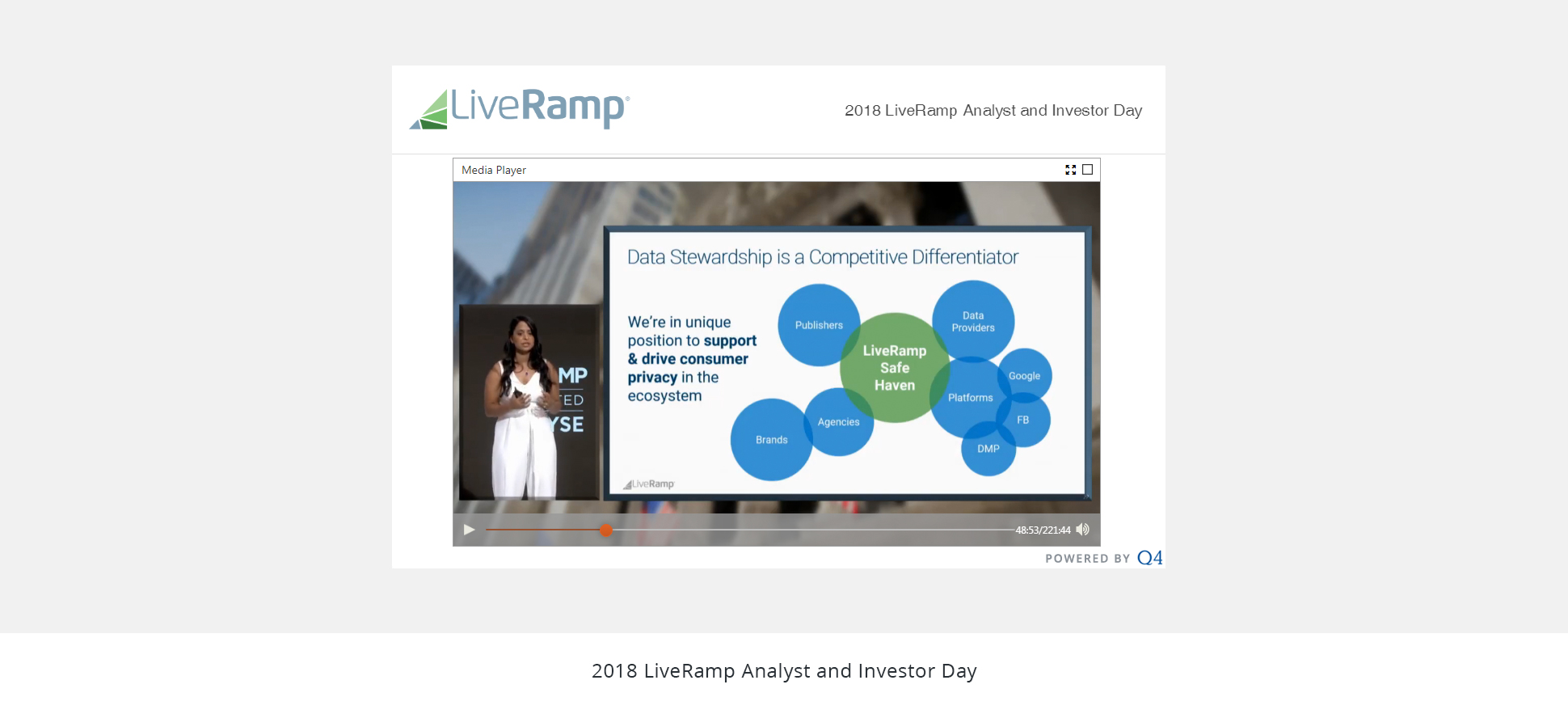 Q&A: Let your webcast audience feel like they're part of the event. Empower them to ask questions for the speakers to answer live. Adding a Q&A widget to your video webcast offers remote viewers the opportunity to submit a question directly through the webcast console and watch the presenter answer it live. You might also want to enable presenters to answer questions as private messages, responding directly to individuals submitting questions. In any and every case, your webcast admin should be able to easily vet and prioritize questions.
Downloadable Resources: Give your audience easily accessible resources that complement and add color to your presentation, as well as represent assets you distribute in-person. We highly recommend that you add any supporting material for participants to digest at their leisure. This includes speakers bios, presentations, press releases, URLs and video clips. Your webcast participants should be able to view and / or download this material directly from the webcast console. This ensures that viewers remain engaged with the webcast, instead of hunting to find it elsewhere and potentially miss out on some important messaging.
User or Presenter-Controlled Slides: Q4 offers two unique choices for slide integrations into a video webcast. "User controlled" slides put the control in the hands of the audience, to actively follow the video presentation and physically engage with the presented content. In this way, the audience can view the material and digest the story at their own pace. Alternatively, "presenter controlled" slides encourage the audience to follow the presentation at the speaker's pace, offering a real-time view of the in-person presentation. Presenter-controlled slides also enable the speaker to better control the way material is ingested, in terms of how much time the viewer is exposed to each piece of content. Q4's webcast platform supports most animations and transitions, and can also incorporate video clips directly in your slide window.
Post-Event Chaptering: Many Investor Day video webcasts can run for a lengthy three to four hours. Give your on-demand viewers the chance to skip to certain speakers or sections of the presentation, by chaptering the archived version of the event.
These are just a few key recommendations, to help you get started on your Investor Day webcast. But rest assured that your Q4 Event Manager is with you every step of the way. Beginning with an initial scoping call with you and your AV team, your Event Manager will coordinate all of the technical details, schedule a test call to ensure the audio and video are clear, as well as monitor the entire live event for a flawless presentation. Alternatively, your Event Manager can be on-site during your live event. We can work directly with your AV team to set-up your audio and video feeds and oversee the webcast slides and the stream itself. After all, our aim at Q4 is to do the heavy lifting, so you can focus on your presentation and in-room logistics for your most successful Investor Day.
Q4 is committed to partnering with our clients, to produce events that most effectively resonate with investors. If you would like to learn more about maximizing engagement for your events, please contact us at sales@q4inc.com.
Lucas Archer is Senior Event Manager at Q4.