We recently posted a blog sharing some words of wisdom from investor relations professionals across various industries. Specifically, we sought to provide valuable insights for those looking to begin or grow their careers in IR. In fact, we collected so much advice from these seasoned pros about the investor relations job that we decided to return with a second installment. We're thrilled to bring even more great advice and perspectives from some of our industry's best and brightest!
Because IROs work their way up to the investor relations leadership role through different functional areas – whether finance, marketing, treasury or elsewhere – we bring incredibly diverse backgrounds and experiences to the role. For the same reason, most IROs have benefited substantially from the knowledge of our colleagues when we were new to this role.
An Investor Relations Job Requires Excellent Communication Skills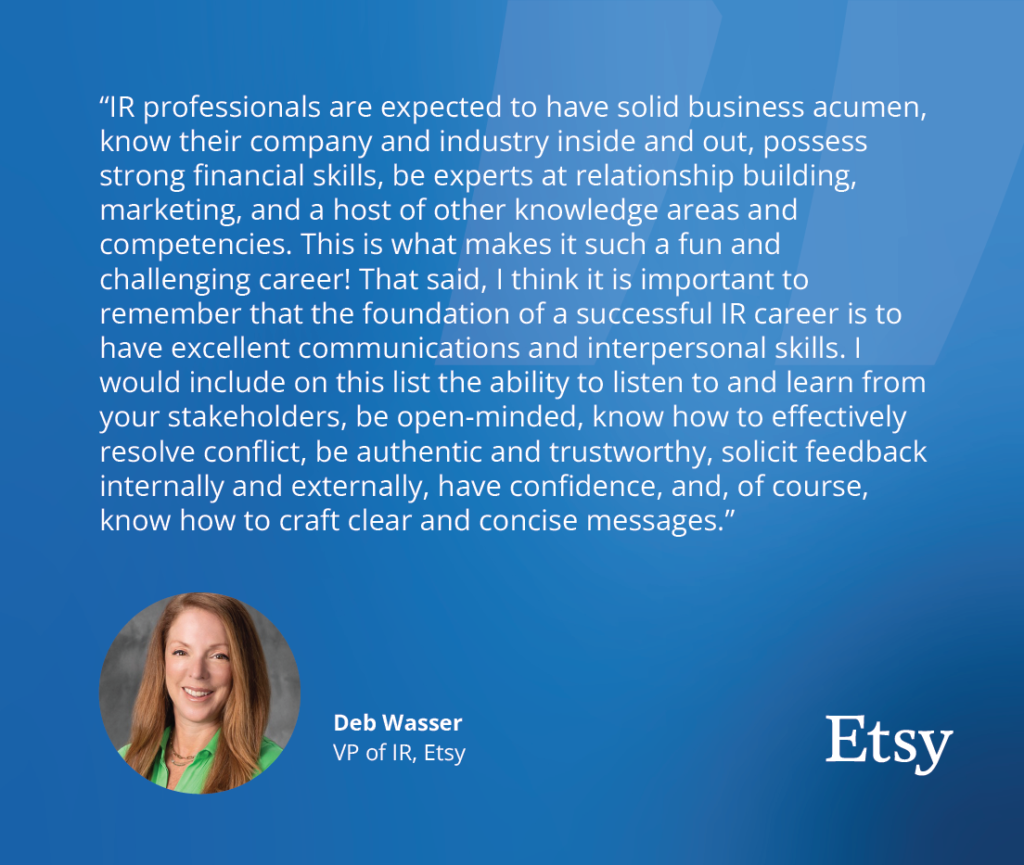 There is no question that strong communications and interpersonal skills are paramount to succeeding in an investor relations job. IROs may come from various backgrounds, but this is the one trait we all share. Without the ability to build a solid rapport and gain the trust of investors, analysts, internal business leaders, board members, and the C-suite, the IRO cannot be effective in their role.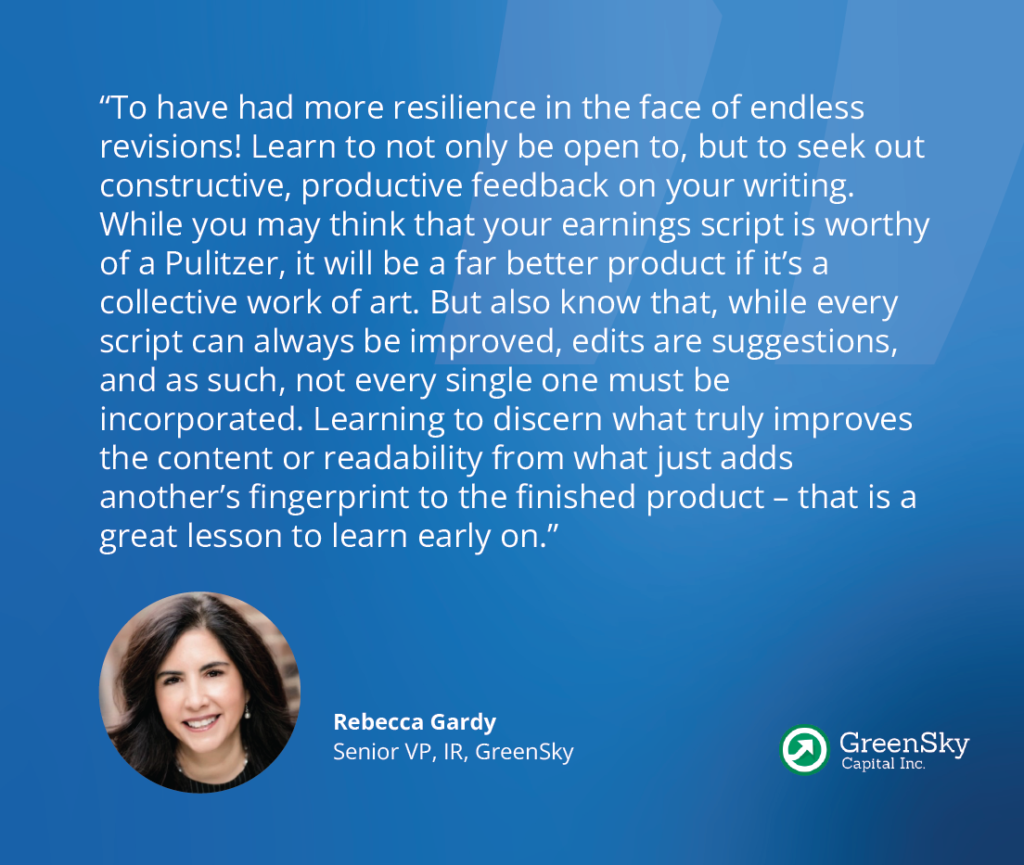 Learn to build time for others to review and make suggested edits when preparing materials. In addition, it's a hard lesson to learn but pride of authorship has NO place in the IRO's world. An IRO needs to be able to put their ego aside when receiving feedback.
That being said, you will be required to stand up for the points you believe are important and be prepared to defend why. The IRO is often the record keeper of what was said or promised previously or what might trigger a negative shareholder response, so make sure that, although all parties are heard, you are in charge of the final messaging.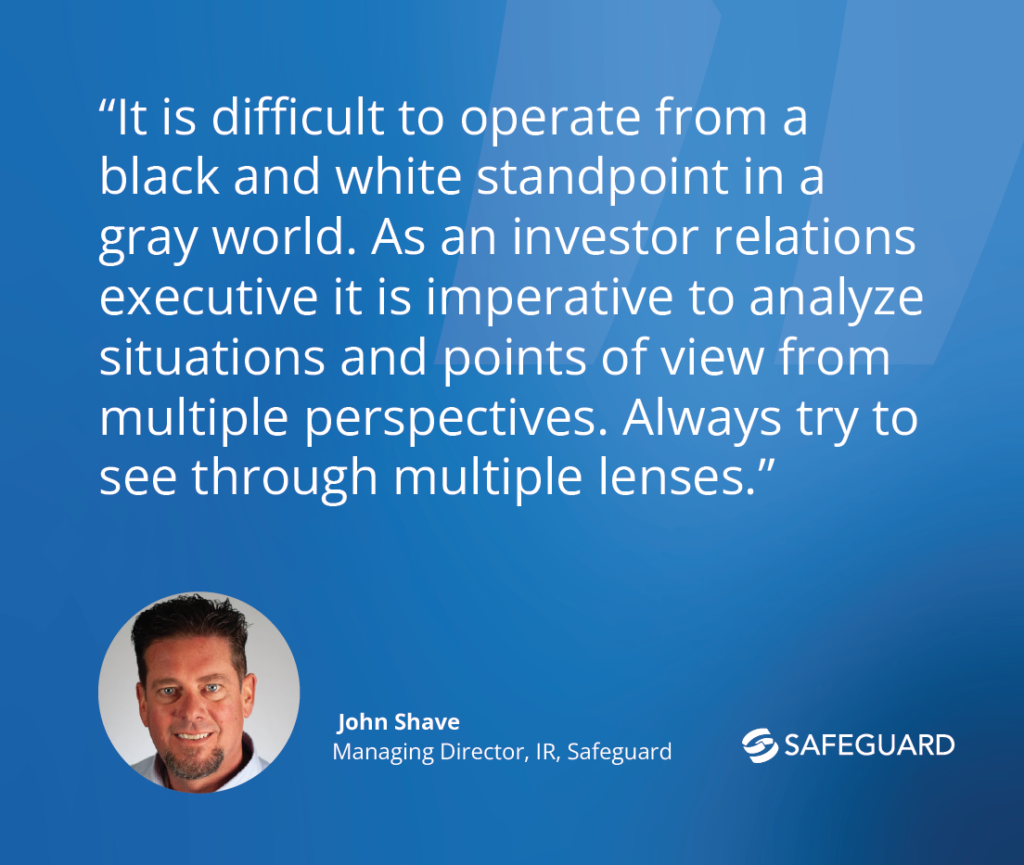 Taking a 360-degree perspective on all business matters is key for an investor relations professional, as they must consider the needs of a more diverse base of constituents than in the past. This can include the board, sell-side analysts, industry analysts, media, current shareholders, prospective shareholders, employees, and customers. The views of each of these groups can ultimately impact the valuation of the company, so the IRO has to consider the views of all audiences.
We know all too well that an investor relations job spans multiple disciplines – from sales to finance to communications, to crisis management and more – and much of its training happens on the job and in the trenches. Maybe the best advice of all is to seek support and outside perspectives whenever you can.
Take a look at Part 1 of this series for additional advice from Q4 clients and industry luminaries. Interested in more thought leadership from Q4? Check out our additional blogs.