Did you know that 59% of IROs agree that their IR and corporate websites have a major or large impact on their IR efforts? According to NIRI's report, 2021 Connect.IQ Global 100 Report, more than half of IROs believe their IR and corporate websites have a major or large impact on their investor relations efforts. Q4 believes it's especially true for OTC securities when their aim is to transition from their current exchange toward accessing more capital with a larger one. If you're an IRO in this camp, effectively communicating the sophistication and value of your business on a limited budget is essential to your strategy.
And the imperative to identify and connect with the right investors at the right time with your unique narrative is only getting more intense as digital communication channels proliferate in the capital markets. In this environment, an effective investor relations website is a must. It serves as the primary location where you can deliver all relevant information, updates, performance data, and evidence in an engaging format that reaches your paramount current and future stakeholders.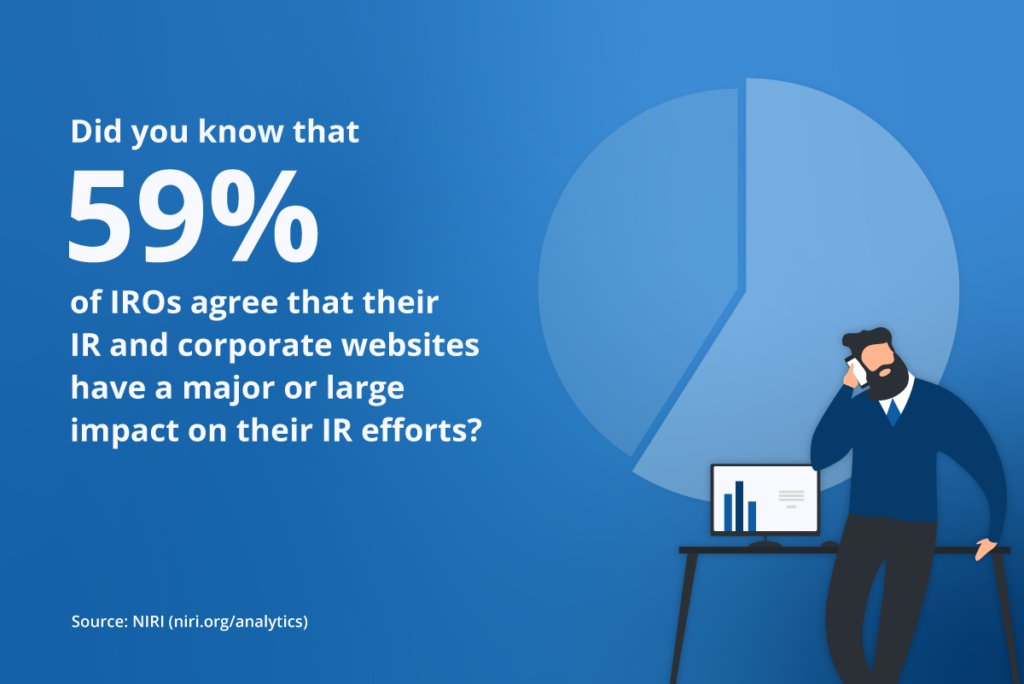 Q4 has partnered with many small-cap programs, delivering IR websites across companies of all sizes and industries. If you're thinking about building or refreshing yours, consider the best practices we've compiled here:
Optimize your site for your target audience vs. for your company employees or how you organize internally.
As IROs of OTC Securities companies, we live and breathe our company every day. We have intimate knowledge of who we are, what we offer, and what our value is to our customers, prospects, and stakeholders. As a result, it's easy to reflect that "inside looking out" perspective in our website design, copy, and navigation. In contrast, the site should be designed from the opposite perspective – "outside looking in." This approach maximizes its value and usability to those you're looking to engage. When planning your site, consider critical questions such as:
How do I make the information that my stakeholders consider most important easy to find?
How do I design a site that requires the fewest clicks possible to find and navigate to the most important information?
How do I make my site "sticky," providing enough value to compel my stakeholders to visit often?
Am I creating and placing call to action buttons appropriately to optimize their use?
Highlight your company's value proposition front and center on your IR website.
Envision and communicate the value of your company from the perspective of investors and potential investors.
What aspects of your story and opportunity are compelling to the investors you would like to attract?
What data points and story-based narratives resonate with stakeholders?
What key words or priorities are important to stress with your target audience?
Once you've answered the questions above, consider the design aspects of how and where on the site you render the value proposition. Don't forget to use design elements such as white space, imagery, and even interactive modules to highlight it.
Align every aspect of your site with your brand identity.
Brand consistency, reach, and awareness are central pillars of your growth strategy. As a result, your IR site should reflect and proliferate your brand. We've often seen that smaller companies focus on logos, the use of corporate colors, and font style. However, don't forget about aligning the other critical elements that define and represent your brand. These can include:
Creative elements – Things like graphics and imagery.
Copy – What words do you use in your brand messaging on other platforms and channels?
Tone – Is your organization's style formal, professional, casual? What energy or feeling does your brand convey?
Ensure that every communication and design element on your site reflects who you are as a company and aligns with your broader brand messaging guidelines or practices.
Build your IR website on the right platform.
If you're building your IR website in-house, especially for an OTC Securities company, ensure that you select a platform that fits your current and future needs. Here are some critical questions to pose when considering common options like WordPress or Sitecore:
Does the platform sync easily with your existing web pages in terms of user experience, templated design options, ease of use around publication and design, performance data collection, and available functionality?
Does it allow for relatively easy, straightforward updates to the site and content?
Is it cost effective in terms of ongoing maintenance?
Don't forget about data collection and analysis.
While the challenge of efficacy measurement can sometimes be an afterthought, for an OTC Securities program, it's important to factor in at the design/redesign stage of your site. Be sure to:
Determine what performance data you need to measure success.
Establish how you will collect it. Does the platform you plan to use present challenges in this area (particularly if you require navigation to and from your IR site to web pages produced on a different platform)?
Explore whether or not your organization can use Google Analytics effectively. Do you have a team member who has the knowledge, skill, time, and capacity to pull the data and create the reports you're looking for?
Do you need additional software to collect your important data?
Decide who will have the ongoing job of collecting and reporting out on this data and how frequently it will take place.
Need help? Take a look at our investor relations website solutions.
Want to discuss your specific site in more detail? Get in touch.