COVID-19 has grounded IROs for almost 5 months now and many are eager to get back on the road to in-person meetings. With a potential second wave and travel restricted in many parts of the world, it's unlikely that in-person meetings are resuming any time soon. In a recent event on the future of buy-side corporate access, we asked attendees when they could foresee their management team traveling again to meet with investors; an overwhelming 59% said not until Q1 2021, followed by 23% saying Q2 2021. With this timeline in mind, IROs need to dial in on how they can best replicate in-person experiences online until they're able to travel again.
A Review of Virtual Events in Q1 and Q2
Prior to COVID-19, only half of IR professionals had participated in virtual investor meetings. In light of this, it makes sense that Q1 and Q2 was a learning curve for IROs newly adopting virtual conferencing – and that they're eager to get back on the road as they're accustomed to. A recent poll suggests that the C-suite would rate overall virtual conference experience, compared to in-person, the 'slightly worse' at a majority 33% followed by 'the same' at 28%. In addition, according to a query of the Sentieo database, the phrase 'technical issues' was mentioned in 134 earnings calls during May – representing a 60% increase from the previous quarter. These statistics suggesting that technical issues are one of the key frustrations of online events. So the question is; how can you re-create the in-person experience online and ensure your events are free from technical issues?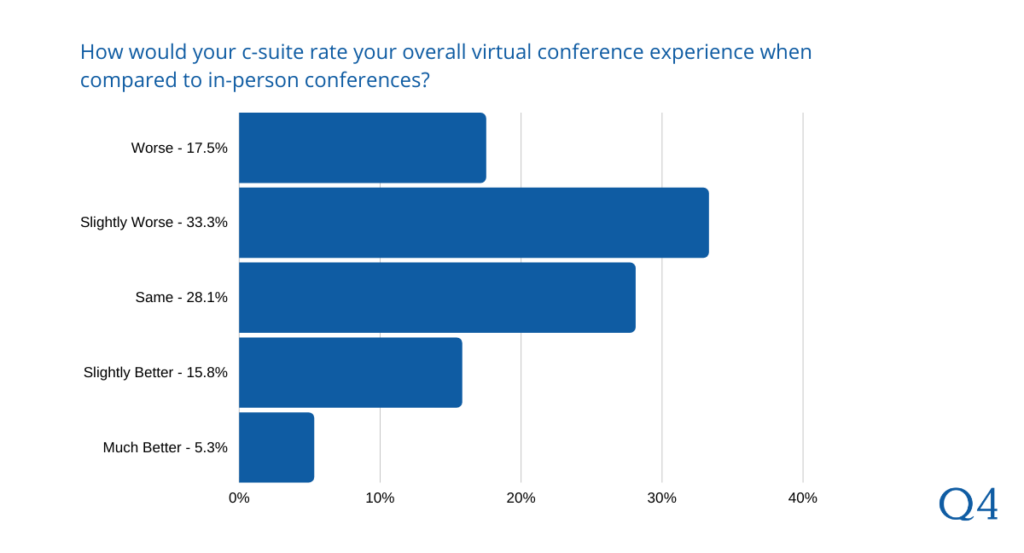 Upgrading Virtual Events Moving Forward
There are few easy strategies to implement before, during, and after your virtual event to make sure that it's seamless and personable. Nearly 90% of investor relations professionals plan to add virtual events over the next year, there's no better time to learn how to improve and excel in this arena. Here's what you need to know:
Choose a reliable partner – The right provider can help alleviate stress by significantly reducing the risk of technical issues and taking on a bulk of the work that comes with hosting a virtual event. That way, you can focus on the material you're presenting, not the technical logistics.
Review your home internet – As expressed by over 82% of IROs in our poll, you're likely not going back on the road for another 6 months. Now is the time to invest in upgrading your home internet connection to ensure you have a stable and smooth connection for your virtual events.
Prepare your set-up beforehand – Be thoughtful about your hosting location. There are a multitude of factors that can negatively impact the quality of your audio and, by extension, the quality of your event. This includes room size, proximity to noise, such as traffic, loud hallways, or windows, and even whether the room is concrete or glass.
Tweak your presentation for a virtual audience – Creating an experience similar to an in-person event actually means changing your typical presentation style to suit a virtual environment. You can do this by keeping your slides and messaging clear and to the point, remember that being at home, audiences have a shortened attention span. Incorporating media, polls, surveys, and Q&A, can also help to keep your audience's interest piqued.
Test and prepare for your event – Once you have everything ready for your event, it's imperative to do a test run with your provider to work out any potential kinks or roadblocks. In addition to testing with your provider, prepare with whoever is taking part in your call or event and determine who is speaking to what, and troubleshoot any difficult questions or topics, and who will handle them.
Follow up and stay engaged – Once your event has ended, send out a recording of your virtual event to all attendees or those that could not attend in a timely manner along with the transcript, if you're able. Be sure to update your IR website with the recording and materials as well. And lastly, do not underestimate the power of social media, especially during this time. A study from Greenwich states that 4 out of 5 institutional investors frequently use social media platforms at work and nearly one-third have confirmed that the information they have consumed through social media has, in fact, impacted their investment decision process.
Although the start of 2020 was rocky for virtual events, there's no better time to perfect your approach to virtual events. By connecting with the right provider to ensure that you don't encounter technical issues during your important events. For a more in-depth look at how you can replicate the in-person experience online, download our Virtual Events Guide.