Today's IRO is tasked with being a trusted adviser to the C-suite and Board of Directors on all investor-related matters, as well as serving as a sounding board and articulate communicator to current and prospective shareholders and analysts. As an IRO for close to thirty years, across market caps of all sizes and various industries, I loved this role but often wished for an adviser and sounding board of my very own — to guide me through uncharted territory and tricky situations. 
Let's face it, we've all been there: our instincts and experience are guiding us, but from time to time, we yearn for a sanity check on our perspective, a rundown of best practices, a how-to guide — sometimes all of the above. It's hard to admit to our C-suite that we don't have all of the answers, let alone ask for budget to pay for this reassurance from an external entity.
This is where Q4 and my role with the Investor Relations Success Platform fit in. Imagine having someone to call when you're approaching earnings season, and you want to talk through messaging a tricky quarter… Or you need new ideas on how to approach the street? You are invited to forty sell-side conferences, and you need to better strategize which conferences you and your management team are going to attend? Or, your company isn't getting enough exposure, and you want to change that? Imagine having that extra set of hands and experience when it comes to planning your next investor day, from basic event planning to target the right audience and helping you fill the room…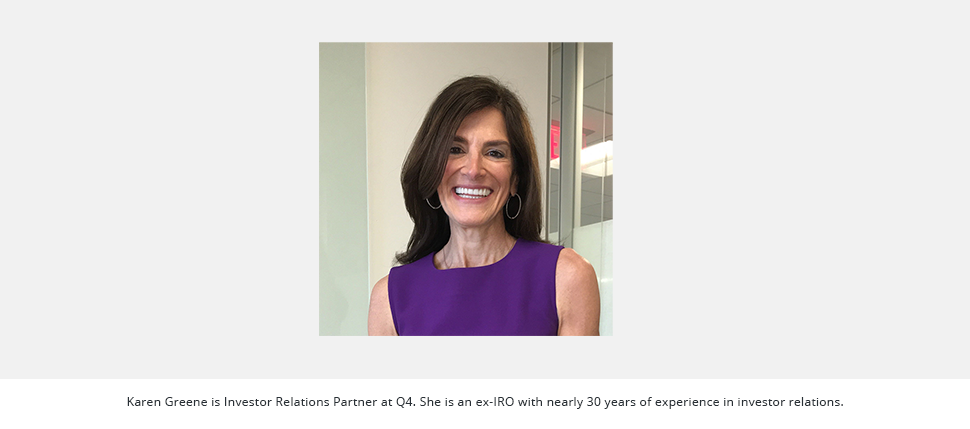 As an IRO, I would have found it invaluable to have an adviser on my shoulder. This is why I jumped at the opportunity to serve as an Investor Relations Partner at Q4; I know all too well that the job of an IRO spans multiple disciplines, from sales to finance to communications, to crisis management, when you are already at your busiest. The responsibility of steering your company in the right direction through every situation can weigh heavily on your plate. The benefits of sharing that burden and getting an outsider's perspective to bounce ideas off of will pay dividends (no pun intended!) for your company and its shareholders. 
Since I've come on board, I've had the pleasure of working with clients who range in size, industry, and the type of support they need.  Most recently, my team and I helped a client frame a challenging discussion they were about to bring to their management team. This entailed arming them with some competitive data to help them prove their recommendations, assisting them with messaging, and reviewing their presentation. Our client welcomed the fresh perspectives we were able to bring from behind the scenes to ultimately help steer their management team in the right direction. We have also been supporting our clients with board book presentations, post-earnings consensus updates (including peer analysis), and assistance on constructing IR plans and budgets. 
These are just a handful of examples of how my team and I can make your job a little easier. We at Q4 are all about making all of our clients — IROs across well over a thousand publicly traded companies – the heroes of their organizations. I welcome the opportunity to do my part in achieving that goal by helping our clients navigate through the often murky waters they trudge through all alone.
Here at Q4, we believe that by working with the right partner and arming yourself with the right technology, you can drive strategic value. Please click here to see how Q4's new IR Success Platform is designed to help IR teams, of all sizes and shapes, optimize processes and run impactful programs.