As a senior member of the Implementations Team at Q4, I've had a front row seat to the evolution of investor relations websites. Most interestingly, I've seen what both IROs and investors alike look for in an IR website, especially when it comes to companies preparing to IPO.

The IR website has long been a critical place for a company to share its story with shareholders and prospects. But the days of the conservative and text-heavy experience are over. Today, it's all about confidently engaging your audiences with high-resolution imagery, bold visual content, as well as interactive infographics and videos. And not to mention that your content and data needs to be clear and easy to find, supported by clean site structure and highly intuitive navigation.

But in addition to being ever more sophisticated at hooking investors visually, IR sites have evolved with the IRO's workflow and strategic priorities; particularly in terms of timelines, resources, budgets, and preferred levels of customization. In fact, I've found that most IROs, with already packed schedules, look to design, build and launch their IR website often in a matter of weeks. Companies preparing to IPO tend to be even more eager about getting their sites up and running, sometimes in as little as a week.

Taking all of this into account, Q4 launched Studio earlier this year. It's our newest suite of web solutions for building IR websites that dynamically showcase a brand's equity story and value proposition. From robust out-of-the-box designs to full customization, IPOs now have the flexibility to choose a web solution (Studio One, Studio+, Studio Custom) that best fits their unique priorities.

Studio One (our theme-based solution) is designed to help brands go-to-market and stand out in the marketplace quickly. In a nutshell, it's a solution that delivers best-in-class websites, all the while sticking to limited timelines. It's a natural fit especially for companies new to the IR world and building an IPO website, because it simplifies the entire implementation process.

Offering bold and forward-thinking website designs created for the Street, Studio One does away with the usual stress and uncertainty associated with building a site. At the heart of this is Q4's theme library, which is modelled on essential design best practices and industry leading trends for IR sites.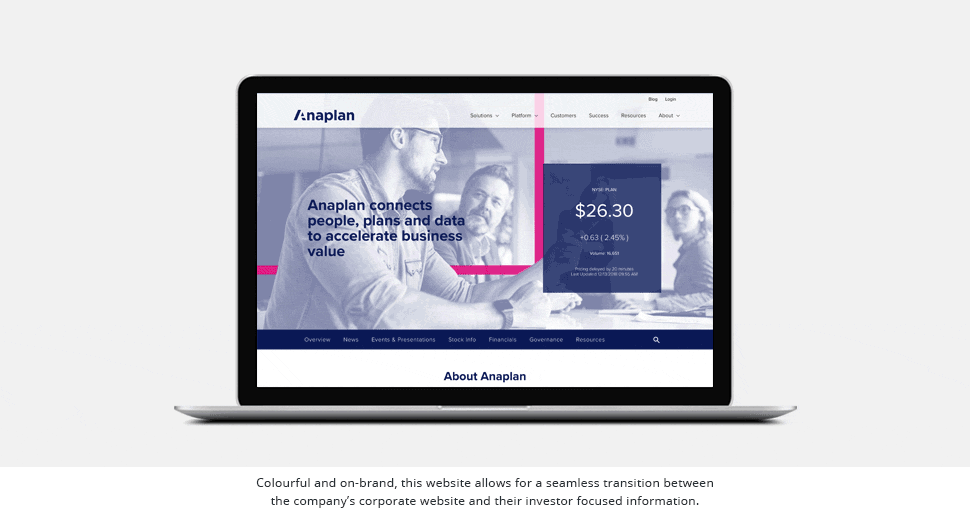 According to my colleague Marnie McCall, Senior Implementations Manager at Q4, "Studio One has made the implementation process for IPOs more streamlined and efficient." Marnie explains, "putting together a website from scratch is daunting, especially when it coincides with the process of an IPO. Studio One lightens the stress and guesswork for clients, because it delivers a branded, best-in-class website that requires minimal input from the client's side." She sums it all up, "Going public is a big endeavor, so allowing the client more time to focus on the important details is extremely beneficial."

To date, the Implementations team has built and launched a wide variety of Studio One websites, on an average of less than two weeks — from concept through to launch. That's a pretty impressive new precedent that clearly raises the bar in IR site development.

Snapshot of a Studio One website build

A 'Kick-off Call' formally introduces the client to their dedicated "Implementations Manager" who works closely with them throughout the project.
Client chooses a Studio One theme, as the foundation for their branded website.
Client submits branding and design assets (brand logo, imagery, branding guidelines etc), as well as all proposed content. This is to determine the optimal structure and navigation of the site.
We begin in full earnest developing the site and testing for Quality Assurance (development takes about five business days, from start to finish).
Client reviews the development website and provides feedback.
We address any and all client feedback and/or technical issues for the built site.
After the client's final approval, IR website launches!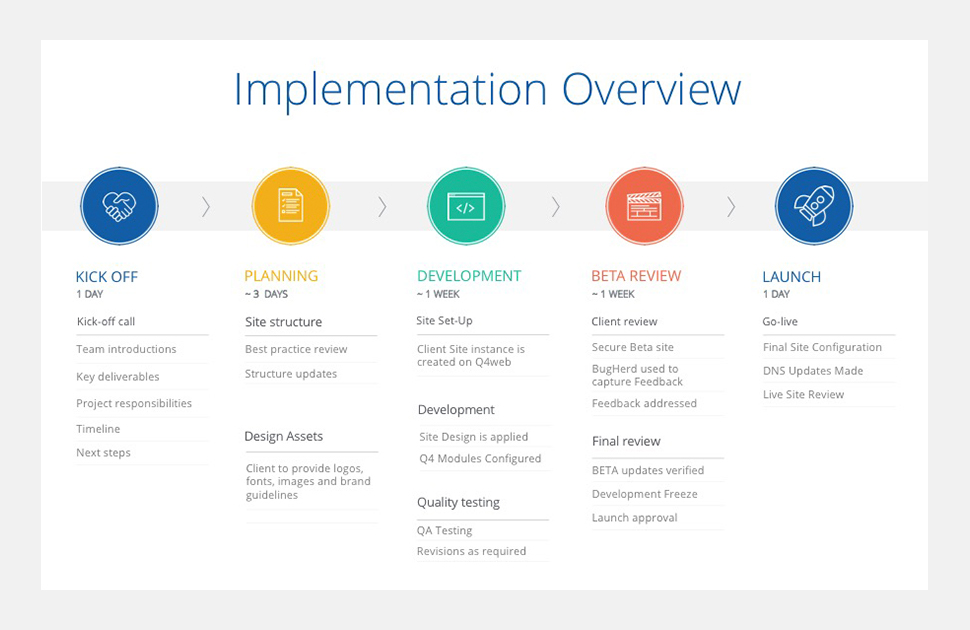 Over the course of the last couple of years, I've worked with clients from companies of all walks of life. But no matter the sector, cap size, or value proposition, they have all looked for on-brand design, combined with a streamlined experience — both for the build of their site and the user's overall experience. At the end of the day, creating an IR website doesn't have to be a complicated or stressful process. Studio One is designed to build best-in-class great looking websites, on a tight timeline. A simple on-brand site, focussing on the user's end experience and effectively conveying your key information to investors, can be just as effective as one that's custom-built. Moreover, a streamlined implementations process means that you save time and energy on web development, so you can spend it instead on engaging investors, communicating with stakeholders, and planning for a successful IPO.

Amy Simmonds has been an Implementations Manager at Q4 for the last two years. She is passionate about managing projects and relationships.

This article is part one of a two part series on Studio websites.

(Visited 35 times, 1 visits today)