Welcome back to our weekly update on trending topics, macro trends and key management commentary highlighted from earnings call transcripts of S&P 500 companies for the Q4'21 earnings season. With Chipotle, Yum Brands, Kimco Realty, Ceridian, Motorola and DaVita among the larger companies that reported results last week, here are some trending topics that emerged during earnings updates from the week of February 7th, 2022:
---
A continued focus on all three pillars of ESG to help drive significant change across the S&P 500 companies are evident, as many organizations are reporting on how they plan to integrate ESG-based solutions and products into their businesses, while continuing to identify relevant business strategies that will drive their vision on corporate responsibility.
Now, I would like to share some details about Pfizer's enhanced ESG strategy. The strategy is focused on six areas where we see opportunities to create a meaningful and measurable impact over the next decade: product innovation; equitable access and pricing; product quality and safety; diversity, equity and inclusion; climate change; and business ethics…We believe that diversity in trials is a matter of equity and good science and are taking decisive steps designed to improve diversity in our trials. Our goal is to achieve racially and ethnically diverse participation at or above US census or disease prevalence levels as appropriate in all our trials.
The second item I want to highlight is the significant progress we are making in diversifying our colleague base, particularly at more senior-level positions. In the last three years, for example, we have increased the percentage of women at the vice president level and above globally from 32% to 42%. Over the same timeframe, we have increased the percentage of minorities at the vice president level and above in the US from 19% to 25%.
The third item I wanted to highlight is the progress we are making to help ensure our COVID-19 vaccine and oral treatment are accessible by everyone everywhere. I am thrilled to say that we remain on track to meet or exceed our goal of delivering at least 2 billion doses of our vaccine to low- and middle-income countries by the end of 2022, having just met our goal of delivering the first 1 billion by the end of 2021.
Albert Bourla – Pfizer Inc., Chairman and Chief Executive Officer
And on ESG, I appreciate the question. ESG is important to our company and all of our brands. We have a program called our social fabric that's been part of the fabric of our company, and it's focused on three pillars. It's focused on our people, our planet and our communities. And we continue to drive progress. We have stated goals, and we continue to drive progress behind goals in all of those categories…We announced a bold commitment to tie 10% of our leadership incentive comp to our progress on EI&D…On the planet, we've recently announced a partnership with Savory Institute on regenerative leather, supporting our biodiversity objectives. We signed on to the science-based target initiatives to – with a goal of net zero by 2050 at the latest. And we're making progress on our renewable energy goals as well as our sourcing and traceability. So that continues to be a strong focus of the company.
Joanne C. Crevoiserat – Tapestry, Inc., Chief Executive Officer & Director
Fourth, we published our third annual ESG report, which further supported our ongoing commitment to continually improve our corporate citizenry. In the report, we introduced enhanced greenhouse gas emissions and energy usage reduction targets, and highlighted the support that we have provided to associates and residents during the pandemic, including helping to secure over $28 million in rental assistance funds for those in need. These ESG actions and others led GRESB to recognize UDR as a global leader in sustainability and at the highest-rated publicly-listed residential company worldwide with a score of 86.
Thomas W. Toomey – UDR, Inc., Chairman & Chief Executive Officer
Slide 24 provides a summary of several important steps we took in 2021 that enhanced our industry-leading ESG profile. Just a couple of items I'll highlight here. In July, we published our updated climate report, which included disclosure of Scope 1, 2 and 3 emissions, an important step as it relates to our net zero commitment as I will expand on in a minute.
In November, we issued our inaugural Diversity, Equity and Inclusion Report, which highlights our progress towards building a more diverse and inclusive workforce. As part of that report, we also published our EEO-1 data. This enhanced external reporting builds upon our commitment to increase our total workforce diversity by 1% each year with a goal of reaching at least 40% by year-end 2026. We're very much on track to meet that goal.
These and other ESG-oriented efforts have been recognized by leading third-party assessment services, as shown on slide 25.
Robert M. Blue – Dominion Energy, Inc., Chairman, President and Chief Executive Officer
---
Adjusted operating income of $510 million grew by over 230% year-over-year driven by lower COVID-19 related investments and improved underlying performance, partially offset by higher COVID-related medical costs compared to prior-year.
Our adjusted medical benefit ratio of 87% improved 130 basis points year-over-year driven by lower COVID-19 related investments, partially offset by the repeal of the health insurer fee. As a result of the Omicron variant, we experienced higher COVID testing and treatment costs in the fourth quarter, but this was largely offset by lower non-COVID costs, particularly in Medicare and Medicaid.
Shawn M. Guertin – CVS Health Corp., Chief Financial Officer & Executive Vice President
Our operating expenses for the period were elevated due to the effects of COVID on our business and as a result our bottom line results were below our expectations this quarter…As I mentioned, operational expenses within our supply chain were above expectations due to the challenges that COVID is presenting to our labor environment and our transportation costs. I will detail this complex operating environment in a moment, but we remain confident these incremental expenses, driven by labor costs, are near-term challenges that will improve over time.
Kevin Hourican – Sysco Corp., President, Chief Executive Officer & Director
There's no doubt our restaurant level margin is messy in the near-term, so let me provide some perspective on Q4 and what we expect moving forward. Besides ongoing labor pressures, our Q4 margin was impacted by a higher level of commodity inflation than we originally expected primarily due to elevated beef and freight costs. As a result, we took a 4% menu price increase in the middle of December to help offset these headwinds.
Given the timing of this pricing action, it had little impact in the quarter resulting in our Q4 margin being at the lower end of our 20% to 21% guidance range. However, if you look ahead to Q1 where we will see the pricing benefit for the full quarter, our restaurant level margin is expected to be nearly 22%. And normalizing for the elevated marketing spend expected this quarter as well as transitory COVID related cost pressures, the underlying Q1 margin would be in the low to mid-23% range.
John R. Hartung – Chipotle Mexican Grill, Inc., Chief Financial Officer
At Linear Networks, we expect programming and production expenses to increase by approximately $500 million, reflecting factors including COVID-related timing shifts. We aired four additional NFL games at the start of the current quarter, and as a reminder, the Academy Awards will be held in Q2 of this year, while they fell into Q3 of the prior year. Second, at Content Sales/Licensing and Other, a difficult Q2 comparison to prior year TV and SVOD program sales is due, in part, to our strategic decision to hold more of our owned and produced content for our direct-to-consumer services. As a result, we expect operating income to be adversely impacted by more than $200 million versus the prior-year quarter.
Christine M. McCarthy – The Walt Disney Co., Chief Financial Officer & Senior Executive Vice President
That said, the proactive strategies we're employing, greater operational agility and overall demand for the Under Armour brand, give us confidence in our ability to navigate this dynamic and challenging business environment effectively. And we believe these COVID-related supply chain pressures are just a temporary speed bump on our road to continued profitable growth over the long-term.
Turning to gross margin, we expect our transition quarter rate to be down approximately 200 basis points against our Q1 2021 adjusted gross margin, which includes approximately 240 basis points of negative impact from higher freight expenses related to ongoing COVID-19 supply chain challenges in addition to an unfavorable sales mix, partially offset by pricing benefits.
David E. Bergman – Under Armour, Inc., Chief Financial Officer
---
Earnings Q&A Analysis
The data referenced below is based on Q4's proprietary analysis performed on the Earnings Call Q&A sessions of S&P 500 organizations within the "Health Care Services" sector (DGX, CI, CVS, DVA, LH), that reported earnings last week. The charts below highlights the key topics that analyst queries focused on in these calls, displayed as a % of all questions asked.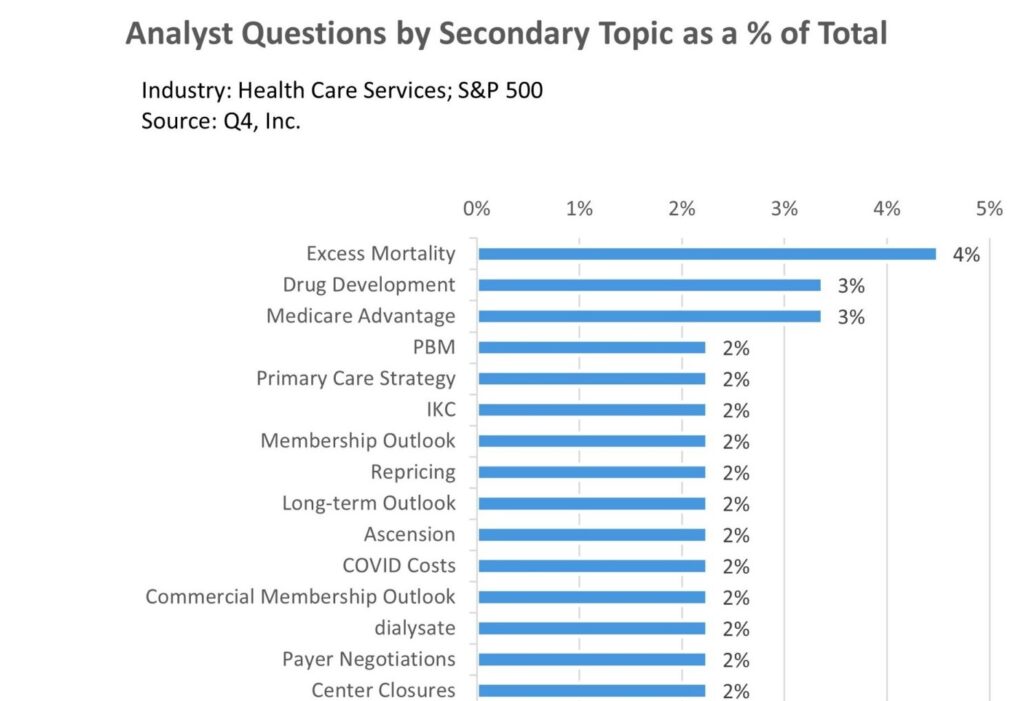 As per the chart above, Excess Mortality rates was the key trending topic being addressed by organizations in the Health Care Services sector, covering 4% of all questions asked. Company-specific products and initiatives like Medicare Advantage & Primary Care Strategy came in 2nd place with about 6% of questions focused around that topic, while subjects like Membership Outlook, Long-term Outlook, COVID Costs, Dialysate & Center Closures were mentioned at a frequency of 2% respectively.
Thanks for reading and stay tuned for our final issue of the Earnings Recap blog next week as we wrap up the Q4'21 Earnings season!
Reference – in case you're interested, please feel free to review the prior versions of this blog from earlier this quarter:
Week of January 31st
Week of January 24th
Week of January 17th
Week of January 10th