Pharmaceutical companies have seen a surge in interest this year. The industry is attracting interest from both investors and consumers who are focused on the possibility of a vaccine amid the impact of the pandemic. However, there have been several changes in the space as regulators speed up the approval process and companies race to develop treatments for COVID-19, which is creating some volatility.
Pharmaceutical companies who are engaged in developing a therapy or a vaccine for coronavirus benefited from the ongoing promising clinical development, as well as huge funding support received from federal governments across the globe.
However, while much of the focus has been given to those working on vaccines for COVID-19, companies working on pharmaceutical products for unmet needs or other niche markets could be worth a closer look. This places the onus on the IRO to demonstrate to why investors should consider an alternative to the more mainstream options.
Whether your company is part of the effort to treat COVID-19, or its focus is on treating other ailments or illnesses, your pharma investor relations website plays a critical role in communicating with the investment community. As the first point of contact for many current and potential investors, creating an engaging IR website is critical to telling your unique story and providing the latest updates. 
Below are five examples from a variety of leading pharmaceutical companies, demonstrating how to best engage and inform website visitors.
Marinus Pharmaceuticals Inc: Easy-to-Navigate Pharma Investor Relations
Marinus is focused on developing and commercializing ganaxolone for the treatment of drug-resistant seizures and neuropsychiatric disorders for both hospital and home settings. Treating a condition that may not be top of mind makes it even more critical for Marinus to clearly demonstrate why investors should get involved and buy stock.
The clean and organized design of their investor website makes it easy for visitors to see the unique opportunity they offer. After landing on the main overview page, visitors can easily see the corporate overview and current stock snapshot. Scrolling down further, the page includes four powerful reasons why to invest, as well as previews of the latest news and materials available for download. This layout makes it easy for a visitor to quickly understand the company's position and access any related materials, while the top navigation enables visitors to find additional information.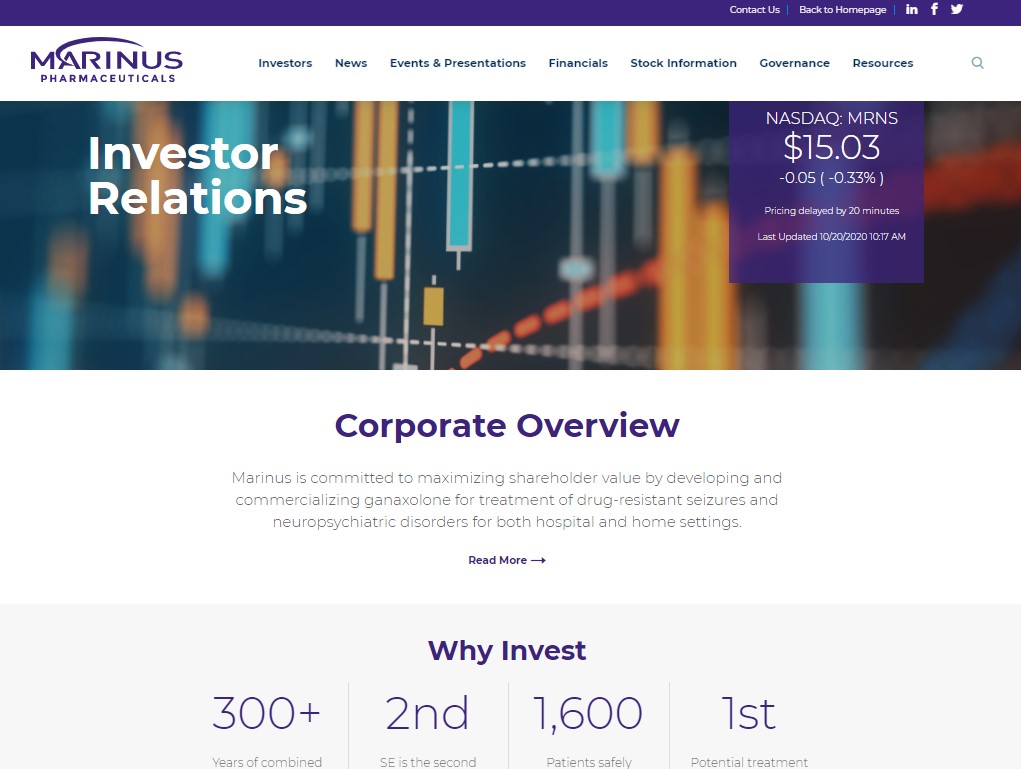 Pfizer Inc: Feature High-Traffic Content
Pfizer is one of the companies sharing the spotlight in the coronavirus vaccine race, receiving billions of dollars in U.S. government funding for their programs, which are nearing the finish line. As the company closes in on a treatment for COVID-19, the number of eyes watching their progress has drastically increased.
Pfizer has made it easy for visitors to find the latest information on their current status and the progress that has been made by featuring content that provides more information right on their IR website homepage. In a Rivel Research Group study, respondents indicated that recent investor presentations, earnings releases, and the latest news were all high on the lists of required information that they must be able to access quickly. By putting content related to Pfizer's COVID-19 efforts front and center, the company is creating a better experience for visitors that can positively impact a potential investor's attitude toward investing in the company.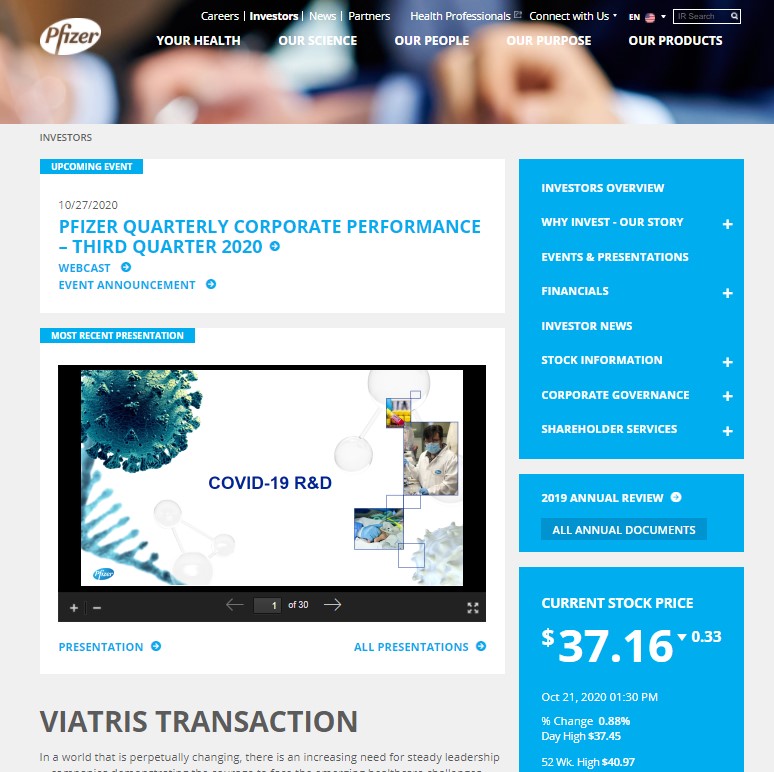 Sunovion Pharmaceuticals Inc: Create a Dedicated Newsroom
Over the course of ten years, Sunovion has contributed clinical advances and new treatment options and has led advocacy and educational initiatives with cross-sector coalitions focused on the advancement of research, innovation, and improvements of healthcare. Similar to investors, the media is currently keeping a watchful eye over pharmaceutical companies.
Having a dedicated newsroom makes it easy for members of the media to stay up to date on the company's latest developments, as well as access any related materials (such as logos or boilerplates). Given the higher than usual likelihood for monumental changes coming out of the November elections, IROs should be ready to communicate the estimated impacts and action plan quickly (and with the assumption that anything communicated could instantly become front-page news).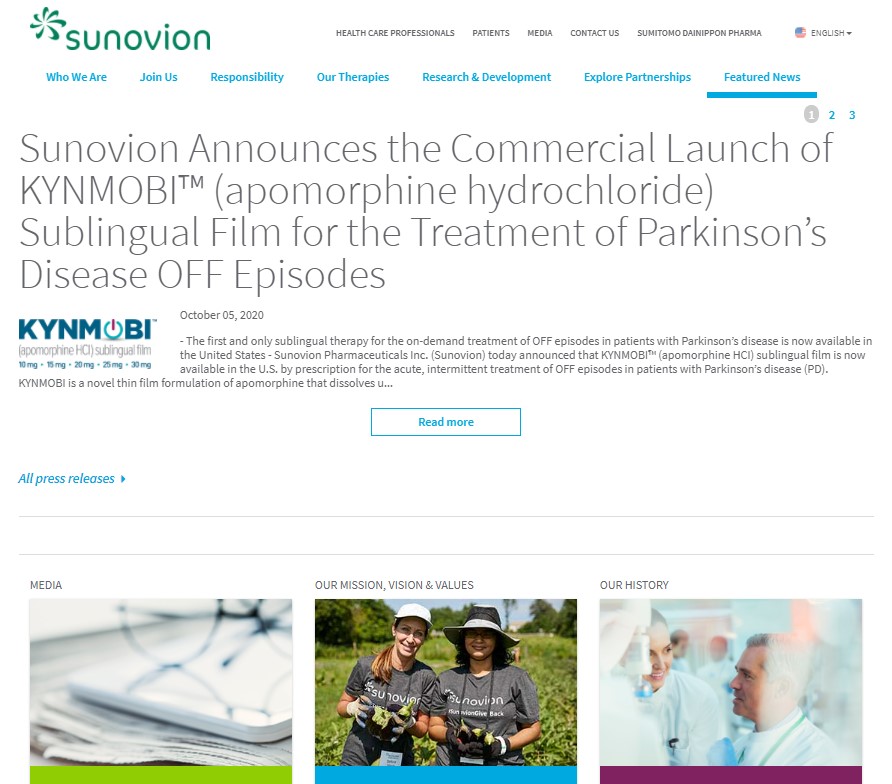 Merck & Co: Highlight Research Progress and Pipeline
For more than 125 years, Merck has been bringing forward medicines and vaccines for many of the world's most challenging diseases in pursuit of its mission to save and improve lives. In addition to featuring the latest news, pharma investor relations website visitors can also explore an interactive pipeline that provides an overview of late-stage clinical development programs. This enables investors to discover the therapeutic efforts the company is currently driving forward, as well as their status. 
As one of the companies working towards a treatment for COVID-19, Merck has also dedicated a portion of its pharma investor relations website to provide detailed information on their progress. The page includes a FAQ section at the bottom to address common concerns or questions, which saves the IR team from repeatedly answer in the same questions by enabling visitors to find the answers themselves, as well as a downloadable PDF that details its research efforts and timeline.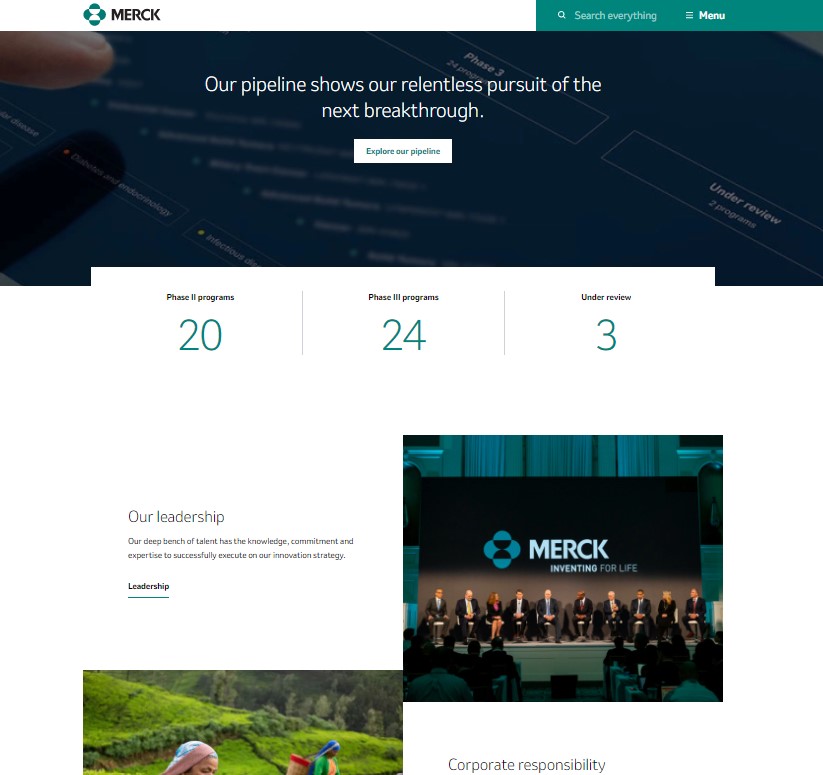 Ironwood Pharmaceuticals: Incorporate Visual Elements
Ironwood is focused on delivering differentiated medicines for patients living with GI diseases. Given the more niche focus of the company, it's important to create a space where investors can look to understand the qualitative aspects of the company's story. While providing financial data and reports is important, what separates the award-winning sites from the mediocre is a focus on providing context on the company's strategy and vision in a visual and compelling way.
Ironwood has created an interactive, multimedia focused pharma investor relations website that clearly conveys the company brand, as well as the faces behind the brand. Instead of simply including the contact details for the company's IR leader, they have included her profile photo, allowing investors to put a face to a name, helping to humanize the brand and form more meaningful connections. 
With the wide availability of tools to build interactive, multimedia focused websites, it's easier than ever to enhance your corporate communications and engage investors. Download our whitepaper to learn more about IR website best practices and dive into how and why each is an essential communication tool for investors.